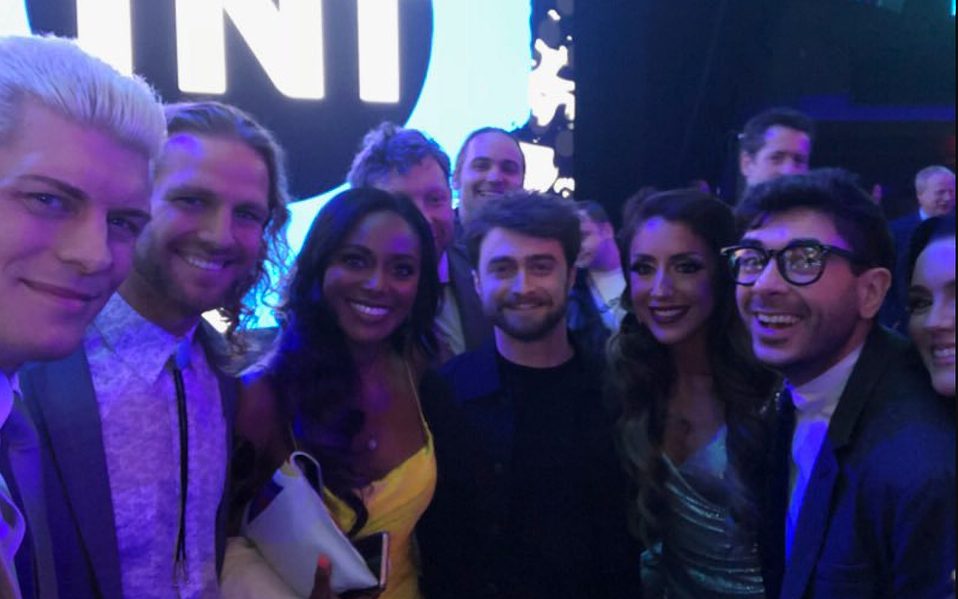 AEW has pulled off the shock signing of legendary wizard Harry Potter in a widely praised attempt to secure the witch and wizard viewership.
As part of the deal to bring Potter to the promotion, AEW has also changed its name to All Elite Wizards, and will host its debut show, Double Double Toil and Trouble or Nothing from the Great Hall in Hogwarts instead of the MGM Grand Arena.
AEW owner Tony Khan is currently in the process of attempting to recruit former Death Eater Draco Malfoy to have a match with Potter at the show, but Malfoy is reportedly reluctant because, as we've seen, Harry Potter has too much plot armour.
As you can see in the above photo, Cody and the rest of the Elite were spotted with Potter, who is said to have been persuaded to join while catastrophically drunk on butter beer.
When asked about signing with AEW, Potter is quoted as saying: "If I'd known how attractive Hermione was going to turn out, I think I'd have made a bit more of an effort with her."
As you can see, Harry has been a fan of the sport for a long time, with the above photo being taken at a WWE show in 2000. No word on whether Neville Longbottom will give up his job as Herbology Professor at Hogwarts to join Potter at AEW.
The sticking point in the deal is that muggle electronic devices struggle to function in an area with a high concentration of magic in the air, making it impossible to watch TV. No word on how they will overcome this hurdle just yet.
Cody said: "We're confident that wrestling will become more popular than Quidditch. Despite several mentions in the books that Quidditch is a complicated game, it's literally whoever catches the snitch, and can be won by a small child who has never been on a broom before."
Our sources close to the matter have told us that Potter finishers are the Shining Wizard, the Sirius Black Mass, and the Bayley to Belly.