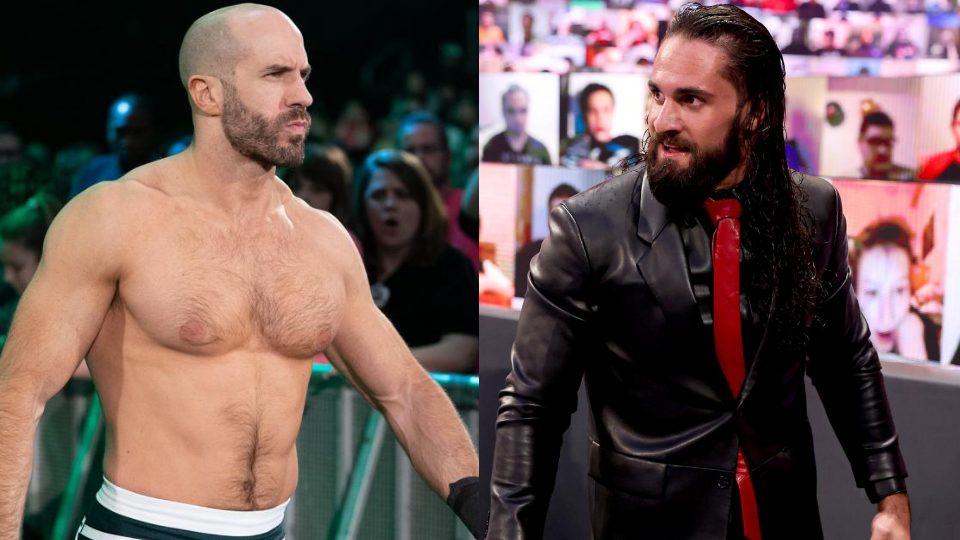 In today's Q&A here on the site, we discuss if Cesaro will ever be WWE World Champion, Seth Rollins' gimmick, and more of your questions!
If you asked a question and we haven't answered it this week, don't worry as we're keeping a list of ones we haven't answered for weeks we're light on questions, so we'll definitely get to it at some point!
@Walu2go – What is the point of announcing the Elimination Chamber participants on Raw? How does this help to build to the pay-per-view?
Louis Dangoor (WrestleTalk Reporter):
I have many issues with the Raw Elimination Chamber match that was announced this week, including the frankly 2010-esque line-up, but I completely understand why WWE has announced the participants ahead of time. If this line-up was kept a surprise, I'm not sure if people would be happy. The line-up does have some big names who the mainstream audience/lapsed fans will recognise, and WWE is clearly trying to give Drew another big win over the more established stars on Raw. They've announced this ahead of time to try and incentivise people to watch, although I'm not sure how effective that will be.
Liam Winnard (Website Manager):
I think one excuse could be that WWE only had three weeks between the Rumble and the Chamber. However, that still translates to NINE HOURS of Raw, which is more than enough for five qualifying matches. I definitely understand WWE wanting to announce the main event as far in advance as possible, but in today's day and age, it's not really necessary – pay-per-view isn't the same as it used to be. The main problem with announcing the lineup they did is that so many of them didn't make sense. Miz has been jobbing all year and already has the briefcase. Hardy's not got any momentum. If you are going to announce the lineup, at least make it make sense instead of the lazy "they're all former WWE Champions" trope, which is indicative of so many issues with WWE right now. One thing for sure is that no-one has seen that match announcement and said "I wasn't going to watch Elimination Chamber, but now I am", which ultimately means it was pointless.
Sanchez Taylor (News Writer):
I understand why WWE do announce Elimination Chamber competitors. If the line-up was a complete surprise, I reckon we'd all disappoint ourselves, convincing ourselves that someone like Christian or Adam Cole will occupy a pod. By announcing participants in advance, the speculation shifts from "who will be involved" to "how will so-and-so interact", for example, I'm already intrigued with Kevin Owens and Sami Zayn both in the Smackdown Elimination Chamber match. Also, it's became an unspoken tradition to have a Gauntlet match involving all the participants on the go-home show, which I always enjoy.
@TivanTim – So basically Kevin Owens is winning Elimination Chamber, is there any point in actually caring about this pay-per-view?
Louis:
I don't think it's obvious that Kevin Owens is winning the Elimination Chamber, funnily enough. I'm actually pretty excited for this part of the pay-per-view, as I think almost anyone could win and earn the Universal Title match. WWE could give the shot to someone like Cesaro for a match with Reigns to try and build some babyface sympathy, or they could have Daniel Bryan win to set up a WrestleMania feud, although that's unlikely. For once, I think there are a fair few options in this match, which is exactly what you want in a big pay-per-view bout.
Liam:
I actually do not think Kevin Owens is winning the Chamber and it'll either be Cesaro or Daniel Bryan. Either of those is fine, but considering Reigns is almost definitely going to win immediately, I'd probably prefer Cesaro. Gives Cesaro a reason to want a rematch down the line and I'm all for him being involved in the top title program. If it is Owens, I'd be very, very disappointed. All the stuff involving Reigns has been booked competently enough for me to have hope that that's not what's going to happen.
Sanchez:
I think you spelled Daniel Bryan wrong. Also, we have Kevin Owens and Sami Zayn inside the same Elimination Chamber! Jeff Hardy in the other! Bobby Lashley vs Keith Lee vs Riddle has the potential to be class. If you like the feeling of dread, Asuka vs Lacey Evans will be for you. There's plenty to care about in my opinion.
@GregCherryBrand – What are the odds that Cesaro becomes a World Champion in the next year?
Louis:
Unfortunately, not very likely. One of the best parts of SmackDown over the last month or so has been the sudden push of Cesaro. I have long been a fan of his work, and think this push up the card is more than deserved and long overdue. However, I don't see Cesaro winning a World Title. While people in WWE, mainly Daniel Bryan, are clearly very high on him, I don't see him dethroning Drew McIntyre, and I also cannot see him taking the title off Roman Reigns. I'd love Cesaro to win a world title and get a Kofi Kingston-esque moment, but I don't see it happening anytime soon, unfortunately.
Liam:
I think they're very, very low unfortunately. One thing that could help is if live crowds return and he gets some huge reactions. He's clearly getting the little bit of a push right now thanks to Daniel Bryan, but World Champion? I think that ship has sailed, at least in the current environment. But what I will say is, if anyone happens to be able to go to any WWE shows when all this is over, get behind that man and let's do our best to make it happen.
Sanchez:
Sadly, I don't think it's happening. WWE seem to have a type when choosing World Champions, and Cesaro doesn't have blue eyes and a full head of hair. I think he's more likely to hold the Intercontinental Championship. I'd enjoy seeing Cesaro have a lengthy Intercontinental Title reign with pay-per-view programs against the likes of AJ Styles and Shinsuke Nakamura. Of course, I'd prefer these matches over the one of the top titles, but if "Cesaro-Mania" is ruled out, a proper Intercontinental Title reign would be nice.
@pabloarzapalo – Who do you think should dethrone WALTER?
Louis:
If you asked me this question 18 months ago, I'd have probably said Tyler Bate. If you asked me this question six months ago, I'd have probably said Ilja Dragunov. Every time I think someone has a chance of beating WALTER for the NXT UK Championship, the big Austrian ends up defeating them. I thought Finn Balor had a chance when it looked like WWE was setting up that feud, but COVID-19 put a stop to that. In terms of who should beat WALTER, I think WWE has made some great additions to the NXT UK brand lately, and new signee Rampage Brown should be the man to take the title off WALTER. The match between the two would be incredibly physical, and I could buy Rampage beating WALTER, so I'd have him dethrone the Austrian at some stage this year.
Liam:
I don't think there's anyone on the NXT UK roster right now that should dethrone WALTER, maybe with the exception of Tyler Bate. I think if Finn Balor drops the main NXT Title he could shift his attention over to WALTER and beat him. But I think for someone to beat WALTER they already need to be a name in their own right, so this might be slightly too far into the realms of fantasy, but someone like Cesaro or Aleister Black making the move to NXT and/or NXT UK and being the one to beat him would be pretty great. Someone established but with UK/European roots. Balor, Cesaro and Black are the ones that have come to mind.
Sanchez:
Finn Balor. His NXT career has seen his biggest victories happen inside arenas that he'd consider "home" in one way or another. When Balor won his first NXT Championship, he pinned Kevin Owens in Ryogoku Sumo Hall, an arena he used to clean as a NJPW Young Lion. When he won the NXT Title for the second time, he was on the Full Sail University campus, the location where he had most of his matches during his first NXT run. Just imagine Balor returning to the UK to slay WALTER… Imagine if he brings The Demon… If this happens, it better be when the pandemic has calmed, as I'd need to be front row to watch that.
Do you think Kyle O'Reilly will become NXT Champion or is he going to get called up with Undisputed ERA before that?
Louis:
This piece is going out before TakeOver: Vengeance Day, but I think Finn Balor is retaining his title over Pete Dunne tonight, which is important for context. Taking that into consideration, I think the direction heading into WrestleMania is for Karrion Kross to take the title off Finn Balor, and I don't see Kyle O'Reilly beating Kross for the title anytime soon, so I do think Undisputed ERA will get called-up before Kyle O'Reilly can win the NXT Championship.
Liam:
This is a hard question to answer because I don't see either happening any time soon. If anyone is going to beat Finn Balor in the space of the next few months it surely has to be Karrion Kross. That doesn't mean O'Reilly will never win it, but it just won't be in the foreseeable future. And I also think with UE, you're looking at a Gargano/Ciampa situation where they're not going to get called up for at least a while. And when they do, it might not even be as the same package. If I had to put down a guess, I'd say Kyle O'Reilly won't win the NXT Championship during his career, but I could easily and happily be proven wrong.
Sanchez:
What I love about this question is I have absolutely no idea. While Kyle O'Reilly could finally win the big one, I think there's a very good chance he could remain the bridesmaid, never the bride. I think Finn Balor will retain the title through to WrestleMania weekend, maybe even making an appearance at WrestleMania 37. Even if O'Reilly never wins the NXT Championship, I'd love to see him best Balor at least once to break his curse.
@JJ_JobberJJ – Seth Rollins' return on SmackDown was a waste IMO! His gimmick doesn't fit when Roman is on the same brand. What would you have Seth do?
Louis:
Funnily enough, I really liked what Seth Rollins did on SmackDown this week, so I wouldn't actually change anything. The teases of matches with Cesaro and Daniel Bryan were very exciting, and I like the character direction, so I know the answer may be boring, but I probably wouldn't change anything.
Liam:
You're right in that Reigns and the 'Messiah' version of Rollins being on the same brand isn't a great fit. I still would have kept him heel for the time being because a Rollins turn not in front of fans seems like a wasted opportunity. I would have distanced him from the Messiah thing a little bit though. They clearly seemed to be building to Cesaro vs Rollins which is great, and last week I suggested the idea of him challenging Big E at WrestleMania, which I still stand by would be a good option. If WWE can make Rollins and Reigns kind of tie into each other and possibly play all of this into an eventual match, maybe it'll work out in the end.
Sanchez:
Honestly, I think this contrast with Roman Reigns is perfect! Seth Rollins has savagely beaten his friends, pinned Brock Lesnar and even ripped Rey Mysterio's eye out. Even after all of that, he has zero credibility and the locker room don't listen to him. Meanwhile Reigns is taken as a serious threat, despite almost being defeated by Kevin Owens on numerous occasions. Rollins originally turned on Reigns so he'd get to the top of the mountain, but look who's currently there. If WWE play their cards right, Rollins vs Reigns could be the talk of SummerSlam weekend.
If you think of any questions you want us to answer next week, send them to @LiamFWinnard on Twitter or email liam@wrestletalk.com. We'll also post a reminder tweet from @WrestleTalk_TV next Saturday and get replies from there too.