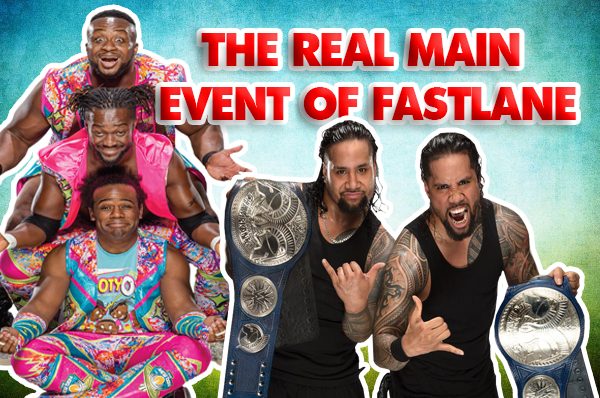 This Sunday at the Smackdown Live exclusive pay-per-view, Fastlane, a rivalry will be renewed that took the wrestling world by storm in 2017. From pre-show event-stealers to a brutal Hell in a Cell war, the Usos and the New Day have redefined what it is to be a top tier tag team in WWE. Their clash this weekend will undoubtedly add to a stellar track record for the teams and will almost certainly provide the match of the night.
An argument could be made for the stacked main event to outshine them, which will be great fun, I'm sure. Let's face it though, WWE creative wouldn't deprive us of the Shinsuke Nakamura vs. AJ Styles dream match at WrestleMania 34, would they? Please don't dangle the dream and take it away, Vince… we know what you're like!
Unlike the actual main event, which we hope can be easily telegraphed with a Styles win; Smackdown Live's tag team division has real intrigue. This was only intensified after the promos both teams cut on last week's episode. The entire segment was powerful and reminded everyone that these two teams legitimately had one of the best rivalries of the past decade. Their in-ring work rate and unbelievable mic skills have set them apart from not just the Smackdown Live tag team division or even WWE as a whole but from stars in promotions the world over.
No matter what has been happening over on the blue brand, the one constant beacon of quality each and every week for well over a year now has been the tag team division. Despite being somewhat limited by the unfortunate way in which teams such as Breezango and the Ascension have been booked, the WWE Smackdown Live Tag Team Championships have always felt relevant and prestigious.
The mere fact that a triple threat tag team number one contenders match between Gable & Benjamin, Rusev Day and the New Day took place where it was feasible for any team to win shows volumes. Compare that to the Seth Rollins and partner vs. the Bar rivalry over on Raw that went on for about 19 years if I recall correctly, the difference is astounding.
With that in mind, it is not simply the established teams that have been tearing it up on Tuesday nights. The recent reformation of Luke Harper and Erick Rowan as the Bludgeon Brothers has been a master class in long-term storytelling. They have gone from squash match to squash match without even acknowledging the current champions for weeks. Now the tension that has been building through promo interruptions and purposeful restraint from anything physical is reaching critical mass.
It is clear that when we finally get to WrestleMania 34, the big bearded boys will no doubt be front and center for their opportunity at the tag titles. The only question is who will be holding onto them when we arrive in New Orleans?
https://www.youtube.com/watch?v=B5Qy8Yxqy0U
Heading into WWE Fastlane, however, both the Usos and the New Day have massive scores to settle. In their recent verbal bout, Jey Uso resentfully reminds us all:
"Nine years – zero Wrestlemanias."
The Usos need the moment that has evaded them throughout their tenure in WWE and no one could argue that they don't deserve it. But the New Day also has something to prove. To them, becoming five-time WWE tag team champions is prophecy. In their eyes, it will come to pass and slam the door shut on 'who? who? who?' is the undeniable best.