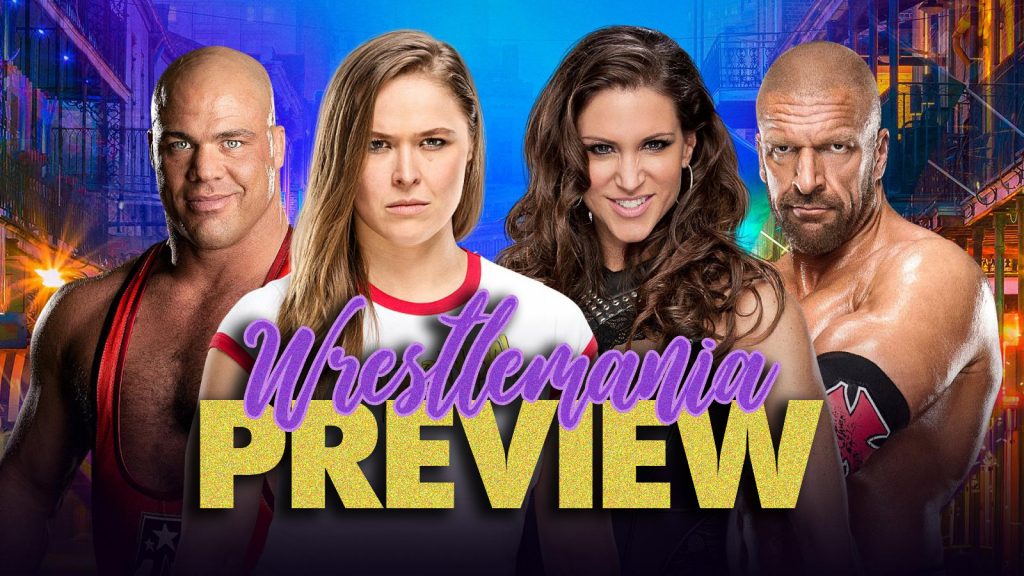 The buildup towards this mainstream phenomenon of a match has been nothing short of excellent. I never thought I'd be excited to see a Stephanie McMahon match, but WWE has somehow managed to pull it off. Despite Ronda Rousey's shoddy mic-work, she manages to garner huge babyface reactions every time she speaks; not to mention the excellent heel promos cut by Triple H and Stephanie in the past few weeks.
https://youtu.be/1LOYHEM_P58
The groundwork for this match actually goes back all the way to WrestleMania 31, where we saw Ronda Rousey and the Rock confront Triple H and Stephanie McMahon. We assumed that was to build towards a match between the four of them in the near future, but it seems that wasn't meant to be, as Ronda Rousey would not be seen in a WWE ring again until the 2018 Royal Rumble, three years later.
Although her timing was a bit annoying (stealing Asuka's Royal Rumble glory and whatnot) and her strange WrestleMania-sign-pointing pose made me laugh when I was watching live, it was an exciting moment for diehard WWE fans as well as ultra-casual ones. We would not see Ronda again until her WWE contract signing at Elimination Chamber.
It was here that the lines were drawn for Ronda's debut match at WrestleMania. In what was easily the best segment of the night, Kurt Angle revealed Triple H and Stephanie McMahon's ulterior motives behind signing her, leading to an intense moment which culminated in Triple H being sent through a table by the 'Baddest Woman on the Planet'.
The following night on Raw, we saw Steph demand an apology from Kurt Angle, manipulating Kurt into telling Ronda he lied about the bosses' motives. Ronda, however, was more interested in getting an apology out of Stephanie for slapping her the night before. Steph obliged halfheartedly, but as her and Triple H went to leave, the 'King of Kings' blindsided Kurt, laying him out for no apparent reason. Probably not the smartest move going into WrestleMania.
The match was finally made the following week when Kurt decided enough was enough. Ronda Rousey chose Stephanie as her WrestleMania opponent, and Kurt decided to do her one better. Seeking revenge on Triple H for his cowardly attacks, the Olympic gold medalist booked a mixed tag team match for the 'Show of Shows': Stephanie McMahon and Triple H vs. Ronda Rousey and Kurt Angle.
Having already made the most of the storyline build to this match, Ronda was not seen again (aside from dark segments) until the WrestleMania go-home episode of Raw. The four competitors in this blockbuster match opened the show with an entertaining face-off/Q&A segment. Angle and Rousey (or Ronda Rowdy, as Kurt would call her) botched a couple of their lines, but the material was golden and the crowd was passionately behind Ronda; Triple H and Stephanie McMahon cut amazing heel promos, vowing to repackage and rebuild Ronda after she loses this Sunday.
A scuffle ensued, wherein the authority got the upper hand and Stephanie blindsided Ronda, sending her through a table. Despite Ronda selling this table bump like she had a bad tummy ache, this was a fantastic go-home segment, and I'm all the more excited to watch WrestleMania because of it.
With the way this match has been built, WWE has set up a guaranteed feel-good WrestleMania moment when Ronda Rousey and Kurt Angle triumph over the authority. In order to hide Ronda's inexperience, I assume Kurt and Triple H will be working most of the match, with Ronda coming in at the end to take down Stephanie and lock her in an armbar, forcing the CEO's daughter to tap out. After all, there shouldn't be any real back-and-forth in a fight between Ronda and Steph anyway. That would be dumb.
Prediction: Ronda Rousey and Kurt Angle
What do you think of this match? Will Stephanie get in more offense than just a quick slap? Let us know in the comments below or on Twitter here.