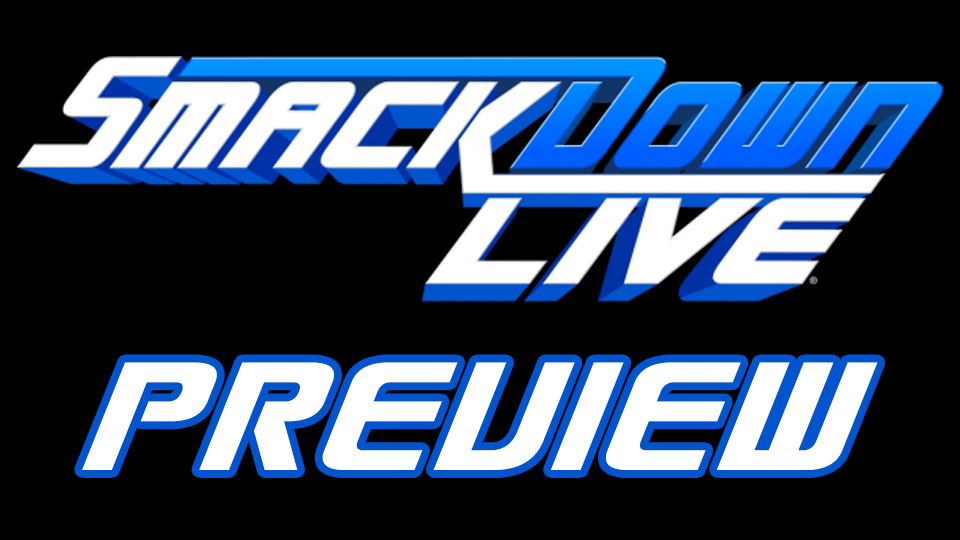 After the events on Raw last night, I think it's safe to say that we're probably not in for the most exciting episode of SmackDown Live in history.
With the company gearing up for the Greatest Royal Rumble on Friday and all the matches for the show announced, tonight may well feel a bit like a filler show.
Having said that, we are still yet to see the SmackDown Live debuts of Andrade 'Cien' Almas (w/ Zelina Vega) and SAnitY (minus Nikki Cross) so there are definitely things to look forward to on tonight's show.
The blue brand came away with easily the best deal from the Superstar Shake-up last week with the likes of Samoa Joe, The Bar and Jeff Hardy moving over to the 'Land of Opportunity'.
Although I wasn't particularly happy with the way that SAnitY and Almas were introduced last week, if they are given good debut matches then I'm not going to be complaining.
The best way to introduce SAnitY would be to have them interfere in a match because this introduces the idea of chaos which is with what they are all about.
I do not see any issue with them being inserted into the WWE SmackDown Tag Team Championship picture immediately. Anyone who has seen their matches on NXT will not disagree that they have the talent to feature in a title feud.
SmackDown's tag scene is now pretty stacked, particularly after Sheamus and Cesaro were announced as the latest additions to the roster.
With them added you have The Bar, The Usos, The New Day, The Bludgeon Brothers, Gallows and Anderson and SAnitY all in one division, and if that's not mouth-watering then I don't know what is.
I sincerely hope that WWE sees Almas as a main event player because his most recent work on NXT has been incredible and it would be a massive shame if they didn't capitalize on that.
Now that SmackDown's main event scene has AJ Styles, Shinsuke Nakamura, Samoa Joe, Daniel Bryan, (hopefully) Almas and apparently Big Cass, there are so many matches that we have to look forward to in the coming months.
There are lots of people who do not think that Cass belongs in the main event seen and honestly I have to agree. I know that Vince loves big tall men but Cass is currently not talented enough to look like a credible threat to the WWE Championship.
Last week we saw Jeff Hardy move over to SmackDown Live and immediately defend his newly won WWE United States Championship against Shelton Benjamin in a very solid TV match.
I'm hoping that this is the start of some kind of US open challenge as the ones we have seen before have been incredibly entertaining and have been a very good way of getting new talent over.
Hopefully, Jeff retains on Friday against Jinder Mahal and keeps the belt on Tuesday nights because the belt just looks right on him and I can see him holding it for some time.
Samoa Joe's first match on SmackDown Live was a typically dominant performance against Sin Cara and it looks like Joe is headed for huge things on the blue brand.
The latest rumor is that he was drafted over to Smackdown to keep him away from Roman Reigns which would allow him to have his own main event feud.
Matches like Joe vs. Styles, Joe vs. Nakamura and Joe vs. Bryan are now possible and anyone who has seen Joe's matches in TNA with Styles will know how exciting that prospect is.
And speaking of the main event scene, you would imagine that AJ will now be wearing a permanent shield over his phenomenal nether region now that they have become a permanent target for Nakamura's fist.
Nakamura has quickly become the top heel on SmackDown Live with his 'I don't speak English' and low blow gimmick. Thanks to his talent in the ring – something some heels distinctly lack –  the crowd really get behind him as a credible heel and I can see this latest run being one of the best heel runs in modern WWE history.
But the title of top heel will surely be contested by another man who made the switch from red to blue last week.
The Miz is now a SmackDown Superstar, which means we are surely just weeks away from him being kicked into orbit by Daniel Bryan.
We could see the renewal of this feud starting tonight, as Bryan has been announced as the special guest on Miz TV. Both men are great workers and great promos, so this feud should be nothing short of excellent, particularly given their history.
The SmackDown women's division finds itself in limbo at the moment, particularly with no title defense taking place at the Greatest Royal Rumble on Friday.
Following the end of her streak, it seems that Asuka is now just any other member of the women's roster. The IIconics, Billie Kay and Peyton Royce, also seem to have slipped into that bracket which is an incredible shame as they only debuted two weeks ago and you would have hoped that WWE had bigger plans for them.
Of course, they are very new to the main roster and therefore I am fully happy to accept that there may be bigger plans for them in the future but having them lose in their first match on the main roster is never going to be a good way of making them look like a credible threat.
Now that Carmella is champion there are two ways that WWE can go about this. Either – and this is probably quite unlikely –  they will push her as a real champion who can fight off people with actual in-ring ability or – and this is much more likely – they will make her a cowardly heel champion who uses a mix of cheating and distraction to win matches.
A lot of people think that Carmella's title reign will be very short but I for one hope that she holds onto the belt for some time which will allow for the build of a new babyface challenger.
If I had my way this would be Becky Lynch. I have mentioned several times in the past few weeks but she has not been involved in a title feud for almost a year and a half and she is far too talented for that trend to continue.
Becky will team with Asuka tonight to face the IIconics, and although I don't want Asuka or Becky to lose, giving the IIconics a win/loss ratio of 0:2 would be daylight murder.
If Raw was anything to go by then we won't see a lot of storyline progression tonight but we may well see a good deal of decent TV matches. This is especially true if some of the guys and gals who don't get a lot of TV time manage to get some tonight.
Are you looking forward to tonight's show? Let us know in the comments below or on Twitter here.