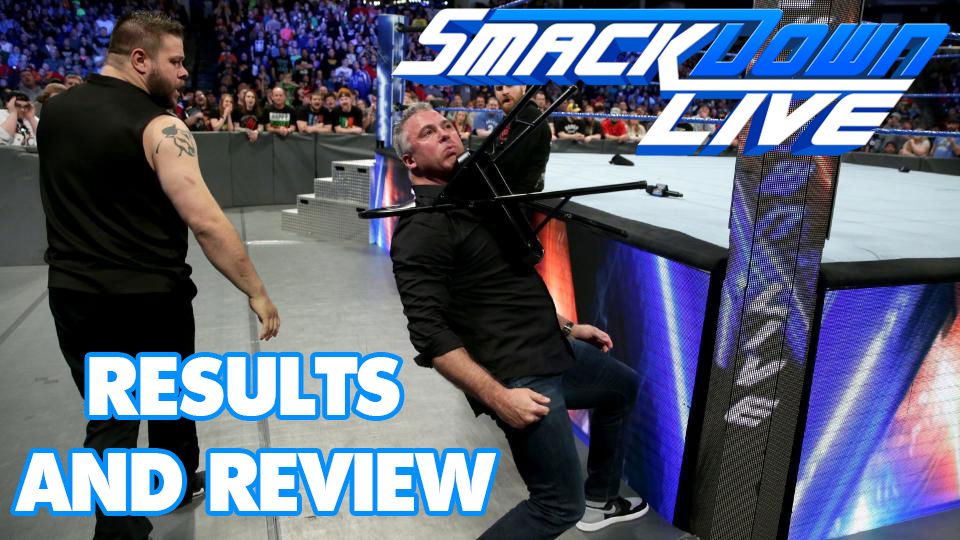 He knows how to hurt himself doesn't he?
If he's not jumping off things or being knocked out by aerial spears, Shane McMahon is usually finding a way injure himself.
His beat down at the hands of Sami Zayn and Kevin Owens at the end of last night's SmackDown Live was absolutely brutal. I don't know what it is about Shane, but things just look like they hurt more with him.
He was kicked, powerbombed, had his neck crushed in a chair, and thrown onto a pile of scaffolding. Ouch.
This makes a Shane vs Owens and Zayn match look inevitable, even though Shane announced a Sami vs Kevin match for 'Mania just before the assault.
Or, given their actions towards the commissioner, you would expect that they'd be punished in some way. Daniel Bryan is back next week and things could get a bit tasty.
But enough about that, let's talk about the main event. Carmella vs Naomi.
The two had an epic battle, during which both . . . I can't even pretend. It was pointless. Carmella won with an incredibly weak looking head bump thing. Top stuff.
I wish WWE would stop teasing us with Rusev. He deserves to be in that title picture, but it feels like all they're doing is saying to us: "Look, it's your favorite, Rusev, you want him to be in the main event don't you? Well, screw you all, here's him losing. Again."
It's nice to see him getting matches all the time, and you can't allow AJ or Shinsuke to win this close to 'Mania (ignore Cena beating AJ a few weeks ago), but maybe this could point to a Rusev vs the winner of the WrestleMania match?
Or is this just me being too optimistic?
Before the match, Styles opened the show to a huge pop as usual. Chants of, "You deserve it!" rang around the arena. It's true, he does.
The match finished as a DQ after Aiden English interfered. Nakamura made the save, and told AJ in a backstage segment that he would help him until WrestleMania. I'm so excited for their match!
The tag story line is epic. Big E and Jimmy Uso put aside their differences, both looking so fired up, to face the Bludgeon Brothers following the beat down they received at the hands of Harper and Rowan at Fastlane.
Despite an initial surge, the Bludgeon Brothers and their lovely hammers came out on top pretty comfortably. Their brutal looking move-set just makes them look so dangerous, and the triple threat tag match at 'Mania is looking like it could be phenomenal.
It's so refreshing to see a tag team being treated like unstoppable forces, and it's about time Harper and Rowan were given the respect they deserve. They're both brilliant in the ring.
I am so sick of women's segments being randomly cut off by male superstars' music suddenly going off.
It happened last week, and it happened this week. Why can't the segments just end organically just like any other? It doesn't add anything. If anything it just made Charlotte and Asuka look like time-fillers rather than the two top female wrestlers in the company.
Jinder Mahal beat Bobby Roode to have an excuse to enter the WrestleMania Triple Threat. Fine, I'm glad.
What a come down from Roode's very good match with Randy on Sunday. Oh well.
If this stays as a three-way, I'd be very surprised, given the amount of mid-card talent SmackDown is currently inundated with.
It will be very interesting to see where they go with the Shane, Owens and Zayn angle, and if there's a 'Mania match, what the stipulation will be. Either way, I'm sure we'll see Shane jumping off something high very soon.
Final thought…no sign of Cena? Maybe he got too drunk in the crowd yesterday and took the day off.