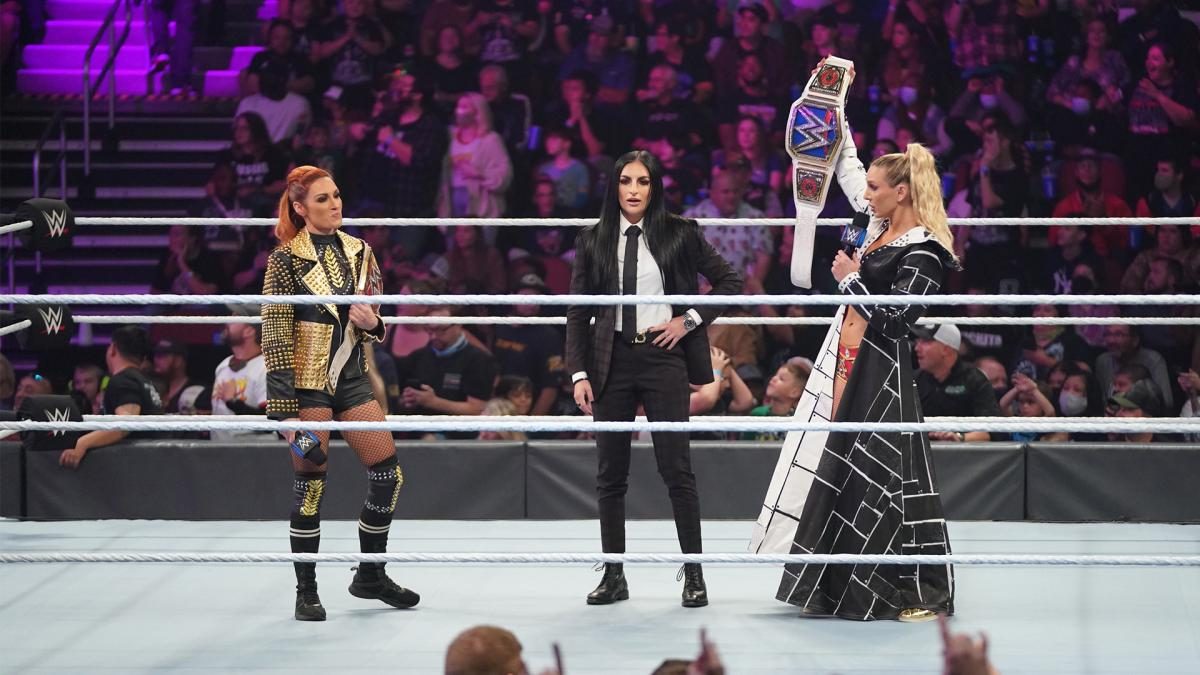 Becky Lynch has recalled her backstage argument with Charlotte Flair from her perspective, opening up about her current relationship with her former friend.
In case you've been living under a Dwayne Johnson, Becky Lynch and Charlotte Flair reportedly had a heated confrontation in gorilla position following the October 22 edition of SmackDown, after Flair dropped the Raw Women's Championship during their title exchange segment.
Speaking with  Ariel Helwani on The MMA Hour, Lynch stated that she didn't have time to 'scrap in the back' as she had to wrestle a dark match, so 'verbally lost it' instead.
Angry with Flair on behalf of Sasha Banks, who was reportedly meant to come out of the segment as a babyface and Flair's next title challenger, Lynch said:
"There was a plan in place that was supposed to go one way and if it went one way, everyone would have had a moment and it would have been great. I, in the back, said, 'this isn't going to happen, she's going to do something else.' She did exactly what I said she was going to do.

"Sometimes things can happen out there and people can get carried away in the moment, but I knew she was going to purposefully disrespect me, so I processed it a lot quicker and was able to hold it together until I got backstage and then I lost it a little. I lost it. Verbally. I had to do a dark match after, so I verbally lost it. I didn't have time to scrap in the back.

"At the end of the day, it wasn't about me. It was about Sasha and her getting into something. 'What was the need for it? This is stupid.' We need to go out there and be able to trust each other. We need to trust that one person will do what they said they're going to do."

(When asked if other wrestlers took her side backstage) "Other wrestlers? Other members of the crew. There's been a lot of patting on the back. Some people don't feel like they can stand up."
Revealing when she believes their relationship started to sour, Lynch said:
"My star was rising. We were the best of friends and it all worked when she was on top and I was below. We could all see the way things were going in 2019 and people were really rallying behind me and this turn would put me in a different league and I don't think she could take that and hasn't been able to take it. I think it's affected her work, even now.

"She is potentially one of the greatest, but I'm so in her head that she's lost it a bit and has lost a step. She's got that jealously and that little devil on her shoulder. That devil is me always being one step ahead of her and she doesn't like that. She thought her birthright was that she is the star.

"Doesn't matter that I started wrestling when I was 15 and left home and travelled the world to chase the dream. It doesn't matter that I wasn't one of the chosen ones. She was born into this and she deserves it. I think that's her thinking and we know where she gets that thinking from and she hasn't been able to take it."
The question is always going to be how much of what Lynch is saying is true and how much of it is just her trying to drum up interest in the match.
Lynch and Flair are set to square off at Survivor Series this Sunday.
Quote via Fightful.
To make sure you stay updated with all the latest wrestling news, add WrestleTalk.com to your Google Discover feed and follow us on Twitter!