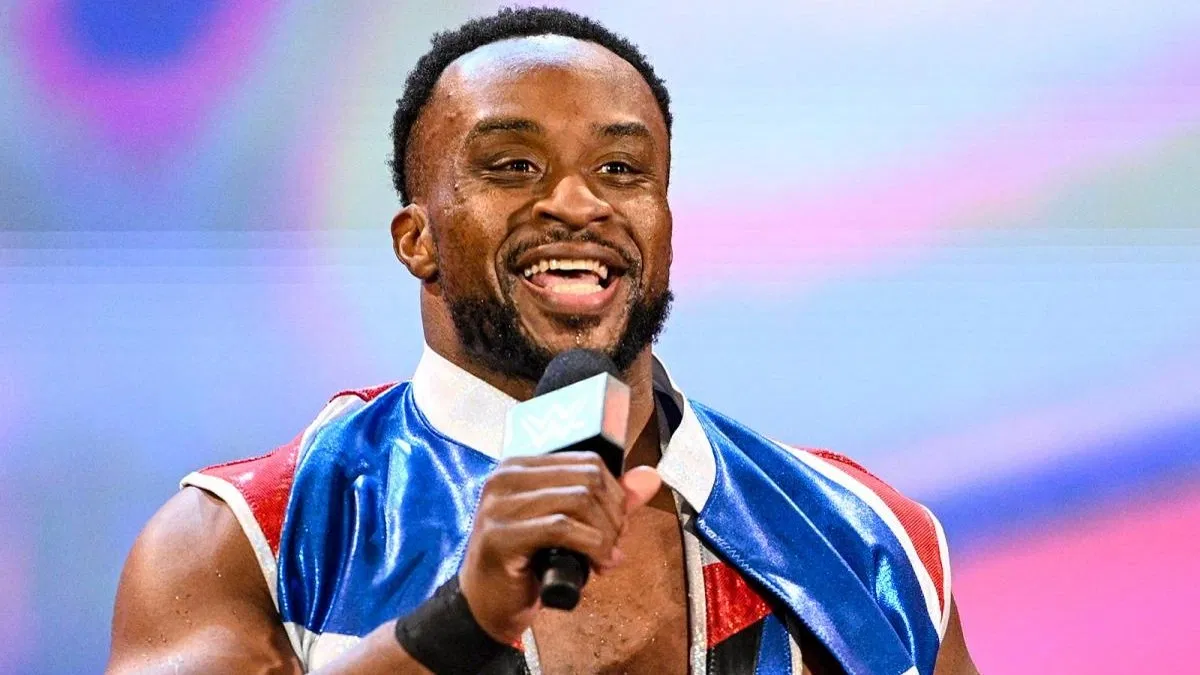 Former WWE Champion Big E hasn't competed in a WWE ring since March, when he suffered a broken neck following a botched Belly to Belly Suplex by Ridge Holland on an episode of SmackDown.
As Big E recovers, he took part in the most recent WWE talent tryouts in Nashville over SummerSlam weekend as a talent scout for the next generation of WWE stars.
Big E recently spoke to the Cheap Heat Podcast, where he discussed how things were going at the tryouts. E admitted that he never had an interest in being a scout, but working behind the scenes is 'really cool'.
He said:
"I've never been on this side. I never really had an interest. I always thought I was the young guy on the roster shaking my hips, but it's cool, they put a little respect on my name. It's really cool to be behind the scenes. We'll have a break for lunch and we're having these conversations about who we liked and what we liked about certain talent and it's really interesting. To backtrack a little bit, Triple H called me a couple of weeks ago and said, 'is this something you might want to do? No pressure. We're not forcing you to come out.' I talked to James Kimball [SVP of WWE], who has been awesome, he worked at UFC before, but he's now with the company. We talked about NIL. For me, as a former college athlete, that is big because I've seen so many college athletes come and go. They left college, got their degree, some of them, some didn't, but a lot of them left with nothing in their pockets. College football is generating so much money, college basketball as well, there is so much money in college sports. I'm so glad to see athletes finally being able to profit off their name, image, and likeness. Anyways, I worked with James Kimball on some of that stuff. He's involved with the tryout, Hunter called me as well. I thought, if it was all Indie talent, I don't know if I would have said yes. Not because I have a lack of respect for Indie talent, it's the opposite. I can't really speak to that experience. I never wrestled on the Independents and you have better eyes. There's Norman Smiley, Steve Corino, so many of these guys, men and women, as coaches in NXT, who have a better eye for that stuff. I didn't think I fit as well there. They told me the average age is 23 as well for the tryouts. I was 23 in 2009 when I got signed as a former college athlete. I see myself in so many of these men and women who are trying out right now. I just wanted to be here to lend a hand, give advice, whatever it is. I was also just tired of being in the house. I wanted to get out of the house and help out. It's been cool to see my friends in passing"
WWE invited more independent wrestlers to the SummerSlam tryouts, with a recent change in focus from independent stars to more college athletes. Big E discussed WWE's change in philosophy, admitting that he understands why WWE did it, but also understands the backlash.
He said:
"I understood their perspective because I get it. My favorite wrestlers, actively, are pretty much all guys who wrestled on the Indies. There are a few exceptions like Roman, he's been killing it. You grow up in a wrestling family, they tend to get it quicker. I wasn't bothered by it or offended by it by any means. I completely get it. You want to see the people who love this and have been doing it since they are 18 or younger who were in VFW Halls, who went through that grind. Of course, you want to see those people have the reward at the end of the rainbow. I get where they are coming from, but I also see value in people like me. If they didn't give a former college athlete an opportunity, my life would look drastically different. I get, on one hand, why there was backlash and I get, from a company perspective, why you would want to find the next Roman Reigns or Bianca (Belair) or Montez (Ford). You look at them, and their athleticism jumps off the screen. They also learned to bring their personality to the table. They offer so much more. I get both ends of the spectrum. The decisions made on who we are pursuing and who we're not pursuing, clearly, I got no clout. I got zero clout. I don't make any decisions.

"I think you're going to have more turnover with college athletes because you're going to bring a lot of people who look great in the tryout and they might not take to the business as well, there is that. Going this route, at the very top, the best case scenario is getting a Montez-type, people who are clear stars. I'm a fan of a mix of both. I like mining the college athletes and teaching them the business, and I also like the Seth Rollins' of the world, people who just have this in their blood. Seth Rollins was bound to do this, whether it was in front of two people or 100,000 people, it's in his blood."
Many fans have speculated that WWE's philosophy on signing independent talents may change once again now that Triple H is the EVP of talent relations, and the new head of creative.
The tryouts have made headlines already, with NBA Champion Dwight Howard showing up and cutting a promo.
transcription via Fightful
To make sure you stay updated with all the latest wrestling news, add WrestleTalk.com to your Google Discover feed and follow us on Twitter!