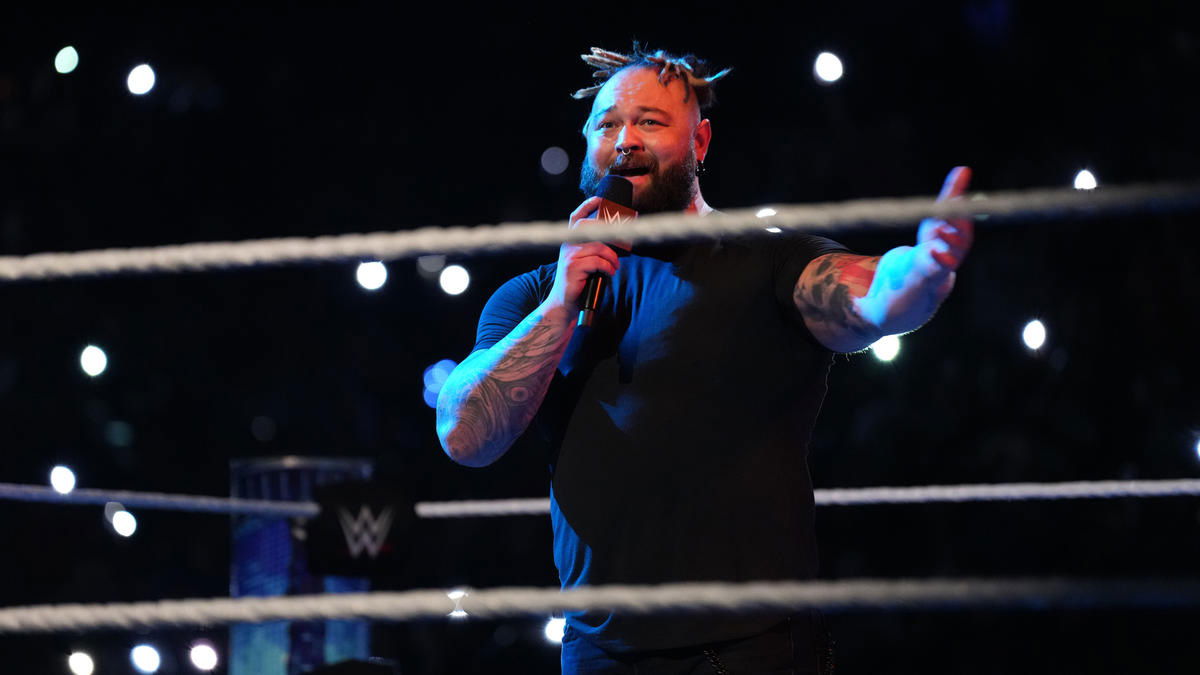 More tributes have been shared for Bray Wyatt, real name Windham Rotunda, after his tragic and sudden passing today at age 36.
As the news of Rotunda's passing spread throughout the wrestling world, top stars of past and present continue to share their condolences and tributes.
Current WWE Tag Team Champion Sami Zayn wrote:
"I have a hard time accepting death. Denial is strong. I am just shocked and I really can't believe it. RIP Windham Rotunda, I'm grateful to have shared some good times with you."
Top Dolla posted a video with himself along with fellow Hit Row members Ashante 'Thee' Adonis and B-Fab at an airport bar, having ordered six shots in honor of Rotunda who was described as a "true original" in addition to a great human and Father:
Windham 6 Shots. 🥃🥃🥃🥃🥃🥃
RIP to a LEGEND from #HitRow
Separately, Top Dolla also wrote:
"Before I was a wrestler, I was a firefly.
"He had the whole 🌎 in his 🤲🏽 #RIP
"I can't believe this… Bray Wyatt was the reason I came to @WrestleMania XXX in New Orleans… working with him in Montreal & feeling that crowd reaction is one of my greatest memories in life.
"The world lost a true artist, a good man and a great father. #RIPBray 🙏🏽🕊️"
Trinity Fatu, formerly WWE's Naomi, wrote:
"Can't stop the tears sending my love and prayers to the entire Rotunda family"
Former WWE star JTG wrote:
"I Dedicated a whole Chapter to you in my 2nd book so the world would know what kind of individual you are. Safe travels my Brotha ✊🏿 #BrayWyatt"
Glenn Jacobs aka Kane wrote:
"Tragic news. Windham was an exceptional talent in the ring. His creation, Bray Wyatt, is an iconic character. Backstage, Windham was a lot of fun to be around, one of those people who never had a bad day. What a loss, both professionally and personally."
Ric Flair wrote:
"When Your Great Friend And Someone Your Son's Age Dies Within 2 Days, It Really Makes Me Reflect & Think About Life! Don't Take Any Second For Granted! Rest In Peace Terry Funk & Bray Wyatt!"
R-Truth wrote:
"I am sadden by the news 😞My condolences to the family of Windham Rotunda aka Bray Wyatt RIP I'm gonna miss you my friend ❤️ 💐 🙏🏾"
And WWE Hall of Famer Mick Foley wrote:
"RIP BRAY WYATT. This is awful news, just terribly sad for his family, friends and fans. I thought so highly of Bray Wyatt, and was so flattered when he started using the mandible claw for his finisher. He was a true visionary; one of the most compelling presences that wrestling has ever seen. #RIPBray"
Earlier, Sean Ross Sapp of Fightful reported:
I was given permission to reveal that earlier this year Windham Rotunda (Bray Wyatt) got COVID that exacerbated a heart issues.
There was a lot of positive progress towards a return and his recovery. Unfortunately today he suffered a heart attack and passed away.
WWE has added the following note to the item descriptions for Wyatt merch on the WWE Shop website:
In the wake of Bray Wyatt's death, WWE will donate all net proceeds to support JoJo Offerman and his children.
You can find said merch at this link.
Our thoughts and condolences continue to be with Windham Rotunda's family, friends, and everyone affected by his passing.
Windham 6 Shots. 🥃🥃🥃🥃🥃🥃

RIP to a LEGEND from #HitRow pic.twitter.com/oq7qPhjYme

— Top Dolla 🔝💵 (@AJFrancis410) August 25, 2023
I can't believe this… Bray Wyatt was the reason I came to @WrestleMania XXX in New Orleans… working with him in Montreal & feeling that crowd reaction is one of my greatest memories in life.

The world lost a true artist, a good man and a great father. #RIPBray 🙏🏽🕊️ pic.twitter.com/UhTFcpM1bK

— Top Dolla 🔝💵 (@AJFrancis410) August 24, 2023
Before I was a wrestler, I was a firefly.

He had the whole 🌎 in his 🤲🏽 #RIP pic.twitter.com/1B9cBF0gKl

— Top Dolla 🔝💵 (@AJFrancis410) August 25, 2023
I Dedicated a whole Chapter to you in my 2nd book so the world would know what kind of invidual you are.
Safe travels my Brotha ✊🏿#BrayWyatt pic.twitter.com/7SjtbC9yvW

— JTG ( JAY THA GAWD ) (@Jtg1284) August 25, 2023