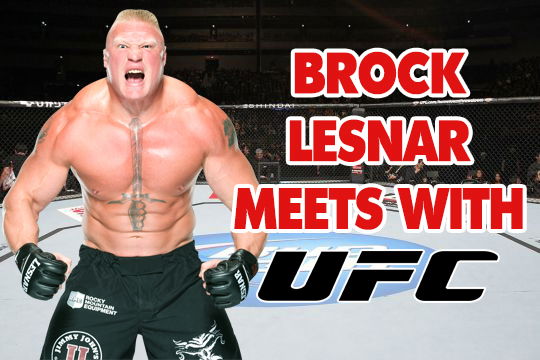 The rumor mill regarding Brock Lesnar's future continues to churn following reports that Lesnar met with UFC President Dana White in Las Vegas on Sunday.
WWE was also in the city for Elimination Chamber, but rather than appearing on the show, Lesnar was conspicuously reacquainting with his former boss.
White posted the following picture on his Twitter account this morning, of him stood all-smiles next to Brock, who was notable wearing a UFC shirt.
— danawhite (@danawhite) February 26, 2018
Although this could simply be friends catching up, White trolling, or savvy Lesnar playing the negotiation game in an effort to increase his next WWE contract, all current signs seem to point toward Brock leaving the squared circle for a return to the Octagon.
A marquee fight with UFC star Jon Jones would generate huge money, making Brock more in a single fight than he would earn from an entire year of his WWE contract. A businessman through and through, if Lesnar feels that showdown is a possibility then his next career move will be UFC.
It shall be fascinating to watch how this situation unfolds over the coming weeks leading to WrestleMania. For starters it will be interesting to see how the WWE audience reacts to Lesnar on this evening's Raw.
Do you think Lesnar will return to UFC, or will he stay put with WWE? Have your say in the comments below.