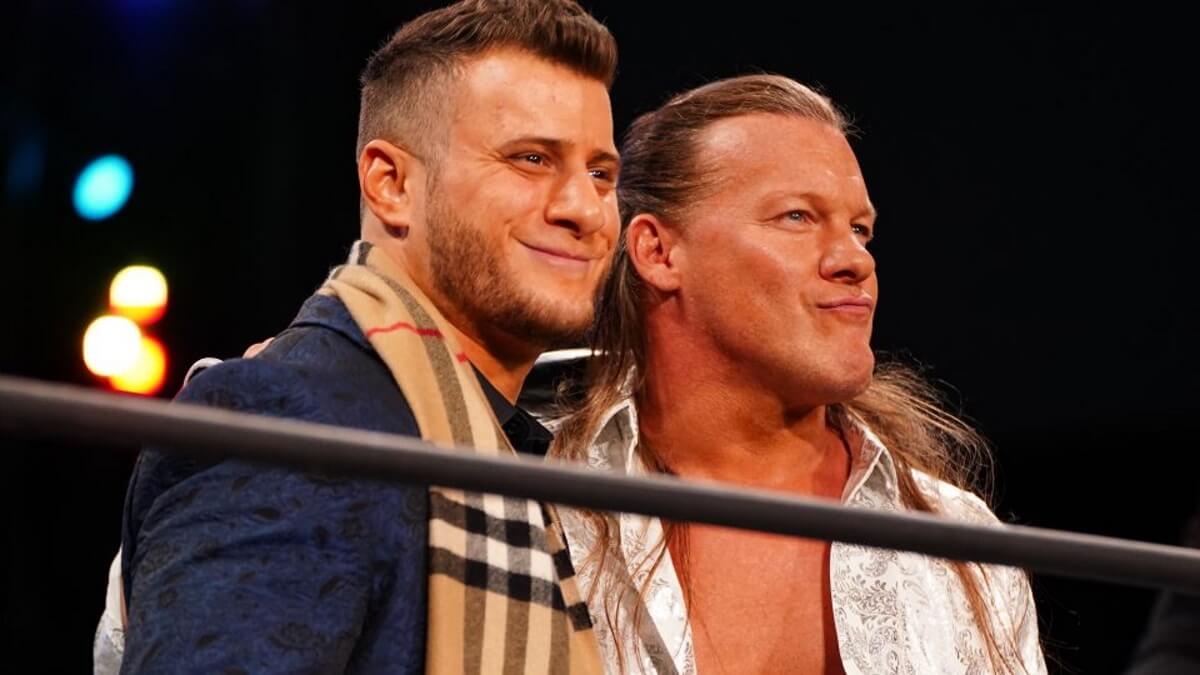 It seems like years ago after the last month or so worth of news in the wrestling world, but the MJF and AEW saga is still ongoing, as Friedman has not appeared on AEW television since his epic promo on June 2 following his contract situation with the company.
Former AEW World Champion Chris Jericho recently spoke to Alex McCarthy of talkSPORT, where he was asked about MJF's issues with the company. Jericho says that it has nothing to do with him, but that a 'contract is a contract' that should be honored.
He said:
"After 30 years in this business I've learned if it doesn't have anything to do with me I stay the hell out of it. I don't really care. If I had an angle with MJF or if I was involved in the contracts I'd be much more interested in it, but I stay out of it, it has nothing to do with me. Only thing I will say is a contract is a contract. If every athlete in every sport wanted to be paid more now, then what's the point of having a contract, you know what I mean? We'll see how it plays out. I'm happy with my contract and I know in a year-and-a-half when my contract is done, we'll have some negotiations to discuss and that's how it goes. Until then, I want to do the best performances that I can, put on the best shows and the best stories, keep the people interested, happy and excited and when that contract is up, I'll be rewarded for it."
Jericho continued on, saying that MJF 'isn't as good as he thinks he is' and that he believes he'll end up back in AEW.
He explained:
"MJF is [26]. He has a lot to learn. He's not as good as he thinks he is and like I said, it really is nothing to do with me but I'm sure he'll be back. 18 months is a long time to stay at home and that's Tony Khan's prerogative. You're under contract, you want to stay at home? You can stay at home and not get paid and that's what happens. We see it happen in other companies and that's just how it goes. If you didn't expect that, then why did you sign your contract in the first place?"
Finally, Jericho was asked about MJF possibly jumping ship to WWE, and whether or not his character would be watered down in the company, to which he responded:
"Oh absolutely. He's better off staying in AEW. But, again, don't stick your finger in the light socket. You tell a little kid not to do that and they're going to do it to see what happens. I'm not going to tell anybody not to go elsewhere because I did it. I did it for years. I did it to come to AEW. I walked away from WWE. When I signed my AEW contract Vince McMahon said 'Can you get out of it?' – No, you told me to go here! Same thing happened when I left WCW to come to WWE. Sometimes you got to take a chance and if you believe in yourself and you feel you aren't getting your dues, then you gotta go elsewhere. So if Max, or Cody [Rhodes], if they want to go elsewhere, that's kind of the way it goes. That's pro sports and that's what pro wrestling is. It happens in the NFL, in the NHL, the Premier League – guys come and go. You got to have the best team possible with people that want to be there and if you don't want to be there, it's just not going to be conducive to your own performance anyways. Much to people's surprise, wrestling is a team. We are a team and everyone on the team has to swimming in the right direction. If you're not, you got to make some changes and it happens every single year in every company. There's never been a guy bigger than the company from Hulk Hogan to Bret Hart to Shawn Michaels to John Cena to Cody Rhodes. Who even remembers that Cody was in AEW? It was a pretty big deal when he left, but now it's like we've all moved on. Good for him, good for us and now let's get to the next chapter."
Jericho is set to team with Sammy Guevara and Minoru Suzuki to take on Eddie Kingston, Shota Umino and Wheeler Yuta at this weekend's Forbidden Door pay-per-view.
To make sure you stay updated with all the latest wrestling news, add WrestleTalk.com to your Google Discover feed and follow us on Twitter!