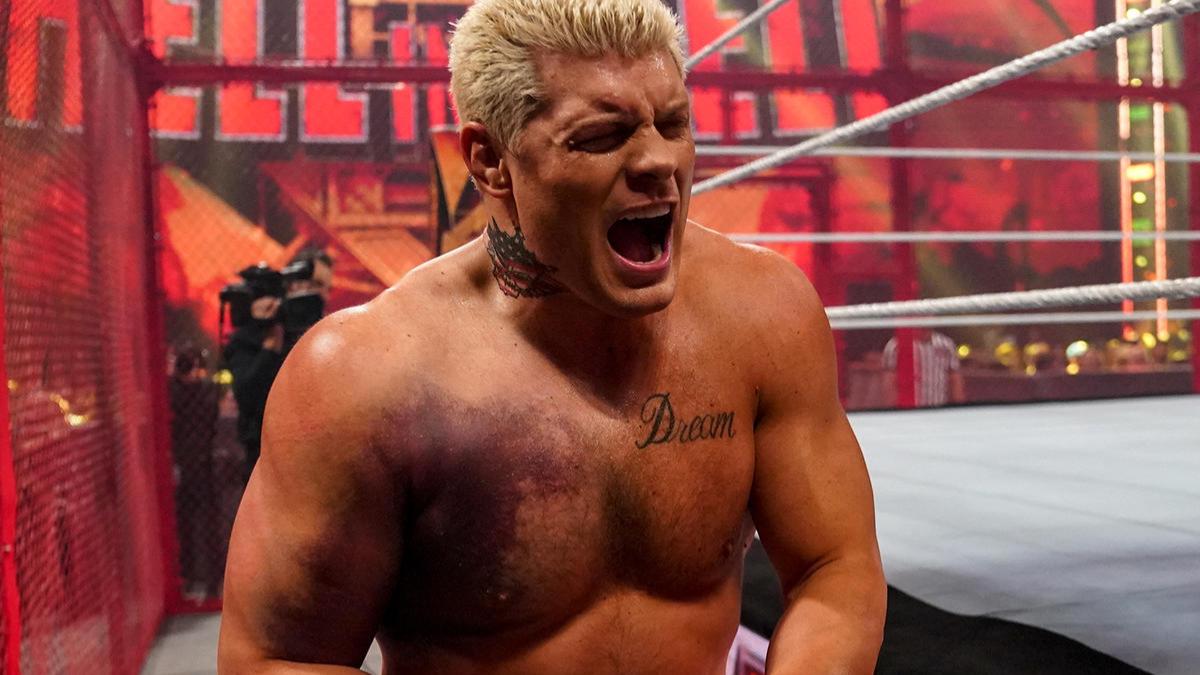 Cody Rhodes has explained exactly how he tore his pectoral muscle ahead of Hell in a Cell 2022.
The American Nightmare notably wrestled Cody Rhodes at the June 2022 event with the injury.
Per reports, Rhodes had torn his pectoral muscle completely off the bone during training, and was reportedly only allowed to compete because there was no more damage that could've been done to the pectoral muscle.
Speaking on Logan Paul's ImPaulsive podcast, Cody Rhodes noted that he was attempting a 295lb (133kg) bench press without warming up when he suffered his injury.
Recalling the incident, Rhodes said:
"The stupid thing was I've been wrestling since I was 15 is when I started pro training. No injuries. I felt bulletproof. Walked in the gym, flip-flops on.
"Flip-flops in the gym, bad sign. Open cup of coffee. Got on the bench. Put on 295. Didn't even warm up. Was going for four.
"The dude on the other side of the gym, you know, testosterone Phil, just me and this other dude. I have no idea who this man is. I don't know why he's grimacing at me. I'm grimacing at him now. The plot thickens.
"He's doing his full CrossFit routine, like taking up the whole jungle gym. It's just me and him in there. I'm going to show you dude.
"I just unrack it and it went right away. I felt it. I didn't need to kick the weights off. They flew off. Then this dude, who I've been having this moment with, runs over, 'Hey, Man, are you okay?"
Discussing his Hell in a Cell performance, Rhodes noted:
"They were really cool and I think it was something that Vince really knew I wasn't going to take no. I might have had to take a no, but I just didn't want to get to it.
"I had a great conversation with him and he was really clear about, 'Hey man. If you're struggling out there, we got to call it.' I said, 'All right.' Well, it's a struggle, always, when you're wrestling Seth.
"It's a struggle when you're in Hell in the Cell, but I did understand that, and they let me finish. The referee in the ring, Spider, that's his nickname, he talked to me the whole time because I was just on Planet Z.
"I was just really, I was in shock still, because you know, shock puke, where you feel like you're gonna vomit, you break a bone or whatever. I hit something up front.
"I set right up, and it looked like I sat up for the camera shot. I sat right up, here it comes. I'm going to throw up and they're gonna instantly ring the bell.
"I think if I would have thrown up, they would have been, 'okay.' because people like watching a car wreck, but there's a limit to it."
Cody Rhodes is set to challenge for Roman Reigns Undisputed WWE Universal Championship at WrestleMania 39 after winning the 2023 Royal Rumble match.
Dustin Rhodes has now shared a message for his brother, which you can read right here.
Transcription via WrestlingNews.co.
Think you're a wrestling mastermind? Well you can prove it by taking quizzes in our brand new quiz section! Don't forget to tweet us your results!