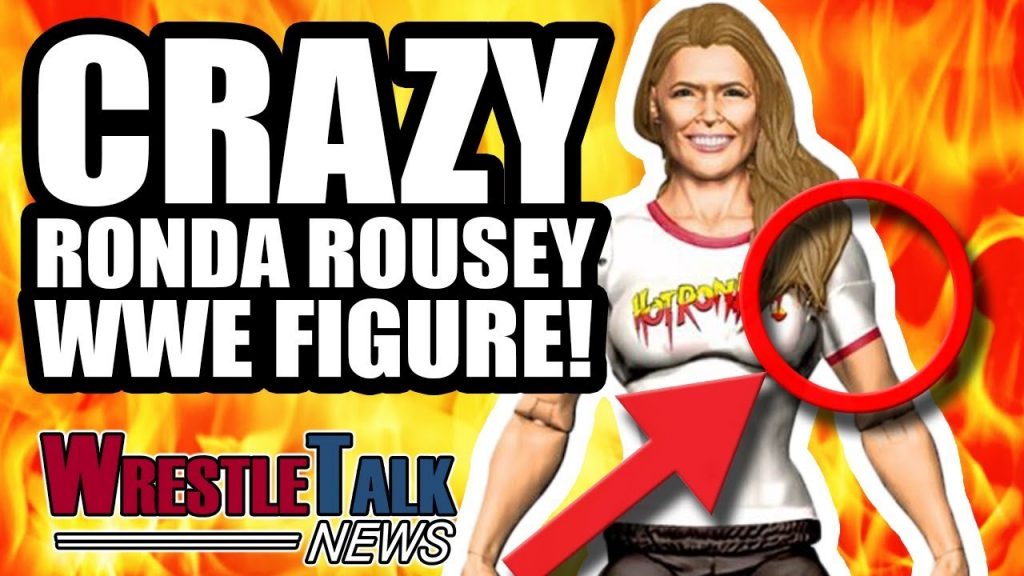 Happy Comic Con Weekend!
And happy San Diego Comic Con weekend, everybody! The comic book and superhero movie fan's version of WrestleMania, which is the wrestling fan's version of Christmas. So it's a pretty big deal. And wrestling has a presence there, too, with WWE license holders Mattel unveiling their new range of Superstar action figures . . .
OH MY GOD, WHAT IS THAT THING?! KILL IT! KILL IT!
Crazy Ronda Rousey WWE Figure
Mattel unveiled Ronda Rousey's first ever WWE action figure. Let's get some analysis to see what's going on here.
First up is the face. In that she's got the wrong one. Specifically that of Green Goblin actor Willem Dafoe, but that's an easy mistake to make . . . because they look absolutely nothing alike!
Fran O'Reilly pointed out how ridiculous the figure's face is by grafting it onto the real thing:
Sorry to say this Vince, but thats what nightmares are made of…. pic.twitter.com/k4tOONknz7

— Fran O'Reilly (@ShadEO9) July 19, 2018
Secondly, there's the figure's sudden boob job. The Attitude Era lives on. And continuing the strangely detailed contours, an . . . um . . . indent around the pelvic region.
The most glaring inaccuracy, however, is that she isn't doing the point!
Vince McMahon, who 100% definitely manages his own Twitter I'm sure, applauded the figure by posting:
.@RondaRousey's first #WWE action figure is officially The Baddest Toy on the Planet. pic.twitter.com/L8zCYIzCUf

— Vince McMahon (@VinceMcMahon) July 19, 2018
Baddest presumably being the literal meaning of the word rather than the cool kid slang use.
Sadly Mattel didn't release a snake hair Rousey variant in honor of her post-apocalyptic chic do from this week's Raw – which Ronda posted about on Instagram:
https://www.instagram.com/p/BlbAxM2hBZ0/?utm_source=ig_embed
More WWE Figures Revealed
But the Mattel announcements weren't all demonically possessed dolls waiting to murder you in your sleep 
There was also a great looking Triple H Attitude Era figure, an insanely realistic Adam Cole face, bay-bay and, best of all, an Ultimate Deletion set including Skarsgard the dilapidated boat, mower of lawns and Vanguard 1 complete with Matt Hardy hologram!
But Ronda's not just got competition in the action figure world, she soon might have another contender in WWE's women's division…