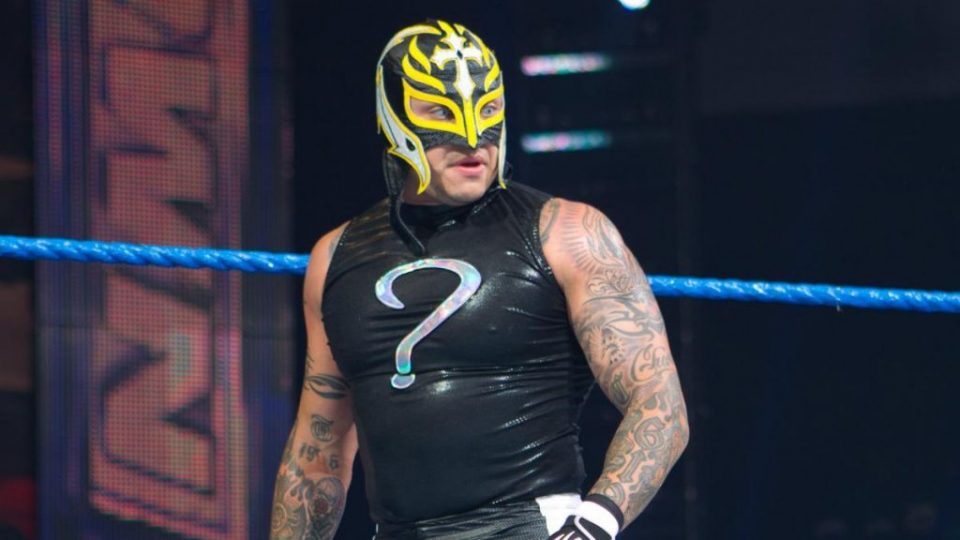 Masked wrestling legend Rey Mysterio returned to WWE last year following several years away and picked up right where he left off, having not missed a beat. Recently he has been involved in a feud with United States Champion Samoa Joe (with the two set to battle for the belt at Money In The Bank this coming Sunday).
Rey's 22-year old son Dominick has been part of the storyline, marking his return to WWE following his role as a key plot point in the 2005 feud between Eddie Guerrero and Rey Mysterio.
It was revealed in that programme that Dominick was actually the son of Eddie Guerrero (spawning the memorable "I'm Your Papi" shirts), leading to a 'Battle For Custody Of Dominick' ladder match at SummerSlam 2005, which was won by Rey.
Dominick's parentage has again been called into question with Samoa Joe alluding to the fact that Dominick looks like him. Which he kind of does, if you squint a bit.
According to the Gorilla Position podcast the reason behind Dominick's return to WWE television is not simply to rehash a 14-year-old storyline but because Rey wants to pass on his mask to Dominick, who has been training to become a wrestler himself for a few years:
"Apparently what Rey wants is to pass the mask on. And that's what he said to WWE that he wants eventually for Dominick to wear the mask. He wants a match with Dominick where he loses and he passes the mask on."
It is easy to see why WWE would be supportive of this idea. Rey has always been a big merchandise mover in WWE and sales of his replica masks have been top sellers for years. Dominick taking on the mask allows WWE to keep the Mysterio gimmick alive long after Rey retires.
That Dominick is being integrated into WWE programming alongside his father in this manner is not a major surprise. There were hits at this recently when Rey trademarked the name "Prince Mysterio", which will almost certainly be Dominick's wrestling name when he laces up his boots in WWE for the first time.
Whether that will be in the near future as part of this ongoing Samoa Joe programme or at some point in the future is unclear. Clearly this angle is going somewhere though, so don't be surprised to see Dominick in the ring in some capacity before the year is out.
WrestleTalk Almanac Vol. 2, the ultimate must-have guide to wrestling in 2018 is available for pre-order NOW: