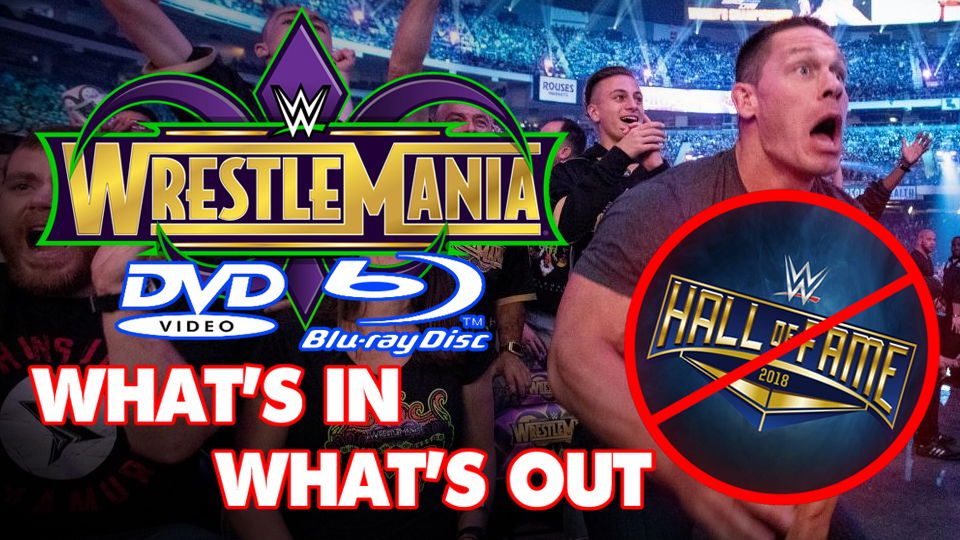 The contents of the upcoming WrestleMania 34 DVD and Blu-ray have been announced and once again things are being shuffled around. Time to be an informed consumer and see what your hard earned cash gets you this year.
The three-disc DVD set will feature WrestleMania 34 in its entirety. That includes the full two-hour Kickoff show. Content that was infamously dropped from last year's set. However, the 2018 WWE Hall of Fame ceremony will NOT be part of the release.
As reported by Wrestling DVD Network, the reason for this exclusion is due to time constraints. With the 2018 ceremony clocking in at around four and a half hours, just a bit under the run time of the entire main show of WrestleMania 34. This marks the first time that the WWE Hall of Fame ceremony will not be part of the WrestleMania DVD since 2005's WrestleMania 21.
Still, there is additional content in the set and it is more than a simple case of swapping out one segment for another. The WrestleMania 34 release will also include the full Raw after 'Mania episode. Generally considered to be one of the biggest episodes of Raw each year. The April 9, 2018 edition saw NXT call-ups, returns, retirements, and acts as both epilogue to WrestleMania and a starting point for events to come.
If you're planning to go the full Blu-ray for your fix there is even more post-WrestleMania action with the inclusion of two segments from the SmackDown Live, April 10, 2018 episode. Both the introduction of Paige as the new SmackDown Live General Manager and Carmella's Money in the Bank cash-in are featured as extras! That's a lot. Look at poor Braun Strowman down there trying to get his hands around all that action!
You can get your hands on the WrestleMania 34 DVD and Blu-ray May 15 in the USA, May 23 in Australia, and June 4 in the UK and Europe.
How do you feel about the Hall of Fame ceremony not being included for the first time in 13 years? What about the Kickoff show returning or the addition of the Raw after WrestleMania? Just how many times did I type WrestleMania in this article, yes, including that one? Let us know in the comments below!