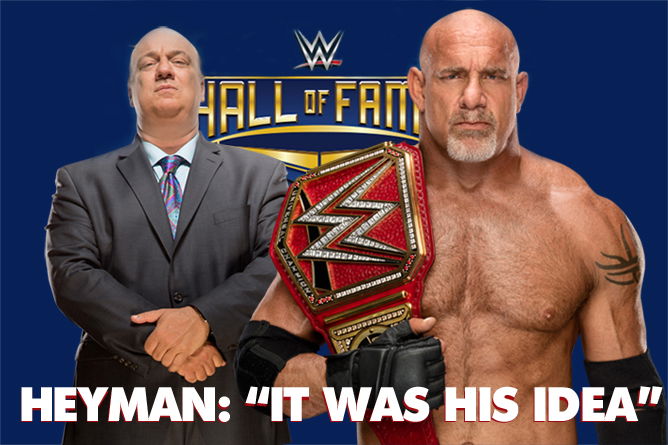 Paul Heyman, the advocate of current WWE Universal Champion Brock Lesnar, has shed some light as to why he is the one inducting Goldberg into the WWE Hall of Fame.
Heyman revealed in a recent interview with NBC Sports that it was Goldberg himself who asked him to enshrine the former Atlanta Bulldog during WrestleMania weekend:
"It was his idea… I didn't ask to do this. When WWE approached Goldberg about going into the Hall of Fame, he insisted that I be the one to induct him."
He added:
"I find Goldberg to be a man's man, a timeless box office attraction, a performer that understands his role, and a family man that all of us who have families should aspire to be more like".
Some had criticized WWE's supposed choice of Heyman as Goldberg's inductee, with some arguing that someone more closely associated with WCW should have been the person to induct Goldberg instead. Heyman's words for Goldberg, however, show a tremendous amount of respect for the former WCW champion:
"I'm just such a fan of what Goldberg brings to the table. I think if Hollywood is looking for their next 50 plus year-old bad ass, the heir apparent to the Clint Eastwood role is Goldberg."
With the advocate a key part of Goldberg's return feud with Brock Lesnar, it seems that Heyman is a fitting inductee for the WCW legend.
https://youtu.be/60u2A4Mv5iQ
What are your thoughts on Paul Heyman inducting Bill Goldberg into the WWE Hall of Fame? As always, let us know in the comments below or on our official Twitter page.