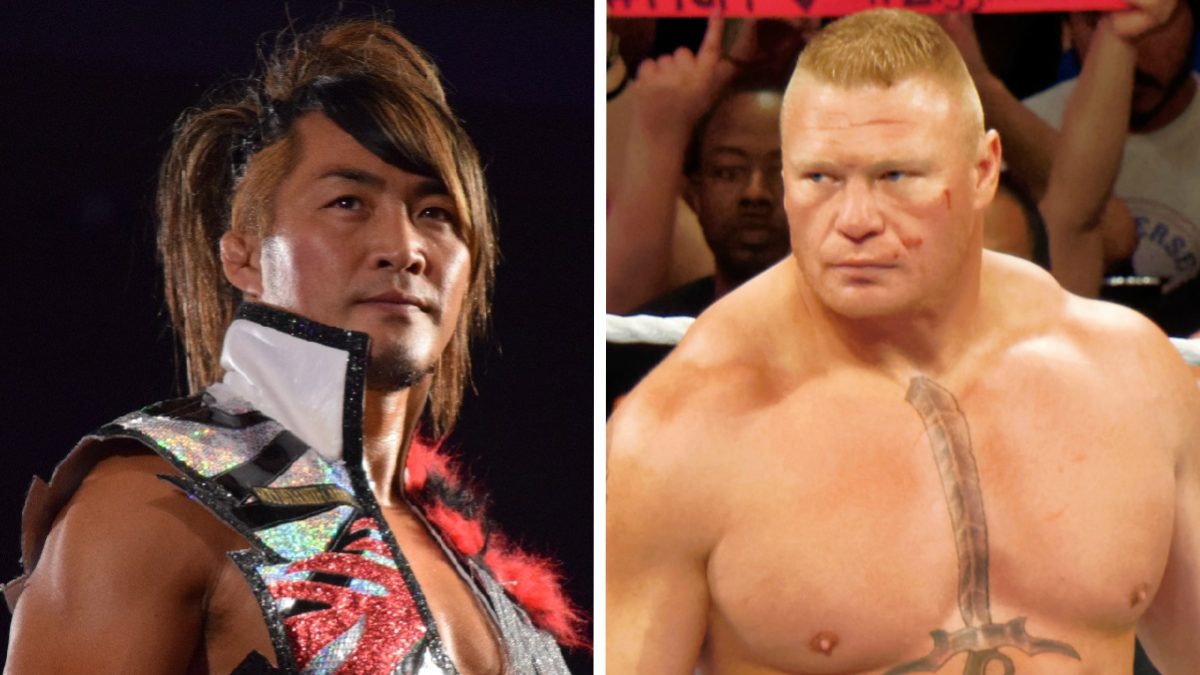 NJPW ace Hiroshi Tanahashi has discussed Brock Lesnar's departure from the company, calling his style of wrestling selfish.
In 2006, the world was almost treated to the dream match of Hiroshi Tanahashi vs Brock Lesnar. This match would never happen, with "visa issues" preventing Lesnar from defending the IWGP Heavyweight Championship.
Tanahashi has recently recalled the moment he found out this match was to be cancelled. In the latest Ace's High series, Tanahashi recalled the hype for this match, and his disbelief whe he found out it wouldn't be happening.
When asked about Lesnar's style, Tanahashi admitted that he didn't see anything special in The Next Big Thing. Calling Lesnar selfish for only being motivated by money, The Ace stated that he was shocked with how little Lesnar cared for NJPW.
Here is the full quote:
"I go in there and (Riki Choshu) says 'Lesnar's not coming'. I was just stunned, like the world had gone into darkness in front of me. I never knew the real ins and outs of the contract issue, but I do know he had a really special money situation going on, and I would imagine that was what was at the heart of it. It was really an unprecedented set of circumstances when it comes to IWGP title matches.

"Back in those days, we would have this big lion mark flag at the venues for fans to write messages of support on. Going into this match, we ran out of space on the first flag and had to get a second. That was how hyped the match was with the fans in the venues, but all of a sudden it was gone,"

(When asked what kind of match he would have had with Lesnar) "Technical, I think. It would have to be; you certainly couldn't match him for power. To be brutally honest, I could never get into any of what I saw of Lesnar. It was all one sided, a completely selfish way of wrestling. I saw him come up in the early 2000s, and he was just pounding people, you never got to see anything from his opponents. I just didn't understand his deal at all.

"I think to be honest Lesnar didn't really care where he was wrestling as long as he got his payoff. That wasn't the case with Bernard and other foreign guys like that. It really took me aback that there was someone who cared absolutely nothing for the place they were working. That was part of my motivation for that match."
Lesnar won the IWGP Heavyweight Championship in October 2005. He was eventually stripped of the title in July 2006 due to "visa issues".
The vacant title was claimed by Hiroshi Tanahashi, who won a tournament to become the new champion. Lesnar maintained possession of the physical IWGP Heavyweight Title until June 2007.
Will Ospreay recently became second-ever holder of the unified IWGP World Heavyweight Championship. A top WWE star praised Ospreay, recalling that standing face to face with the UK star was like "looking in a mirror".
What are your thoughts on the above story? Let us know in the comments on Twitter or Facebook.