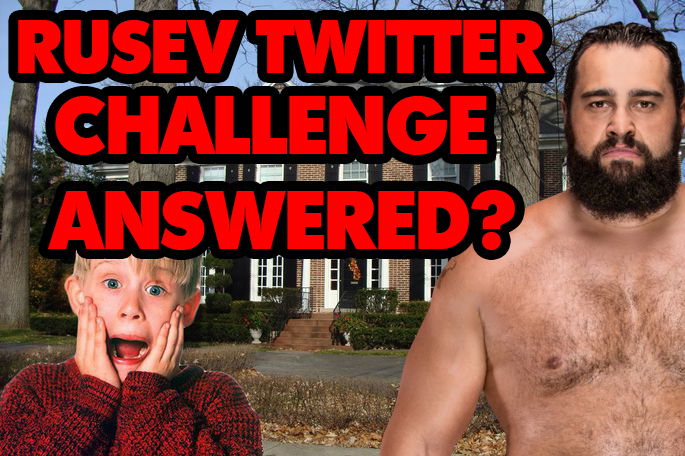 It seems Kevin McAllister himself wants to put his 2-0 record on the line against Rusev this WrestleMania. Getting cocky after having bested the dynamic duo of Danial Stern and Joe Peche – not once, but twice – Macaulay Culkin answered Rusev's Twitter challenge.
Rusev has tweeted out several times in the past few days that he wants a celebrity to fight him at WrestleMania. This could be a tongue-in-cheek jab at WWE's booking of WrestleMania that seems to favor celebrities and part-timers to quality wrestling.
RusevDay Vs Celebrity #RusevDayVsCelebrity

— Miro (@ToBeMiro) March 14, 2018
After several people suggested Arrow star Stephen Amell, and him vehemently denying the request…
Please stop suggesting me. I am terrified of this person. https://t.co/WlMTZ1lDYn

— Stephen Amell (@StephenAmell) March 14, 2018
… our hero appeared, tarantula in hand. In a tweet late Thursday night Culkin stated he was officially accepting Rusev's challenge.
BREAKING NEWS: I am officially accepting @RusevBUL challenge to wrestle him at this year's Wrestlemania. You heard it here first, folks.

Come at me, bro!

— Macaulay Culkin (@IncredibleCulk) March 16, 2018
The 'Bulgarian Brute' responded by saying he couldn't hit little Richie Rich. To this Culkin cheekily replied that he would be the one doing the hitting.
I cannot Hit Little Kevin McAllister or Richie Rich ! https://t.co/9hvTfXUB6V

— Miro (@ToBeMiro) March 16, 2018
It's cool. I'd be doing all the hitting anyway. #youjustgotculked https://t.co/aZOz8LVthV

— Macaulay Culkin (@IncredibleCulk) March 16, 2018
Though it appears to be little more than playful Twitter banter, the match possibilities are interesting. This may be the WWE's chance to do a proper House of Horrors match. Watching Rusev and Aiden English dodging paint cans and rusty nails would make for one heck of a pay-per-view.
#youjustgotculked