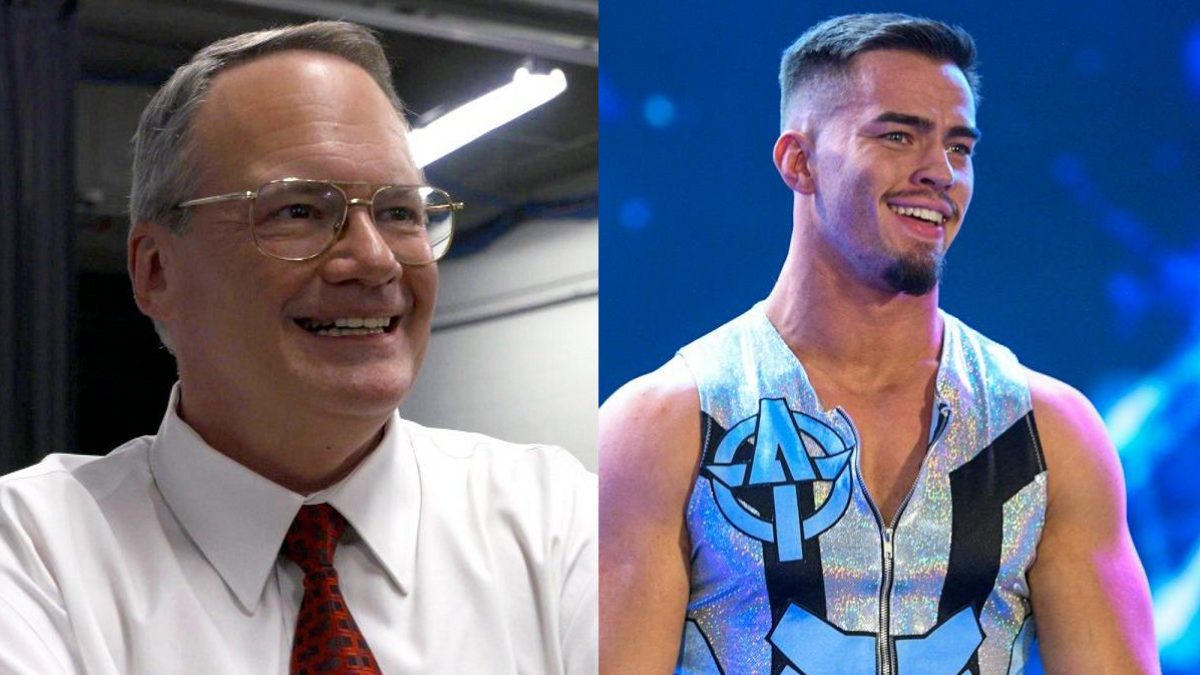 Jim Cornette doesn't always say positive things about people, but that makes it even more impactful when he actually does.
There's one particular name that Cornette has been a fan of for quite some time now, and that name is Austin Theory, who Cornette took a liking to ever since he first saw him in NXT.
Cornette reviewed parts of last week's episode of Raw on the Jim Cornette Experience, including Theory's match against AJ Styles. He said:
"As I'm going to hit the (fast-forward) button, the graphic, 'Up next: AJ Styles vs Austin Theory'… ohhh, pump the brakes, I'm gonna watch this. Because, as we've mentioned, Austin Theory, when I saw him in NXT, and they weren't even using him, but every time he got in the ring – this guy's a prodigy.

"Against AJ, and we've got plenty of time on the program, this could be the big star-making performance like Bryan Danielson did for Adam Page, right? AJ Styles could do something for Austin Theory. After seeing this match, I wish that Austin Theory was the AEW World Champion working with Bryan Danielson because the matches would be even better than with Adam Page, and Adam Page should have been here in this match, because it was f**king short and perfunctory with a rotten finish.

"As far as Austin Theory, I cannot find a flaw in this kid. His body language, his facials, his attitude, his timing, his ring positioning, the execution of what he does, his aggression, his selling, he's not only great, but he's great beyond his years. He's a prodigy.

"And if this match would have been in front of an AEW crowd on an AEW television show, they'd have been having babies. But instead, it was eight minutes, with a break – including the break we saw eight minutes – and it's in front of a WWE crowd that's sitting on their hands because that's what they do. They sit for the matches because they've been told the matches are not important, and they're usually rotten.

"So they had a good match for the time they had, and out of nowhere, AJ's going for a springboard and Grayson Waller appears and jerks him off the apron and the referee rings the bell for a DQ. Austin Theory jumps out on the floor and takes a selfie with AJ laying there and walks out, and then AJ gets up and beats up Grayson Waller, and he walks out.

"Eight minutes start to finish, and there was still better than half an hour left in the show, and I said, 'F**k it, I can't'. There's three f**king hours and it's Goddamn abysmal."

If you use this transcription or any portion of it please credit WrestleTalk.com and link to this page
Another notable thing to mention from Cornette's review was his continued support of Rhea Ripley who he's said many times in the past should be an action movie star and at the top of WWE's women's division, but much like the Theory/Styles match, Cornette wasn't at all happy with WWE's booking of the segment with Ripley and Nikki ASH.
But anyway, there you have it – Jim Cornette loves Austin Theory.
To make sure you stay updated with all the latest wrestling news, add WrestleTalk.com to your Google Discover feed and follow us on Twitter!