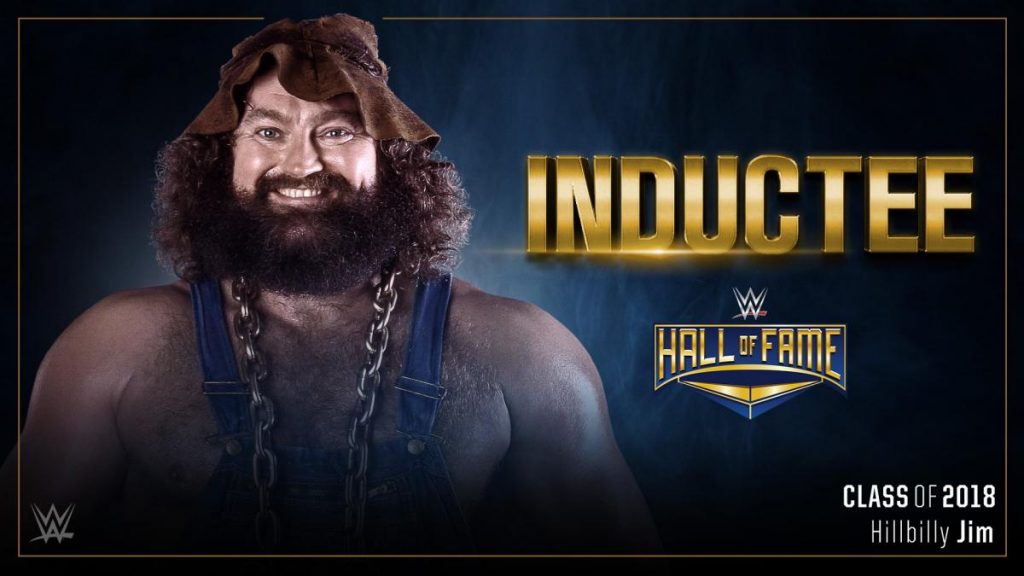 WWE has announced Hillbilly Jim as the latest entrant into the WWE Hall of Fame class of 2018. He will be joining the already announced names of Goldberg, The Dudley Boyz, Jeff Jarrett, Ivory and Jarrius Robertson (recipient of the Warrior award).
BREAKING NEWS: As first reported by @BleacherReport, #HillbillyJim is the newest inductee in the @WWE Hall of Fame's Class of 2018. #WWEHOF https://t.co/JhfOWkYj8b

— WWE (@WWE) March 5, 2018
This is somewhat of a strange induction as, with all due respect, Hillbilly isn't someone who springs to the front of your mind when you think Hall of Famer.
Having debuted with the WWE back in 1984 as 'Big Jim' – a planted fan in the front row who would go onto train with Hulk Hogan in a feud with 'Rowdy' Roddy Piper – he later reappeared as Hillbilly Jim. As the name suggests, he was a simple-minded hillbilly with a great big bushy beard, part of a large family of "scufflin' hillbillies" that populated WWE rings in the 1980s.
Jim stayed with the company until 1992 having not done much expect being used as a replacement for big men who had chosen to leave the company – which once led to Jim replacing the absent John Studd in a feud with Andre the Giant.
After departing the company he made infrequent appearances on television, usually alongside the 90s equivalent of his hillbilly clan, the Godwinns. He returned at WrestleMania X-Seven as part of the gimmick battle royal where he was eliminated by eventual winner the Iron Sheik. Over a decade later, Jim was a cast member on WWE Network exclusive Legends House in 2014.
The WWE universe has been reacting to the news on Twitter:
Hillbilly Jim will be going into the WWE Hall of Fame.
The fact that you're 100% certain he already went in there is a nice example of the Mandela Effect #RAWTonight

— WWE Creative Humor (@WWECreative_ish) March 5, 2018
years ago @ardaocaltv and myself created the "koko b ware line" which equated out to the bare minimum one could do to make the wwe hall of fame.

i am happy to announce today that there is a new low-benchmark.

praise be to the hillbilly line! pic.twitter.com/Y0la8pdrJc

— james mckenna (@chillhartman) March 5, 2018
https://twitter.com/MikePWInsider/status/970722879703846918
The reaction seems mixed from the audience, being split down the middle. Some saying he deserves it while others question what he has done to warrant a place in the Hall of Fame.
Other names that have been rumored for this year's class include Bam Bam Bigelow and Kid Rock; these are not yet confirmed by WWE, but expect to see them and a couple more names announced in the coming weeks.