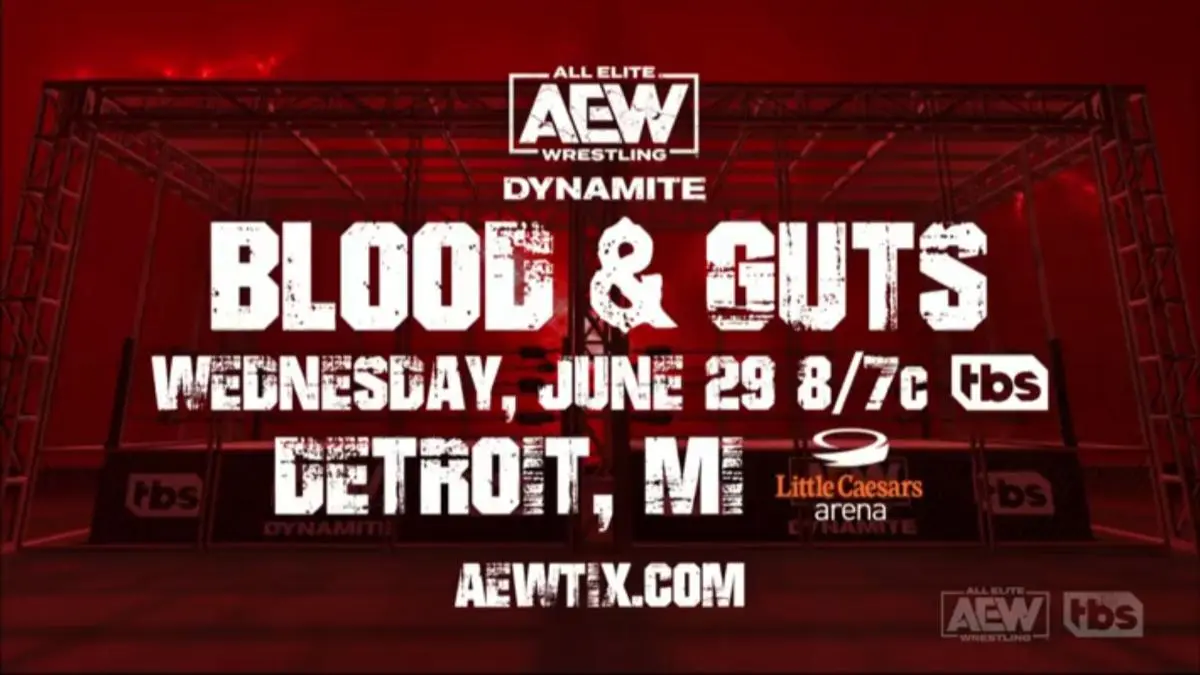 It's Wednesday and you know what that means – AEW Dynamite Blood & Guts Live Results!
BLOOD AND GUTS!
It is here people, the excellent Blood & Guts edition of AEW Dynamite is coming in hot – on the card for tonight according to AEW –
The titular Blood & Guts match pitting Jericho Appreciation Society (Chris Jericho, Sammy Guevara, Daniel Garcia, Jake Hager, Matt Menard, and Angelo Parker) against the explosive team of Blackpool Combat Club members Jon Moxley, Claudio Castagnoli & Wheeler Yuta and Eddie Kingston, Santana and Ortiz.
Jade Cargill puts the TBS Championship on the line against Leila Grey
Orange Cassidy vs. Ethan Page
Christian Cage addresses AEW again on Dynamite after his shocking statements (and turtleneck) on last week's episode
The Assclaimed vs. Danhausen and two partners of his choosing
Join us back here at 5 pm pacific, 8 pm eastern for all of the AEW Dynamite Blood & Guts Live Results!
To make sure you stay updated with all the latest wrestling news, add WrestleTalk.com to your Google Discover feed and follow us on Twitter!
The Final Stretch
Jericho locks in the Walls of Jericho on Eddie Kingston. Claudio makes the save. He then puts Jericho in the Giant Swing on the top of the cage. That seemed dangerous.
Matt Minard is up there and saves Jericho. Kingston locks in the Stretch Plum. Claudio locks in the Sharp Shooter. Kingston wanted to get Jericho to tap. However, Minard taps first.
Kingston is pissed that Claudio stole his thunder and his opportunity to put Jericho away. He is very frustrated with Claudio. The story is that they don't love each other. But eventually, they fist bump. Claudio extends his hand. Kingston mouths I can't get up. My back is hurt. I'm okay though.
Hopefully, he's just having spasms or something.  Blackpool Combat Club are victorious. Sadly, Santana is not able to celebrate and appears to be injured.
Speaking of being out. This appears to be my last live results for WrestleTalk. It's been a good run. Thanks for reading!
.@ClaudioCSRO makes @TheDaddyMagic tap out and @Madking1981 is clearly frustrated by the outcome here at #BloodAndGuts! pic.twitter.com/qmnRqca8wb

— All Elite Wrestling (@AEW) June 30, 2022
The match is underway
Eddie Kingston is the last man in and the match finally starts. Now, someone has to submit or surrender. Kingston brings in a kendo stick. He beats up about every guy. He goes after Jericho.
Apparently, he also has a bottle of rubbing alcohol. I assume they are going to pour that in someone's open cuts.
The weapons are out. Moxley and Yuta pour tacks in the ring. A lot of tacks. Matt Minard gets slammed into the tacks. Ouch. Hager went through a table. Ortiz and Claudio remove the padding and canvas to reveal the wood part of the ring. We head to what should be our last commercial break.
When we get back, Tay Conti, who had been ringside for the entire match, gets the keys and opens the door. Jericho escapes and climbs to the top. Kingston follows.
As a result of the interference, Ruby Soho comes down to stop Conti. They fight to the back.
Sammy is also on the top of the cage now. The cage is built similar to WWE 2k22. There are 4 large panels on the top of the cage that look like they are designed to give way.
Well, I was wrong about the commercial. But, before they cut to another ad break, Sammy Guevara gets tossed off the cage by Eddie Kingston. AEW learned from its mistakes. They clearly modified the announcer's table to be a much softer landing spot, but they put a whole bunch of tablecloths over the top to hide the landing pad.
.@realrubysoho intercepts @TayConti_ as she was trying to unlock the cage! It's #AEWDynamite #BloodAndGuts LIVE on @TBSNetwork! pic.twitter.com/L5Q86AiscA

— All Elite Wrestling (@AEW) June 30, 2022
Ortiz makes a run
Ortiz is the 4th man in for his team. He runs wild when he comes in and basically beats up all the other guys. As his buddies get up, Moxley attacks folks and tries to make them bleed with broken glass. Angelo Parker gets a piledriver into the glass and is a bloody mess. Mox also drove a piece of glass into Hager's head.
Minard is in and Moxley is busted open. Moxley's wound from this past weekend was opened back up.
Here come the weapons. Santan enters and he brings a table and barbed-wire bat into the ring. Unfortunately, he appears to have hurt himself. His knee seems to have given away. He rolls to the edge of the cage and a doctor is attending to him. Geez, I hope he is okay.
Moxley continues the nastiness with driving wouldn't skewers in Matt's head. Jericho is finally in with Floyd. He drills Claudio. Ortiz intercepts him and begins to beat him down. The match is getting nuts.
Santana can't stand up, but he is trying to fight from one leg. We get the obligatory each man hits his move on another portion of the match.
.@JonMoxley truly in his element here at #BloodAndGuts! We are LIVE on @TBSNetwork! pic.twitter.com/mzplPtYaWN

— All Elite Wrestling (@AEW) June 30, 2022
More men enter
Daniel Garcia is the next for JAS. 3 minutes later, Wheeler Yuta makes an entrance. Hager comes in next. He goes after Yuta. Eventually, he faces off with Claudio. The crowd goes nuts for the former WWE tag team. The encounter doesn't last long. John Moxley is the next to enter.
At this point, the match kicks into a new gear. Moxley and Hager seemingly brought a new level of energy. The first person to bleed is Garcia. Even though it's 3 on 3, Blackpool Combat Club is really working as a team. They hit combo moves on each of the other guys. They also hit hammer elbows. The 3 guys from JAS are down as Angelo Parker enters.
The crowd tells him he f'ed up because it's 1 on 3. The Blackpool Combat Club beat him up. The booking of this section of the match is counter to what you'd typically expect. Usually, the bad guys always get the advantage when they go up in numbers.
.@GarciaWrestling getting carved up by @JonMoxley here on #AEWDynamite #BloodAndGuts LIVE on @TBSNetwork! pic.twitter.com/dmWvJL5Nvw

— All Elite Wrestling (@AEW) June 30, 2022
Blood and Guts gets going
Blood and Guts is about to get underway. It's 6 on 6. If you don't know, I am old. I am also from North Carolina (please read this in your Justin Roberts introducing Kenny Omega voice). So, I grew up on the old NWA and Jim Crockett Promotions. So, WarGames is near and dear to my heart. As such, I am a firm believer in keeping this match true to the original. So, I don't love the introduction of weapons and escaping the cage. The cage is the weapon. The cage is supposed to keep you in. So, I hope they don't do the Hell in a Cell style match they had last year.
Jericho Appreciation Society is out and they are channeling the Backstreet Boys. They are dressed in pleather red pants, suspenders, and mesh shirts. Nice choice.
The crowd is fired up!!! Claudio and Sammy are starting this one off. Claudio and Sammy's Cardio are both second to none. They are good choices to get this one going. They'll be wrestling for about an hour in this one.
I don't know why I find it hilarious that Sammy missed two belt loops. But, I do.
Accompanied by @RealKingRegal, it's @ClaudioCSRO and @WheelerYuta of the #BlackpoolCombatClub! It's #AEWDynamite #BloodAndGuts LIVE on @TBSNetwork! pic.twitter.com/h73eULtYAB

— All Elite Wrestling (@AEW) June 30, 2022
Jade Cargill vs. Leila Grey
Leila Grey is the former Cat Cardoza of NXT. She is challenging Jade Cargill for the TBS Championship. She got in a couple of a moves, but in the end, she got Jaded.
After the match, Jade Cargill was pissed. She wants competition. Stokely Hathaway says it took someone who doesn't even work here in Grey to challenge. He calls Statlander and Athena lazy.
Statlander and Athena come running down to the ring. As they start to get the advantage, Grey gets involved and helps Cargill and crew. She tries to shake the hand of Hathaway, but Cargill stops her and then stares at her.
Cargill is impressive. I'm not sure if Athena or Statlander will be the one to beat her, but if feels like at some point, one of them will.
#AndStill! Undefeated at 34-0 @Jade_Cargill! #AEWDynamite #BloodAndGuts is LIVE on @TBSNetwork! pic.twitter.com/Nf4ngPsnUn

— All Elite Wrestling (@AEW) June 30, 2022
Scissor Me!!
The Acclaimed and The Gunn Club are wrestling Danhausen and two partners of his choosing. Danhausen comes out and says he found two guys who are pretty good at wrestling. It's FTR.
For two guys who take wrestling very seriously, I think FTR are starting to loosen up a bit. FTR teaming with Danhausen is not something I ever really expected to happen.
FTR are excellent heels. However, both Cash and Dax have some pretty excellent hot tag action as faces. They do a terrific dueling German suplex spot. Dax ended up hitting five or six of his own.
Dax gives a tag to Danhausen. Danhausen was going to put Austin Gunn in the GTS. Bowens magically can walk and comes in the ring with a crutch. Danhausen curses Bowens and he hits Gunn with a crutch. Danhausen and FTR get the win.
After the match, The Acclaimed and Gunn Club have an argument. Billy Gunn ends up shoving Austin Gunn to the mat. The Ass Boys leave the ring and Billy Gunn stays with The Acclaimed.
We also get Lethal, Dutt, and Singh cutting a promo about Joe signing a contract for Death Before Dishonor.
.@bowens_official is on his feet, but his strategy worked against him as he wipes out @theaustingunn! #AEWDynamite #BloodAndGuts is LIVE on @TBSNetwork! pic.twitter.com/bassch09yJ

— All Elite Wrestling (@AEW) June 30, 2022
Doubling Down on Disgusting
Christian comes back tonight to address his disgusting comments about Jungle Boy's family. Instead of apologizing, Christian says he wishes everyone in Jungle Boy's family was dead. Well, except for his mom who he signals to call him.
Christian was supposed to ask for a match. He reveals the match was actually for Luchasaurus. Luchasaurus comes out in all black even his mask. Luchasaurus comes out of the bad guy tunnel.
He puts Serpentico away quickly. He uses the Snare Trap with the addition of a nerve hold. After the match, Christian makes Luchasaurus attack him further.
Looks like we have a bad guy duo on the rise.
After the match, Scorpio Sky and Wardlow agree to a street match for the TNT Title.
.@Christian4Peeps is here to address the crowd, after last week's incessant comments. Watch #AEWDynamite #BloodAndGuts LIVE on @TBSNetwork right now! pic.twitter.com/KZiFyPrlCM

— All Elite Wrestling (@AEW) June 30, 2022
Orange Cassidy vs. Ethan Page
Orange Cassidy is back with Best Friends. Chuck Taylor and Trent are out in their best tie-dye jumpsuits. Orange Cassidy got new entrance music. Or old entrance music. Jane by Jefferson Starship is what he came out to tonight.
Dan Lambert comes out and cuts a true heel promo. He forces the ref to check Best Friends for their manager licenses and the ref sends them to the back.
Cassidy gets sent to the outside. Lambert fakes pouring the orange juice he brought with him to the ring. Instead of dumping it on him, he does the lazy kicks to Orange's head.
The match went about as typical as you'd see an Orange Cassidy match go. He gets beat up a lot. Sells excellently. Does a hands in pocket spot. Lambert tries to interfere. Cassidy outsmarts him. Cassidy grabs the OJ and spits it in Lambert's face. Ultimately, he takes out Page and gets the pin.
Cassidy is a top star in AEW. He deserves to pick up wins. Ethan Page is a great mid-card heel for guys like him to beat. However, I think Page has more to offer. I don't know that he'll ever be world champ, but he's a guy in my opinion who deserves to get a win now and again on television. Back in my day, Arn Anderson would rack up wins and then be a credible stepping stone to a guy like Ric Flair. I see Page as a guy who could do that in AEW.
.@orangecassidy gets his dose of Vitamin C and the victory here tonight! #AEWDynamite #BloodAndGuts is LIVE on @TBSNetwork! pic.twitter.com/s82zgaFeGV

— All Elite Wrestling (@AEW) June 30, 2022
Almost time!
It's Wednesday, you know what that means:#AEWDynamite
Live on @TBSNetwork
TONIGHT @ 8pm ET/7pm CT/8pm PT

Thank you to everyone who watched Dynamite last week & helped make us the #1 show on cable/satellite last Wednesday!

See you TONIGHT on TBS for@AEW Dynamite #BloodAndGuts!

— Tony Khan (@TonyKhan) June 29, 2022