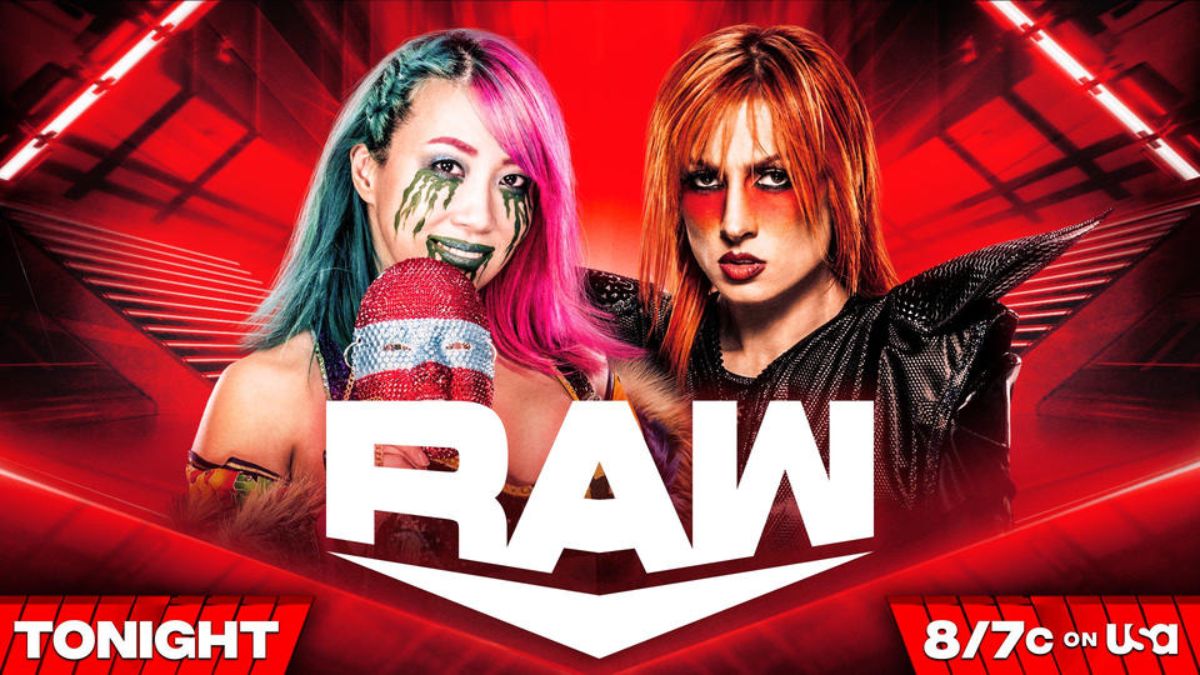 Live Results here! Get your WWE Raw live results here! Welcome to Monday Night Raw, June 20, 2022 edition!
According to WWE.com, the following is in store for us tonight:
Becky Lynch vs. Asuka in a Money in the Bank qualifying match
The Return of Elias!
And presumably more because this is meant to be a three-hour show after all!
Certainly, since we will see "Elias" then Kevin Owens and even Alpha Academy, Chad Gable and Otis could make an appearance!
Will we see further developments from the new Judgment Day? Hopefully, we get to see WWE Raw Women's Champion Bianca Belair! What's AJ Styles up to tonight? We'll find out together at 5pm pacific, 8pm eastern!
To make sure you stay updated with all the latest wrestling news, add WrestleTalk.com to your Google Discover feed and follow us on Twitter!
Becky Lynch vs. Asuka in MITB qualifier
Zippy match between these two technicians, they are infinitely fun to watch! Eventually, Asuka beats Becky after managing to get to the ropes from a Dis-Arm-Her but Asuka gets the ropes, hits a roundhouse kick on Lynch and gets the pinfall victory.
When Becky loses the match, she loses it! With Graves on commentary saying that Becky is further unraveling in front of our eyes. The show ends on Becky being dejected at ringside, I'm not sure they showed much of Asuka celebrating the win at all, the story was really Becky losing.
Do you sympathize with @BeckyLynchWWE or is Big Time Becks finally getting her just desserts?

cc: @ScrapDaddyAP#WWERaw pic.twitter.com/EtG7Yqreq4

— WWE (@WWE) June 21, 2022
AJ Styles vs.Ciampa
With Miz on commentary – Miz says it seems Ciampa has a lot of potential in WWE but he's never talked to him in his life. I feel like when the Miz over the top denies something… hmm. Let's let it play out. 
AJ Styles captures the pinfall victory over Ciampa, Miz gets into the ring and tries to get some but… he probably did not in fact, want some, as he's quickly taken down by Styles.
AJ Styles hits the Miz with the Styles Clash then steals Miz's sunglasses to stand tall at the end of the segment.
Veer Mahaan interview up on the platform with Bert, where he cuts part of his promo in Punjabi and the crowd 'What' chants him despite the fact it was actually quite a good promo! I'm invested in Veer's success, let's go – Fear Veer!
.@VeerMahaan has two simple words for the #WWERaw locker room: Fear Veer. pic.twitter.com/qWWyyUfydA

— WWE (@WWE) June 21, 2022
Miz TV with AJ Styles
Oh hey! I wondered when this show started, what's AJ Styles up to? Apparently, a guest on Miz TV!
AJ says things haven't been going his way, that's cool – no big deal because according to AJ Styles, "it's on me."
Styles says when he gets disrespected, he doesn't come out on a talk show and run his mouth – he does this! And attacks Miz until Ciampa blindsides him, "as he has done week after week," and then Graves says, "It seems Miz has been taking notice of Ciampa here on Raw."
This might be the last time @mikethemiz tries to trash talk @AJStylesOrg… #WWERaw pic.twitter.com/ygQX8NQCTu

— WWE (@WWE) June 21, 2022
Backstage with Bianca
Bobby Lashley Gauntlet Match
Bobby Lashley takes down Chad Gable, Otis and ultimately the third mystery opponent is revealed to be the United States Champion himself, Theory.
While Theory proves to be a formidable opponent for Lashley, he still wins via pinfall to punch his ticket to a championship match at Money in the Bank!
After getting wins over @WWEGable and @otiswwe, @fightbobby has to get through @_Theory1 to earn himself a #USTitle opportunity. #WWERaw pic.twitter.com/62bJXVRoOv

— WWE (@WWE) June 21, 2022
Elias and Ezekiel
In what is arguably the segment of the night, we get three distinct parts to the Ezekiel and Elias reunion.
There's a backstage segment where they're both sitting together on a couch chatting in what is a remarkably touching conversation that actually progresses both characters and makes me want to see both of them more (even though I am pretty sure Kevin Owens is right… I think they might be the same person because that beard looked a little fake…) leads into Elias headed to the ring for his concert.
Then Elias is back! He's in the ring, he's about to sing and do his thing when he's interrupted by Kevin Owens who is NOT AMUSED by this chicanery, look – you can fool the people of this podunk town but KO says you can't fool him, he's a French-Canadian, and this is just still the same person! He knows something is up here! A physical fracas ensues and finally Elias bashes KO with a spare guitar!
In the final act of this most compelling saga, KO is coming back through the curtain into the backstage area where he is met by Bert but Owens remains certain that something strange is going on here so next week on Raw he'll fight any of them – Elias, Ezekiel, their other brother Elrod, whatever! Then Ezekiel walks up and Kevin is so shocked he has to just stomp away, clutching his head and then in the best twist of all, shouting, "Elrod!"
Look I suspect SmackDown has nothing for the Maximum Male Models bit so just re-cast LA Knight to be the third brother and let's all see Kevin Owens vs. LA Knight baby! No? Okay. We'll see what happens next week!
p.s. He's trying quite hard to put over the "Zeke Freaks" and I'm on it, let's go. #ZekeFreaks
For the first time in a long time, @IAmNotEliasWWE was able to see his older brother Elias ❤️ #WWERaw pic.twitter.com/vIHdWPneX0

— WWE (@WWE) June 21, 2022