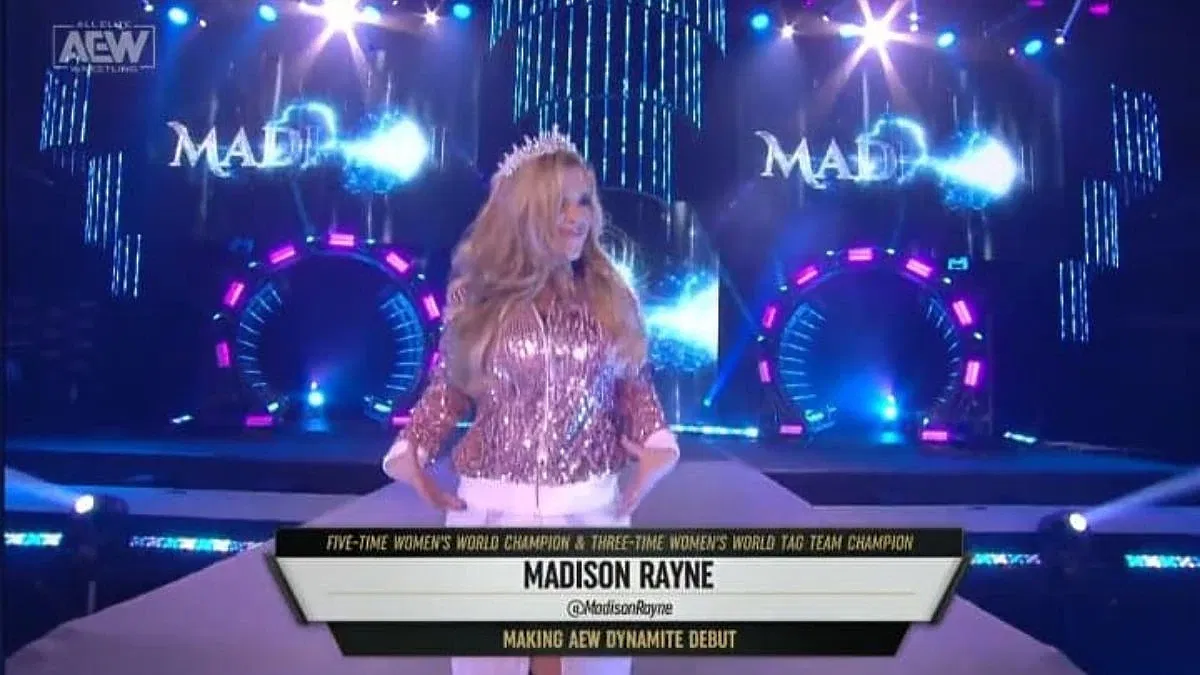 Madison Rayne has revealed how the opportunity to work with All Elite Wrestling came about.
On August 3, AEW announced that Madison Rayne had been hired as a coach for the women's division.
Speaking with Busted Open Radio, the five-time IMPACT Knockouts World Champion spoke about being hired by AEW and how the opportunity came about.
Rayne said:
I mean, that's kind of it. It was there was an opportunity when AEW came to my hometown and you know what? At this point in my career, I'm searching for moments, right? Especially ones that maybe I haven't had before and to have the opportunity to… even walk out on the stage in Columbus, Ohio at The Schottenstein Center with friends, family. I haven't talked much about this, but my dad was recently diagnosed with stage four cancer so, and he's been a huge wrestling fan. He's the reason that I got into wrestling so, just the idea to have that opportunity to have a moment there with those people, it was something that I couldn't pass it up and from that conversation, just the snowball kept rolling and rolling and it evolved into Madison Rayne becoming coach of the women's division at AEW which still blows my mind to say it out loud. But again, chasing moments and this was a moment and this was an opportunity that I would have been an absolute fool to not capitalize on and take the ball and run with it as best I can.
The former IMPACT Wrestling star went on to discuss how she felt extremely welcomed during her first day with All Elite Wrestling, saying:
I have [gotten the chance to meet most of the AEW roster] and my first day on the job was last Wednesday in Columbus and I remember… the whole day is still a bit of a blur but in the best way possible. Everybody was so welcoming and warm and kind and they showed me where catering was and showed me — I didn't have to question anything from the second that I walked in the arena last week and I went home and my husband was like, 'Okay, tell me everything' and the only thing that I could verbalize and articulate to him was, 'I love my job.' I don't even know the specifics yet, I haven't even gotten my hands dirty yet but, I love my job. Just because this entire locker room is so excited every time they show up to work and they want to put out the best product and use this platform that they've been given so, I have gotten to dive in? And mentally, yes, I'm making notes and talking to people and having conversations, but I'm also still kind of trying to get my feet settled. So, I'm taking it a day at a time and one show at a time and now also wrestling so I'm trying to pace myself and not get too overwhelmed but also, let's hit the ground running, let's go.
Madison Rayne made her AEW Dynamite debut in a loss to TBS Champion Jade Cargill on the August 10 Quake By The Lake special.
Stay up to date with the AEW women's division's win-loss record (for televised matches) at this link.
Transcription via POST Wrestling
If you're in the UK but didn't manage to get tickets to Clash at the Castle on September 3, WrestleTalk is hosting a watch party at The Joiner on Worship in Shoreditch, London, and we'd love for you to join us! Click here for more details.