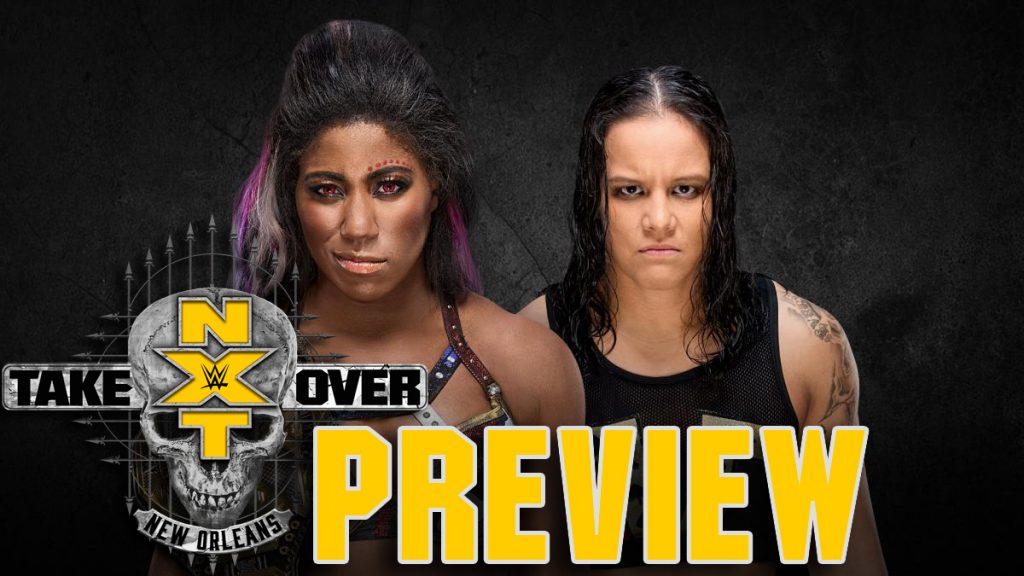 I'll start this off by letting you know that I have no clue what the plan is for this match. Honestly, the other four bouts on this show have been incredibly hyped up. We have a tournament final/ragtag championship triple threat, a brand new title suspended from the ceiling above six competitors and a load of ladders, a battle for the NXT Championship that could finally see Aleister Black take his throne on top of the black and yellow mountain, and finally, a pure, unrelenting blood-feud that could be the end of Johnny Gargano's NXT career.
Then we have the NXT Women's Championship rematch from NXT TakeOver: Philadelphia between current champion Ember Moon and the vicious 'Queen of Spades' Shayna Baszler. This one has taken a slight backseat compared to its co-bouts aside from some performance center brawls and poor Dakota Kai. But you know what? I'm incredibly excited to see what happens.
Ember Moon still has a lot to prove in NXT and, if the rumors are true, she is not set for a call-up to the main roster anytime soon, which means she'll have the time to do it. As she was never able to defeat former NXT Women's Champion Asuka for the belt, winning the then-vacant title in a fatal four-way match instead, Moon needs to dominate in another way to show she is worthy of her championship status. She needs the opportunity to show off her resilience, her power, her determination with a long and hard-fought reign as champion. Yes, she beat Baszler at the last TakeOver event; but as the 'Submission Magician' has stated in many interviews since then, Moon pretty much sacrificed her left arm in that match and only won through a clever but fluke-fueled roll-up pinfall.
When we get to New Orleans, Moon must prevent her embers from being stomped out by the former MMA star. She has to win (or at the very least survive), and take Baszler over the limit with her. In doing so, she'll prove that she has earned the gold she carries and she can wear it with pride having overcome the first major obstacle of her reign.
Baszler, on the other hand, has no need for championship gold. She is more than capable of dominating the NXT women's mid-card like her male counterpart Lars Sullivan does with the men's division and could continue to do for the next year before her eventual call-up to the main roster. Having her take the title away from Moon would do the black and yellow brand a lot more harm than good and it's not like she couldn't take her own dominance back by breaking Dakota Kai's arm again next week anyway. (Poor Dakota Kai… again.)
It's also worth noting that this is the one match on the card with a true X-factor in the 'Pirate Princess' Kairi Sane. Out of the entire show, if one match is going to have the token screwy finish, it'll be this one. And a triple threat match down the line for the NXT Women's Championship between the three would be a true spectacle to behold and could easily main-event the next TakeOver. They've been building this feud since the Mae Young Classic where both Sane and Baszler debuted and made it to the finals. It's only fitting they should have a proper blow off at some point.
I have thoroughly enjoyed Moon and Baszler's feud thus far and I honestly believe this match will turn some heads, even within what looks like an incredibly stacked card. I just hope that the higher-ups make the right choice and keep the NXT Women's Championship where it belongs: around Ember Moon's waist.
Prediction: Ember Moon
What do you think of this match? Are you expecting Kairi Sane to show up start throwing elbows? Let us know in the comments below or on Twitter here.