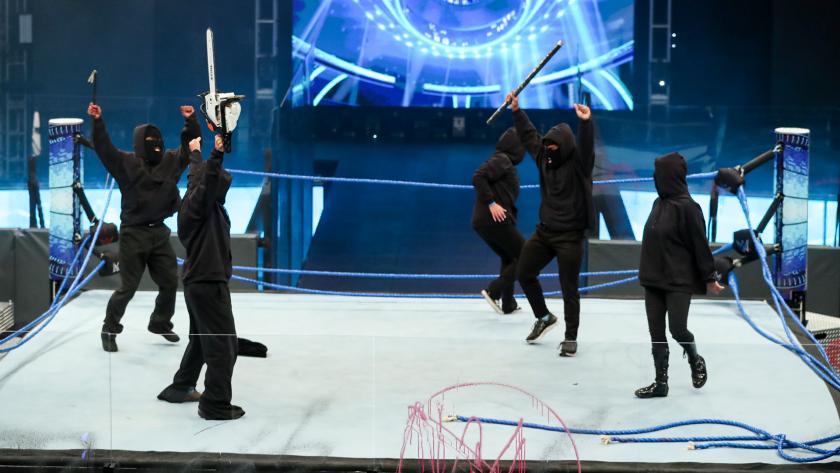 It was promoted just before Monday Night Raw this week that we were going to see the debut of a brand new faction who promised to cause chaos. The faction only appeared in a very short backstage segment.
The faction, who we now know are called RETRIBUTION, had a slightly bigger impact on last night's episode of SmackDown, where they attacked Performance Center recruits and broke the ring ropes with a chainsaw.
In their two appearances on WWE TV thus far, it has been hard to identify who the members of the faction are, especially considering they've all been wearing black clothes and have had their faces covered.
However, it seems like one of the members of the faction may have been spoiled on last night's show, as their hair seemingly poked out from underneath their hood.
https://twitter.com/MahaIicia/status/1291923422952341504
Many people have theorised that NXT star Vanessa Borne is going to be part of the RETRIBUTION faction moving forward. Some believe that they identified Borne as one of the hooded members of the faction.
The other female member of the faction has been speculated to be Chelsea Green. This came after WrestleTalk exclusively reported that Green was going to be moving up to the main roster several weeks ago.
Look at the hair on the blue shirt woman. It's straight, long and black with red streaks like Santana's. The woman in the hood has really curly hair. It could be Vanessa Borne.

— Jade's Dad (@Tatsumaki89) August 8, 2020
I'm pretty sure the two girls are Chelsea Green & Vanessa Borne.

— Light Yagami (@YvngLxnk) August 8, 2020
The inclusion of Borne in the group certainly makes sense, especially considering it was reported last month that the NXT star was actually called up to the main roster in January/February, and was waiting to debut.
Speaking of RETRIBUTION, two former champions within WWE have taken to social media to poke fun at the size of the members of the faction. You can read more about that by clicking here.