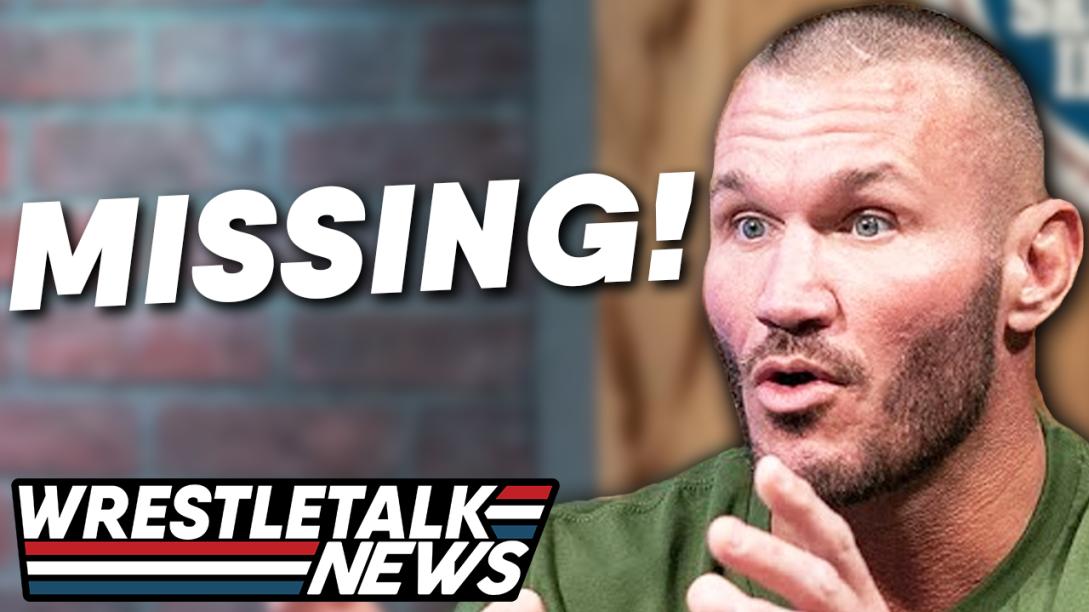 In this WrestleTalk News – Randy Orton 'missing', Alexa Bliss online abuse, my review of last night's Raw, and more. 
The football didn't come home, everyone. It went to that other place. I've followed football all my life… for the last two and half weeks… and I think I know why England didn't win. 
It's because you didn't subscribe you son of a b-
Please give us a subscribe and enable notifications to always on for daily wrestling news.
Randy Orton's greatest wrestling attribute isn't his finishing move timing or headlocks. It's actually his ability to sometimes be so boring, you forget he's even there. So when he hits an RKO, Michael Cole will famously yell: 'wow, where did he come from?'
Orton might be taking this to the extreme, though, as he hasn't been seen since the June 21st episode of Raw, despite being in easily the best act on the show, his RKBro team with Matt Riddle – leading to his tag team partner to confess on last night's Raw Talk:
"I've been calling him but only get his voicemail. His mailbox is full, and I don't want to be one of those stalkers who checks his Instagram. I went to the Tampa Police Department to report that Randy is missing. When they asked me to identify myself, I said I'm Randy's bro. They're like, 'you're not bros, you don't have the same last names.'  I had to explain to them that I'm still his bro."
While this is most definitely kayfabe, Orton's sudden absence from TV becomes more baffling every week. 
Back in April, Fightful Select reported Randy had booked "a good period of time" off, where he would be written out of TV at the end of his feud with the Fiend. That obviously didn't happen, and WWE kept him around. It's very possible that Orton is now trying to take some of that time back before the company returns to the road from this weekend on WWE's gruelling travel schedule. 
Or this could just be a way to build his surprise return at Sunday's Money in the Bro pay-per-view, maybe to help his bro win the brocase?
What do you think is going on with Orton's WWE plans? Let me know in the comments down below because I'll be replying to people or the first 30 minutes after this video goes live, rather fittingly, FROM OUTTA NOWHERE.
Alexa Bliss Hits Back At Body Shamers
WWE star Naomi deleted her social media over the weekend after receiving abuse over her husband Jimmy Uso's recent DUI arrest, and now Alexa Bliss has also hit back at a Twitter user who was attempting to body shame her.
The user had posted pictures of Bliss from NXT and the main roster, alongside her recent Instagram pictures, commenting on how her body had changed over the years, to which Bliss quote tweeted in reply:
"#1. how F'Ing DARE you try to body shame me. #2. All pics except last one are very old. #3 I haven't been able to control my weight loss lately since being sick a few months ago . #4 all u have to say about my career since 2013 is pics of my butt? I pity u [peace sign emoji] bless"
Let's not rule out this fan having a point though. I'm sure this anonymous Twitter profile rating other people's bodies online by trawling through social media pictures and TV screenshots definitely has their life in order, is super well-adjusted and doesn't hate themselves for failing in their relationships and their professional life and is super close to achieving their dreams.
Mr. Wonderful Paul Orndorff Passes Away
Sadly, Mr. Wonderful Paul Orndorff passed away yesterday at the age of 71. The announcement was made by his son Travis on Instagram.
Orndorff is most well-known for his run in WWF in the 80s, including main eventing the first ever WrestleMania alongside Roddy Piper against the team of Hulk Hogan and Mr. T. He was inducted into the WWE Hall of Fame in 2005. A link to donate for funeral expenses can be found in the description.
Make wrestletalk.com your homepage for loads of other big stories, including a major update on Sonya Deville's in-ring return, the WWE Draft being delayed and more name changes for WWE wrestlers. Links to those are in the video description below. 
WWE Raw Review
Now it's time for my review of last night's Raw, in about 5 minutes.
This wasn't just the go-home show for Money in the Bank. It was also the leave-home show, because WWE is touring again from this Friday – now that the pandemic is definitely cured, it's over, guys.
And Raw celebrated, by having mostly the same matches the ThunderDome has seen for a year.
At least the results were different this time, though, with Xavier Woods shockingly beating Bobby Lashley in the show opener. Bobby had won in this feud's first encounter, a random Hell in a Cell match last month, but Woods made them level here, rolling him up after a Spear. 
Wrestling logic dictates you shouldn't beat your champion just six days out from a pay-per-view title match. But I think this worked really well. Lashley sold his fury brilliantly – not just at the New Day, but at MVP and his sisters – they're not prostitutes, guys – but, most importantly, himself. This genuinely made Lashley vs Kingston at Sunday's Money in the Bank significantly less predictable. And that's exactly what a go-home angle should do.
Alexa Bliss had invited DouDrop onto her Playground segment. But because DouDrop can only answer in Pokemon – DouDrop, DouDrop, Doudrop – Eva Marie came along too wrapped in silver foil and spoke for her.
Jinder Mahal's character now has a motorbike, two goons and a sword. WWE definitely has faith in him. There's no smoke and mirrors here.
He continued his feud with Drew McIntyre, revealing he's broken the sword he stole. But then Drew shrugged it off, saying that was just a fake sword. He's got the real sword right here, but he will trash Jinder's very real motorbike. 
If you're set to start touring and getting planes and stuff, maybe start reducing the amount of large blades in this storyline.
All the Raw wrestlers in the women's Money in the Bank match had a fatal four way next for momentum. Eva Marie and DouDrop came out, which distracted Bliss to go after them, only to get dumped over the barricade by DouDrop – presumably being put in the same pocket dimension as Randy Orton, as she didn't come back for the rest of the show.
Naomi, Asuka and Nikki ASH had some fun threeway action in the ring, which Nikki got yet another win with her new superhero gimmick. A word of advice to any wrestlers who want to get out of catering right now: Start pitching comedy gimmicks.
To build their lacklustre tag title match this Sunday, The Viking Raiders then took on AJ Styles and Omos in back-to-back singles competition. Ivar beat Styles first, when AJ underestimated him. And then Omos pretty much squashed Erik in his in-ring debut, where he busted out such classic big guy moves as the bearhug and didn't take a single bump. It'll be interesting to see how long WWE can cover for Omos' limitations of actually wrestling. 
Sheamus took out Humberto Carillo backstage ahead of their United States title match, immediately beat him in the ring with a Brogue Kick, and then kept beating him up. But don't worry, random friend of midcard babyfaces everywhere is here to help: Damien Priest!
This hopefully signals his second proper storyline since debuting in January. I, for one, cannot wait for it to start with Priest vs Sheamus for the United States title announced last minute for this Sunday's pre-show.
Riddle got several backstage skits on this show, but the most interesting was with Ricochet before his match against John Morrison. Riddle once against referenced Orton, and said if he wins Money in the Bank, he'll use it to cash in on the Raw tag team titles for RKBro.
Possibly the best of their three matches so far, Ricochet then beat John Morrison in a crazy Falls Count Anywhere – that included a spectacular Shooting Star press from Ricochet off the top of the ring post to the outside. 
Ricochet then used Miz on his wheelchair like a scooter to launch himself at Morrison, and finally won with a top rope splash through a ladder suspended between the apron and the announcers desk. This was a very good sell for the ladder stipulation this Sunday.
Natalya and Tamina are still feuding with Mandy Rose and Dana Brooke.
Drew cut a promo about being a mythical dragon or something.
Rhea Ripley had one of her best main roster matches so far against Natalya, taking out Tamina on the outside with a dropkick, hitting Nattie with a surprise kick to the temple and then winning with a Riptide. Charlotte then jumped her afterwards with a Figure 4 draping over the ring apron. 
As good as this chapter was, I really hope their feud concludes this Sunday.
And the main event segment saw MVP hosting a special VIP lounge for Bobby, telling the ladies  to really show Lashley a good time. They're not prostitutes, everyone. They're his sisters. It's much less weird. Going by the home page of PornHub, that's overwhelmingly normal.
MVP bid farewell to the ThunderDome, which he affectionately called the Lashley Dome, on account of how Bobby fought to the top of Raw here, and welcomed Lashley down to the ring. 
Bobby eventually came out looking utterly dishevelled, tormented by his loss to Woods at the start of the show. He sent the sisters to the back, and told MVP that Kofi was right. He's lost his edge with all the partying and the hangers on. The bull s-word needs to stop. No more champagne. No more sisters. Then he trashed the VIP lounge set, which we've actually got a clip of:
So powerful
Lashley finished cutting a serious promo on Kofi, saying he's going to end Kingston's career. Bobby was terrific here, as was MVP with his scared facials. This is the most interesting Lashley has been since the Hurt Business was actually a faction.
What did you think of Raw? Let me know in the comments down below and vote in our poll on a pole match on the community tab, where 75% of you said Farewell, Thunderdome. I hope we never see you again.
With WWE returning to the road on Friday, we can finally say good riddance to the Thunder-wait, what's going on?
There was nothing actively bad on this show like other weeks, Morrison and Ricochet was spectacular, and the Lashley stuff was good. This week's Raw is 3 out of 5.
To make sure you stay updated with all the latest wrestling news, add WrestleTalk.com to your Google Discover feed and follow us on Twitter!