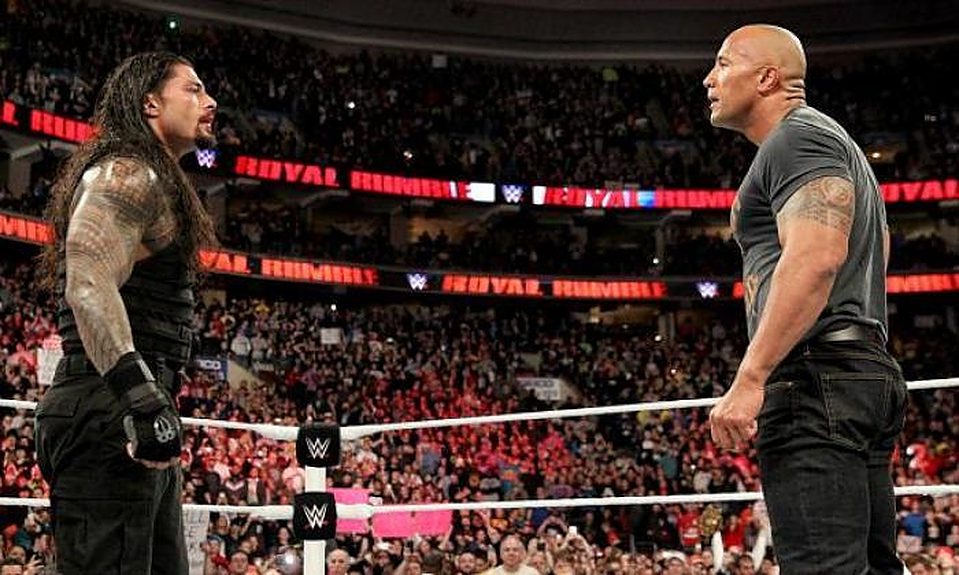 It's all in the family. Oooooooh Aaaaaaaah. Could we finally be seeing Roman Reigns take on his cousin, The Rock at WrestleMania 37 in Hollywood next year?
Well Roman would certainly like to think so. It was announced this past week that the 37th edition of WWE's biggest show of the year would be taking place in California at the currently under construction SoFi Stadium, which will serve as the home of the NFL's LA Rams and LA Chargers upon completion.
At the announcement press conference, Roman Reigns was asked about the show, and whether we could finally be getting the Reigns vs. Rock match that has been teased several times.
"I said it earlier. Man, if there's a stadium to hold… Hey DJ, check it out. Not bad, right? I mean, everyone's always dream-matching me and him. First of all, we're family so it's all love, but if there was going to be an event for him to compete in, to perform in, a venue to hold that mass scale of attention that he's going to bring… it's right here in your backyard, you know what I mean? Ya ain't gotta go far," he said.
Getting into WWE's mindset, having the show in Hollywood would make them want to include some huge stars, and The Rock is easily at the top of that list. You'll probably also get an appearance from Hulk Hogan…yay.
Reigns tweeted about the announcement shortly after the press conference.
Pleasure to help announce @WrestleMania 37 @SofiStadium in Los Angeles. Amazing to see the progress of this place … can't wait to get y'all in it next year!!! #WestCoast pic.twitter.com/UggOx0sZm3

— Roman Reigns (@WWERomanReigns) February 11, 2020
We'll keep you updated with any further news regarding this match.