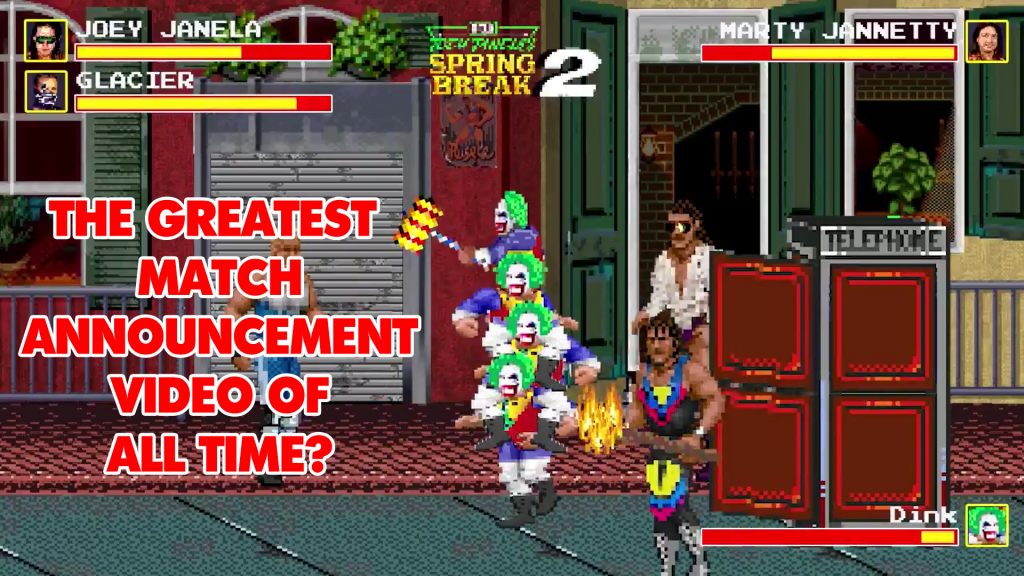 UNLOCK THE MATCH ANNOUNCEMENT!
Credit: @WrestlingArcade
Friday. April 6 2018. 1155pm.
Live from New Orleans.@GCWrestling_ presents: Joey Janela's Spring Break II #JJSB2https://t.co/hdclxJ1ZHD pic.twitter.com/uve9zfB7z9

— "The Bad Boy" Joey Janela (@JANELABABY) February 20, 2018
The incredible video above was posted on Twitter by independent wrestling star Joey Janela yesterday to announce a match at his upcoming WrestleMania weekend super-show Joey Janela's Spring Break 2.
The vid (which was made by the truly brilliant @WrestlingArcade) is an homage to classic video game Streets of Rage, featuring 16-bit versions of Scott Hall, Glacier, and Marty Jannetty battling Jim Cornette, Virgil, Clowns R' Us (from Survivor Series '94) and Brutus Beefcake's Barber Shop/Ship (complete with cameo from Shawn Michaels). The characters completing the stage reveals a match announcement for Spring Break 2. 
Last year's event was one of the most entertaining of the weekend, featuring unique match-ups such as a clash between former UFC stars Matt Riddle and Dan Severn, and a comedy gimmick battle royal that included appearances from Dink the Clown, Glacier and Earl Hebner.
This year's event (which takes place on April 6 at Pontchartrain Convention & Civic Center promoted by Game Changer Wrestling) is upping the stakes. As seen at the end of the video, chop-happy Austrian bruiser WALTER will meet former WWF Tag Team Champion Pierre Carl Ouellet (once known as Jean Pierre Lafitte) at the show, adding to a card that already has the tantalizing prospect of David Starr vs. Mike Quackenbush.
Full marks to Janela for creating perhaps the most unique and entertaining match announcement in wrestling history!