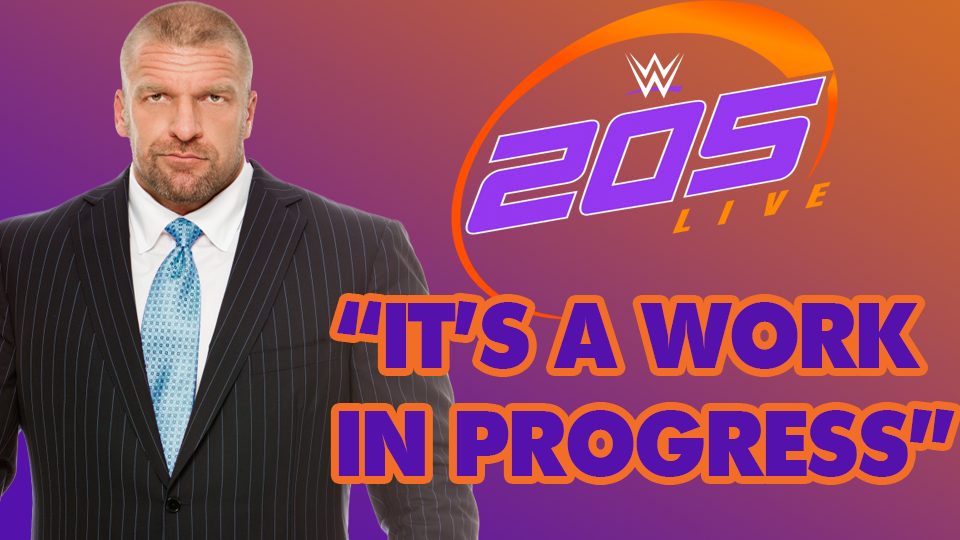 Since taking over the reins of the ailing WWE Network exclusive series 205 Live, WWE COO Paul "Triple H" Levesque has overseen a shift in the show's creative direction, talent pool and overall production. While many have praised his efforts as of late, the former WWE World Champion told PWInsider recently that there are more changes yet to come.
"It's a work in progress for sure," he told Mike Johnson at the WrestleMania 35 press conference in New Jersey. "People's tastes change. Time changes. You do the same thing for too long, that gets boring. You constantly have to evolve."
Last year, many pundits thought 205 Live was on its last legs. Austin Aries, a former WWE Cruiserweight Championship contender and current IMPACT World Heavyweight Champion, was released in the summer of 2017, telling WWE legend Chris Jericho on his podcast Talk is Jericho that the company didn't know how to further develop his on-screen character.
"It didn't seem like they had a clear direction of where to go," he said in the Fall of 2017. "Which was frustrating because I'm more than just a good match guy. You can literally use me anywhere and I'm open to be used anywhere."
Check out the entire interview below:
https://www.youtube.com/watch?v=a6BsJWWPGz0
In October, former WWE Cruiserweight Champion Neville also left the company, seemingly over similar frustration over his character's creative direction. Furthermore, after former WWE Cruiserweight Champion Enzo Amore – the brand's biggest star at the time – was fired for neglecting to inform WWE of a pending alleged sexual assault case filed against him in Arizona, many thought the entire cruiserweight division would be scrapped altogether.
According to various reports last month, however, WWE CEO Vince McMahon turned over control to Triple H in order to revitalize interest in the brand as a whole.
Since the pivot, the division has seen the debut of new 205 Live General Manager Drake Maverick (formerly Rockstar Spud of IMPACT), an influx of new superstars from both outside the company and within NXT and the announcement of a WWE Cruiserweight Championship tournament that will decide who becomes the new WWE Cruiserweight Champion (the finals will take place at Wrestlemania 34).
"I feel like we are heading in a good direction for 205 Live right now," Triple H said. "[And] NXT is firing on all cylinders. I think we're gearing up to head into WrestleMania season with a lot of guns blazing and it's an exciting time."