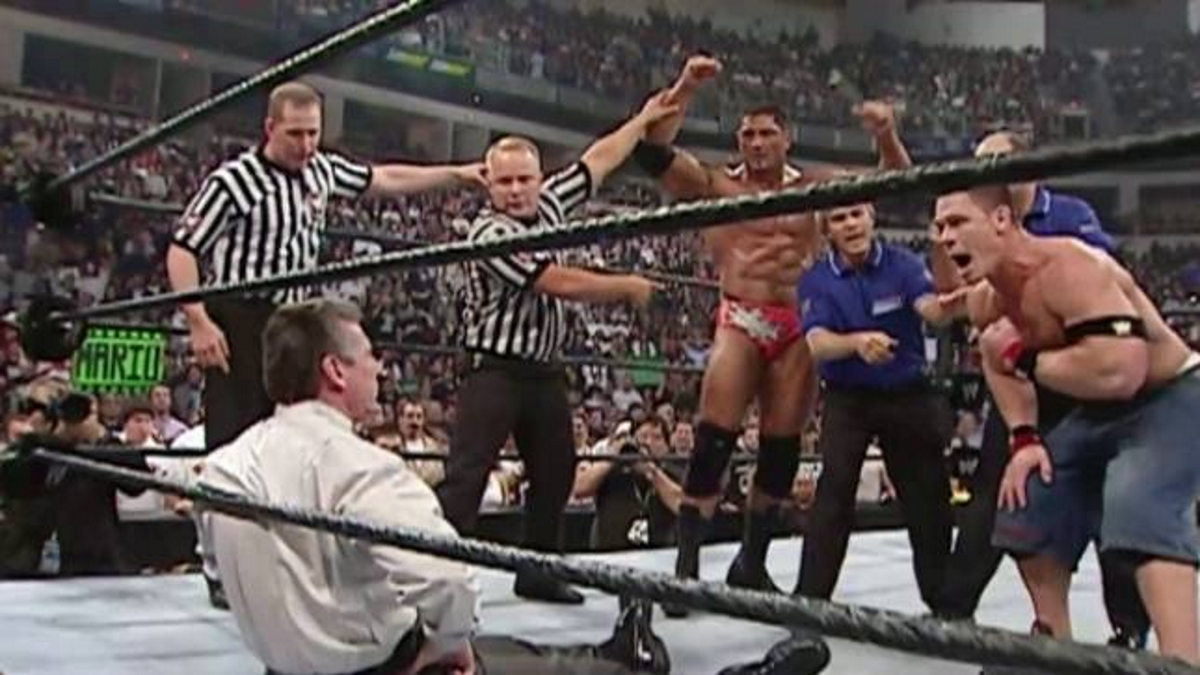 During his appearance on the Pat McAfee Show yesterday, Vince McMahon addressed one his most hilarious moments – the 2005 Royal Rumble.
If you don't know the story by now, the finish of the Rumble match was botched as John Cena and Batista both went over the top rope and landed on the floor at the exact same time, and Vince McMahon was legitimately pissed.
So, because he's Vince McMahon, he decided to storm to the ring himself and set the record straight. Only problem was, he tore both of his squads sliding into the ring, so he ended up just flopping over and sitting there in the ring shouting, which was a hilarious visual.
McAfee brought this up to him during their interview, and McMahon, in good spirits about it, replied:
"Actually I've blown the left one out twice. But that was very unique – not too many people can sever quad tendons at the same time. That takes talent. You have no use of your legs at all. When you sever your quad tendons – and again both at the same time – you can't walk, you can't stand, you can't anything. So you have to learn how to walk all over again. Rehab is so important. If you go too fast, then that's not good either. I like to push myself as hard as I can, but you can't go too fast.

"I've had all kinds of… neck surgery, tricep surgery, I can't think of all the damn things I've had. Back surgery, I've had that."

If you use this transcription or any portion of it please credit WrestleTalk.com and link to this page.
It's no wonder McMahon has had quite the collection of injuries considering how much he pushes himself physically. If anything, it's surprising to hear him admit to them.
You can find a full recap of McMahon's appearance on the Pat McAfee Show at this link.
To make sure you stay updated with all the latest wrestling news, add WrestleTalk.com to your Google Discover feed and follow us on Twitter!