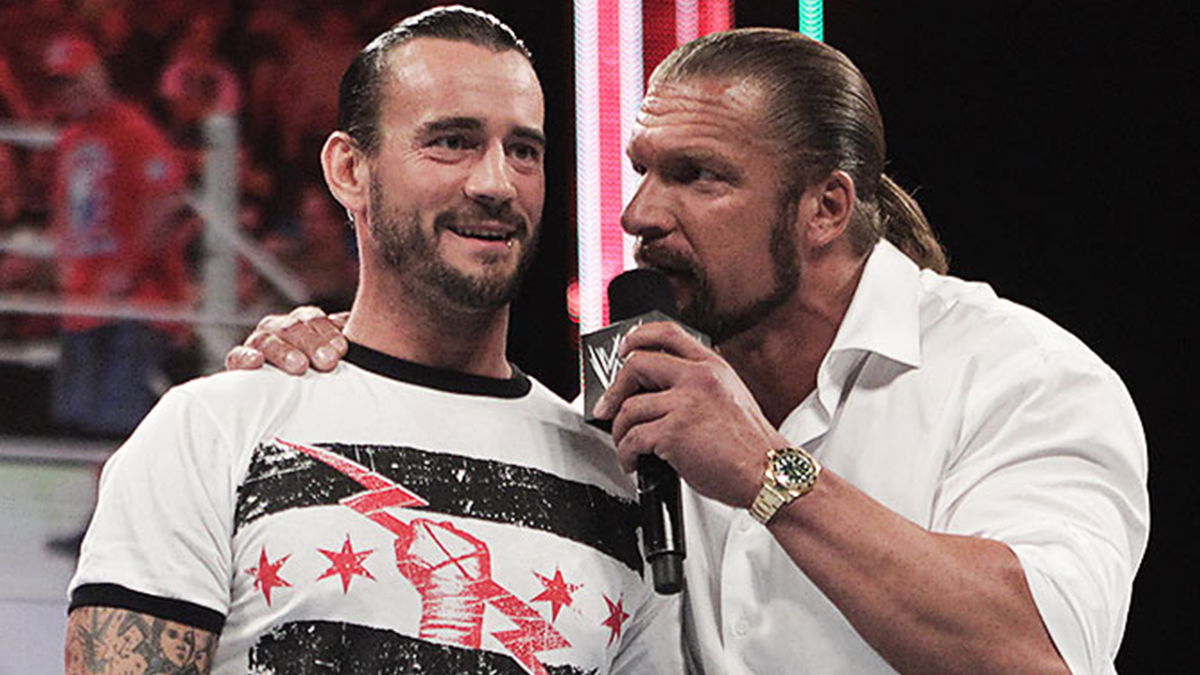 A WWE Hall of Famer has recalled the feud between Triple H and CM Punk.
On September 2, AEW and Tony Khan announced that they had terminated the contracts of CM Punk with cause. Punk's termination came following the investigation into the backstage incident at AEW All In at Wembley Stadium.
Punk had been out of professional wrestling for seven years ahead of his AEW debut, with it being believed that he would be very unlikely to ever make a return to WWE in that time.
However, following last year's AEW All Out media scrum altercation, Punk reportedly was open to the idea of a return to WWE, and more information has now come to light. Punk was of course on the sidelines after All Out 2022, not just being suspended by AEW, but also because of a torn tricep.
Speaking on his Kliq This podcast, Kevin Nash was asked about CM Punk potentially returning at the Royal Rumble. He answered:
"Please do motherf**ker because I'll ask Paul [Triple H] to put me in that b***h. I'll be on the horn tomorrow to see if we can make that happen. Sucker punch me, skinny fat boy."
"Short order fucking…I apologize to Waffle House at this point in my career for actually calling him a short order Waffle House cook. My bad. F**k you, Phil. I always like my wrestlers to have birthing hips,"
Nash continued to recall the feud between Punk and Triple H, saying:
"Selling that company for $9 billion, what you need on a ship that's sailing on crystal clear water is some f**king a**hole to stir s**t.  Go back and watch the promo Triple H cuts on him sitting in the chair. It's f**king gold."
"Punk, what's that thing he would give everybody, a pipe job [pipe bomb]? He wanted to give Paul a pipe job, 'Hey, I'll give you a pipe job' or whatever his gimmick was, 'I have a Pepsi tattoo,'"
"Paul said, 'Go f**k yourself' and beat him. After Taker [Undertaker] beat him. Everybody beats the f**king guy."
Nash concluded by noting Punk's role on the STARZ series, Heels, and how fans will have to watch that to get their "CM Punk fill", saying:
"Thank God he has the Duffy Wrestling League on Heels. I saw him on the last episode, he didn't have any dialogue."
"He looked interested in what was going down because there is a LA based entity doing streaming thinking of buying into the DWL."
"If you're not watching Heels, you're not getting a chance to get your CM Punk fill. See what I did there?"
As previously noted, a top AEW star has publicly given CM Punk his flowers for working with him.
Transcription via Fightful
Think you know the most about wrestling? Join our Wrestle League predictions competition for free, and be in with the chance of winning $250 of Amazon vouchers. Make sure you subscribe to email notifications to make sure you never miss a show.