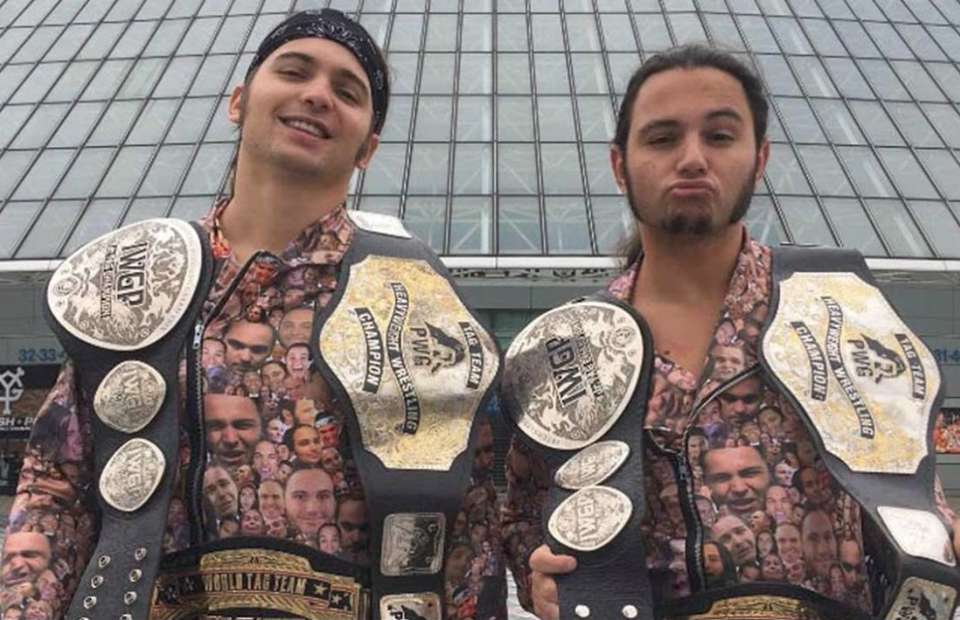 Matt and Nick Jackson collectively known as the Young Bucks will be looking to conquer the tag team division in All Elite Wrestling when the promotion starts officially with Double or Nothing on May, 25.
Before signing on with AEW as two of their Executive Vice Presidents, the brothers did all that there is to do in many promotions across the globe including Ring of Honor and New Japan Pro Wrestling with regards to their respective tag team divisions. Across the two promotions, the Bucks won tag team gold 11 times, and that is not even counting their five reigns as six-man tag team champions across the two companies.
Whilst the pair are clearly excited about their new adventure in AEW, they revealed that both ROH and NJPW had the power to prevent the new promotion from even being created. Matt and Nick were offered contracts by ROH, NJPW and even WWE at the end of 2018, but decided instead to join Tony Khan, Cody Rhodes and his wife Brandi in starting the new promotion.
In an interview with Bleacher Report, the Turner-platform that will be showing AEW's Double or Nothing show, the duo revealed that if ROH and NJPW had accepted their proposal of having dual-contracts, then AEW would never have happened. On the matter, Nick had the following to say:
"You know what's sad? New Japan and ROH could have easily come together and offered us the contracts they wanted, but they just didn't do it"
Nick even revealed that he feels as if NJPW didn't value he or his brother. He claimed that if they offered the Bucks the money they felt they deserved, then they would have stayed with the Japanese promotion for life:
"New Japan never saw the value in Matt and I. They never paid us good. We would have had to work with New Japan for another two decades to even get close to retiring, and the style they demand is backbreaking. Ring of Honor paid us a lot better than New Japan. We could have probably retired there, but we would have to work probably another decade with them. We pitched it to both of them: Why don't you guys get us a dual contract? And they just didn't get it done. We would have easily stayed, and there would have never been an All Elite Wrestling if they would have met what we wanted, but it didn't get done."
Thanks to Fightful for the transcription.
Do you think ROH and NJPW made a mistake by not agreeing to sign Matt and Nick to dual-contracts, allowing them to not only leave the promotions but also start their own company? Let us know in the comments.