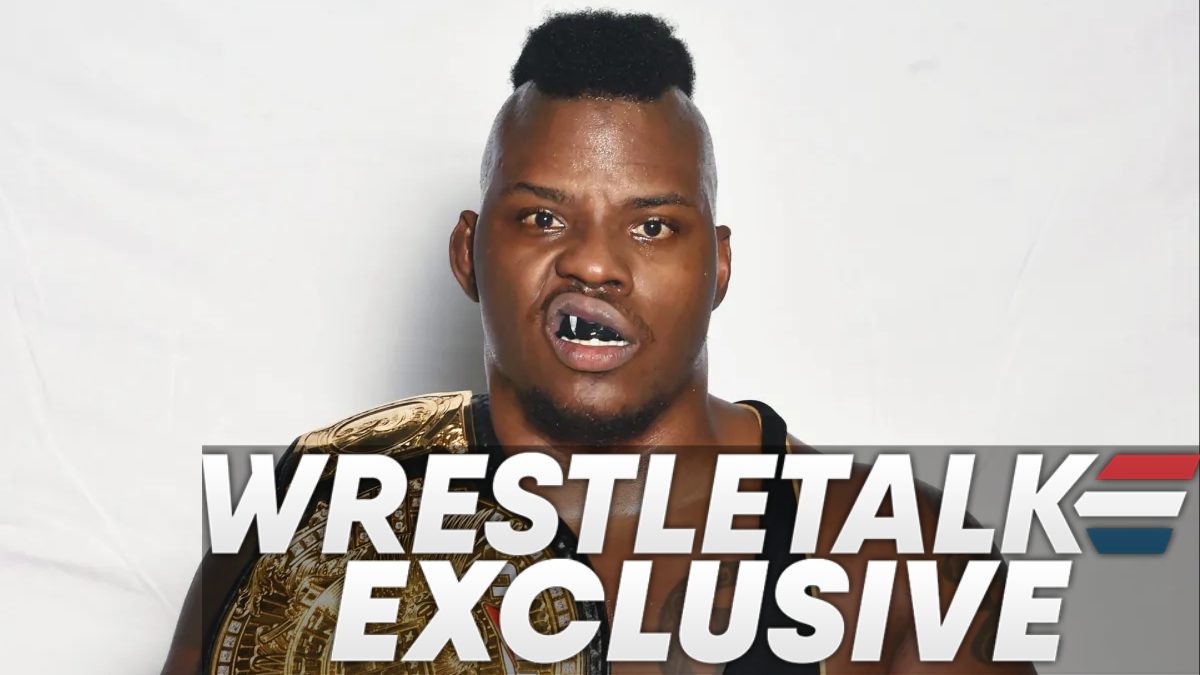 In today's feature, WrestleTalk had the opportunity to sit down with the MLW National Openweight Champion, Alex Kane. Kane is an up-and-coming wrestler who is known for his ability to suplex anyone and everyone. The Suplex Assassin is advertised to have over 100 different variations of suplexes in his arsenal. 
In this interview, we talk about how he developed his Suplex Assassin persona, who he wants to face next, MLW, and much more.  
You're known as The Suplex Assassin and have over 100 suplexes in your arsenal. How did you develop your move set and what led you to become The Suplex Assassin?
I grew up wrestling in High School and did a little wrestling in college. When I walked on to my university, I got on during a free-style Greco camp. I fell in love with just tossing people. Just like the technique and body control that you have to have. So, when I started training, I knew I wanted to throw people. I knew I wanted to be a powerhouse. So, like, I didn't quite have a character right then and there. I just knew that's what I wanted to do.

I did like an Evolve try-out. And, I think his name is like Gabe something, whatever. He basically crapped on my entire life. He told me I don't have charisma. You're not a good wrestler, da da da.  The one thing he told me was I don't have a character. So, I was like, you know what, if I can develop a character, then all the other stuff would fall in line.

So, I was playing the video game. I was, like, trying to create myself as a character. This character wore tights. Not tights, trunks. But, like, I came up with Alex Kane. I was looking through, like, the announcing name thing. I was like…Assassin. Then I was like…suplex. Suplex Assassin. Then I went and looked it up everywhere I possibly could to make sure nobody else was The Suplex Assassin. I was like.. 'I'm doing this. I'm running with this. This is going to be it."
One of the great things about wrestling is there are so many ways people do it, whether it's tossing people around, flying from the top rope, or ground-based. Wrestling seems to be in a really sweet period where there are so many different options whatever it is that you like. Whether it's entertainment, hard-hitting in-ring action, comedy, or hardcore, fans can really find whatever they want. How would describe what MLW brings to the table? What sets it apart? What makes it special?
The way I could really describe it best is it really feels like UFC. If UFC kept the action within the cage but added wrestling ropes. MLW feels very real to me. It feels very real. If I'm doing anything at a taping, it feels real. It just doesn't feel like we're doing pro-wrestling stuff. It doesn't feel like we're solely focused on entertainment. We're trying to give you that big fight feel, every single time.  

Even within MLW, you still have that variety. We got guys like me. Wrestlers, power technicians. You've got big muscle-ly dudes like Hammerstone. You've got high flyers like Aramis and Arez. I hit all 3 heads. We have just about everything you need. Hell, we have a women's division now. We're rolling on all cylinders right now. We have everything you'd possibly want with that real fight feel within your wrestling product. 
Besides the big names you mentioned, is there a person flying under the radar we should be looking out for?
Oooh. No, I don't think so. I think everybody's represented pretty well.
Alex Kane signs with MLW https://t.co/xyd16cVGpe

— MLW SuperFight • Charlotte • 2/26 (@MLW) May 28, 2021
MLW is coming to Charlotte, NC in a few weeks to do a big television taping. What can we expect to see from Alex Kane in Charlotte?
I'll be defending this [the MLW National Openweight Championship]. Whoever steps through the curtain and wants a shot at [The MLW National Openweight Championship] will be getting all this work. They will be flying on a one-way trip to Suplex Island. I can assure you they won't be surviving. I don't care who you are. You can be big, tall, wide, skinny. It doesn't matter. You getting your ass whooped. 
Is there somebody if you could draw it up you'd like to have show up and challenge you for that belt.
It would be dope as hell for my trainer, AR Fox, to show in Charlotte and challenge me for it. Teacher vs. student action. 
As you grew up, is there somebody that you liked? What were you watching as a kid?
I would catch Deep South Wrestling every now and again. I would watch TNA when it would come on. I mean TNA, like, double-sided entrances TNA. Of course, WWE/WWF. The people I took the biggest liking to were Randy Orton, at first. And then when Shelton Benjamin came around, that's what I really gravitated towards. 
We've talked about people, but is there a match type that you haven't done stipulation you'd like to try that you haven't or would like to have another shot at?
Not really off the top of my head. I mean I'm open to, not everything, but just about anything. But, you know, if Cesar is like "Yo, you're doing this and you're defending your belt," then I don't really have a choice. Well, if he does do that, then I do have a favor I call in. 
Is there a match you don't want to do:
Not doing deathmatches. I'll let you know that right now. No deathmatches. 
No thumbtacks? 
No thumbtacks. No glass. No light tubes. Y'all can keep that. I respect y'all but y'all can keep that. 
What should we be looking out for from MLW in the future?
Kings of Colisseum. I believe it's May 13.  It will be my first Kings of Colisseum. I'm excited to see what it's going to be like. Definitely, probably, have a title defense against somebody. Somebody going to get this work. 
What are your long-term plans? What would you like to accomplish?
Make The BOMAYA Fight Club the most dominant faction in MLW history. That's my main plan. My main master plan.
What would make it dominant?
For me, I think having somebody in every division on my team. So, I could dominate every division. You've got me with the National Openweight. Soon, at some point, I'll be Heavyweight Champion. So, someone else will carry [The National Openweight Championship]. Hopefully, get a women's championship in the women's division. Have somebody there for that. Then, bring in a tag team and have them dominate the tag division. 
How to watch: 
As you can see, Alex Kane has big plans and looks to be making big waves in MLW. He plans on sticking around for a long time and it looks like the future is bright for The Suplex Assassin. One thing's for sure, I certainly don't want to visit Suplex Island anytime soon.
You can check out Alex Kane and the rest of the MLW roster on BEIN Sports every Saturday night or on YouTube every Thursday night. You can also follow Alex Kane on Twitter or find his T-shirts online. 
To make sure you stay updated with all the latest wrestling news, add WrestleTalk.com to your Google Discover feed and follow us on Twitter!