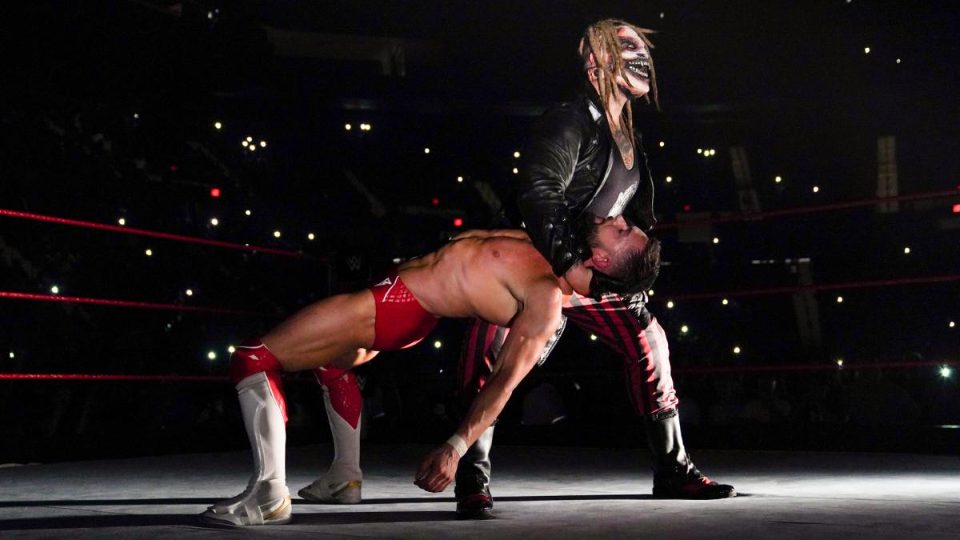 With this year's SummerSlam rapidly approaching, the current WWE match card is looking sparse and arguably underwhelming.
A WrestleMania rematch between Rollins and Lesnar and two Women's Championship matches that have seemingly been booked out of nowhere do not elicit much excitement.
However, with the addition of these ten matches, the card will become far more intriguing to us fans and could be a must-see PPV this year.
---
10. Kofi Kingston vs. Randy Orton – WWE Championship
How WWE have only just pulled the trigger on this feud at the last SmackDown show is baffling. The rivalry has history dating back to 2009 and would certainly give Kofi his biggest challenge to date.
With Orton being a 13-time World Champion, he can always be presented as a serious threat, especially against the 1-time World Champion Kofi.
Moreover, now both wrestlers are certified veterans of the WWE, they have a decade of WWE TV to draw upon to light the fire under this feud and cement Kofi as a truly worthy WWE Champion.
Treating this feud as the biggest story on SmackDown and not anything to do with Shane McMahon should see this rivalry become one of the feuds of the year if handle correctly.
As long as Randy remains motivated and Kofi is made to look as strong as he has been since he won the title, the pair of them could easily put on a match of the year contender as a clear face/heel dynamic will be presented throughout the feud.
---
9. WWE Intercontinental Championship Ladder Match
If we are honest with ourselves, WWE will not promote a singles match for the Intercontinental Title correctly on SmackDown.
With this being the case, why not give the fans a crazily athletic contest between six of the best wrestlers on the roster.
The competitors for this match would be – Ali vs. Andrade vs. Apollo Crews vs. Buddy Murphy vs. Shelton Benjamin vs. Shinsuke Nakamura.
Ali has already set his eyes on the Intercontinental Title on this weeks SmackDown. Also, Ali and Murphy have had a minor feud forming in video exclusive segments on WWE's YouTube channel.
Benjamin has been in some… interesting… segments on TV but we all know he is a ladder match specialist so I see no reason as to why he can't be implemented into this match.
We have also seen Apollo beating Andrade in a 'surprise' win on SmackDown; therefore, seeds for small-scale feuds between the majority of the competitors in this match have been planted already.
WWE just need to capitalize on this and give the fans an opener to SummerSlam we can all get excited for.
---
8. The Revival vs. The Usos vs. The Viking Raiders – WWE Raw Tag Team Title
This is a simple one.
The Revival and The Usos appear to have been wrestling each other for decades now but quite frankly, there are not many other teams for the Raw Tag Team Champions to face… except one.
The Viking Raiders have been squashing jobber teams for the last few weeks and need to move on to something more substantial. However, as they are presented as heels, they can't really take on The Revival in in straight tag match.
Making a simple triple threat tag team match between the two would be a fun match to throw on the SummerSlam card as all three teams are exceptionally talented.
---
7. Becky Lynch vs. Ronda Rousey – WWE Raw Women's Championship
This one is very much speculation but hear me out.
So, in the last few days, WWE posed the question – Should Ronda Rousey return to WWE?
The UFC star has not been seen since WrestleMania as she expressed her desire to start a family with her husband Travis Browne.
Fast-forward to Raw, where Natalya won a fatal four way to become the new #1 Contender to Becky's title. This choice seems slightly off considering Natalya has not been presented as a legitimate contender in the women's division for quite some time.
My first theory as to why Natalya was chosen is that she may announce her retirement after said match with Lynch. However, an alternative theory is that she has been set-up as the contender now so that she can be replaced by Ronda on the go-home show.
If Natalya were to get 'injured' just two weeks before SummerSlam, Becky will be in need of a replacement opponent and who better to replace Natalya on the go-home show than Ronda Rousey.
Not only are Rousey and Natalya friends in real life, but Lynch and Rousey obviously have unfinished history from the WrestleMania main event, where Ronda tapped out to the Dis-Arm-Her.
Ultimately, this is a match alteration that needs to happen to ensure Becky finally has a serious contender for her title and to reinstate interest in the currently dwindling Raw women's division.
---
6. The IIconics vs. Nikki Cross & Alexa Bliss – WWE Women's Tag Team Titles
With WWE seemingly moving Bliss and Cross out of the SmackDown Women's title picture, utilising them as a fresh opponent for The IIconics is something that needs to be done.
Also, the story to this feud writes itself. Billie Kay and Peyton Royce have been friends since their days in academia, whereas Nikki Cross and Alexa Bliss have seemingly only been 'friends' for a few months.
Therefore, Kay and Royce should mock their friendship, claiming it to be not as strong as theirs. Bliss and especially Cross would no doubt dispute that claim, thus resulting in them challenging them for their titles at SummerSlam.
By no means do I see this match being the highlight of the card; however, the women's tag division needs a match-up we have not seen yet to freshen things up and this bout is the only option WWE has, unless they went with a Kabuki Warriors rematch.
---
5. Braun Strowman vs. Luke Harper – No DQ
So with the rumour that Harper has been travelling with WWE again and Braun seemingly without a direction following his impressive Last Man Standing match at Extreme Rules, throwing the two together might be a solution to WWE's problem.
Swerving the fans by returning Harper as a heel to feud with Strowman would evoke interest heading into SummerSlam. Furthermore, the fans will no doubt recall their history together in The Wyatt Family, therefore creating a certain buzz when the two giants stare-off.
To ensure the fans are against Harper, he needs to prevent Braun from performing one of his babyface spots. For example, as Strowman is charging up his shoulder tackle, Harper could jump the barricade and hit a Discuss Clothesline thus causing a DQ.
Harper could then continue his assault on Strowman before the referees separate the two men.
Putting Braun in a No DQ match will ultimately hide his shortcomings in the ring and as Harper is a truly underrated talent, the two could pull off a unexpected match of the night just like Strowman arguably did against Lashley.
---
4. Aleister Black vs. Ricochet vs. Cesaro vs AJ Styles – WWE US Championship
With AJ's feud with Ricochet seemingly not book-ended just yet, another match between the two is not out of the realms of possibility.
However, a finale between the two should be saved for somewhere else down the line to prevent their feud becoming stale.
Enter Aleister Black and Cesaro.
With the Wildcard rule still being utilised, bringing Black across to Raw to begin feuding with The Club would certainly be intriguing. Then, you add a disgruntled Cesaro from his second loss into the mix and you have a real fan-favourite match for the US Title.
Moreover, Black does not have to take a pin here meaning he could go on to beat Styles for the Title in the future if WWE are interested in going down this route. Either way, he remains protected with Cesaro most likely taking the pinfall.
---
3. Kevin Owens vs. Shane McMahon – Lumberjack Match
To be honest, I'm not entirely sure where each feud based around Shane McMahon is going anymore. It once looked like we were getting Roman Reigns vs. Shane McMahon this year but now Owens has stolen the limelight, a match between him and Shane seems the best option for SummerSlam.
So, the way to execute this feud is to have everyone who is frustrated with Shane McMahon in Owen's corner for this lumberjack match. You then have all of Shane's cronies in his corner and you are left with an incredibly overbooked match to hide all of Shane's inadequacies.
Having Roman leading the likes of Cedric Alexander, The Miz and even some of the female talent such as Liv Morgan and the Kabuki Warriors to the ring to square-off against Drew McIntyre, Elias, The Revival and even a Charlotte Flair would present a great visual and a different style of match-up on the SummerSlam card.
Furthermore, it would get a lot of the underutilised talent Owen's mentioned in his recent 'pipebomb' on the card to prove that Owens' is the saviour to the voiceless in WWE. Not only that, but you could even spawn future feuds from the various lumberjacks around the ring as well by simply having them brawling with each other rather than controlling the match.
---
2. 'The Fiend' Bray Wyatt vs. 'The Demon' Finn Bálor
Bray Wyatt's return on this weeks Raw was almost perfectly executed. Apart from the fact Finn seemed a random target for Bray, the potential feud to spawn from this seems incredibly captivating.
Meltzer pointed out in the Wrestling Observer Newsletter that Bálor is not scheduled to don the paint.
However,with that being said, Bálor's demon has had little to no story behind it and yet still has holds an element of mystique, hence the huge pop it gets each time Bálor brings him out.
If Bray's 'Fiend' were to dominate Finn's 'Demon' at SummerSlam, it will not only legitimize Bray as a genuine threat, but would allow Bálor to take the time off it he has requested.
Finn could also reinvent the Demon coming off this loss to make the persona far more intriguing to us fans, therefore the match could be beneficial to both of them in the long-term.
The stare down between The Demon and The Fiend is enough to give anyone chills and would definitely be presented as a true marquee match-up on a packed SummerSlam card.
---
1. Daniel Bryan vs. Shawn Michaels – Retirement Match
Okay so hold on here, this one is a bit out there…
Michaels, one of the most beloved wrestlers WWE has ever produced, has seemingly ended his career on a damp squib.
Bryan, one of the most engaging heels in WWE right now, said after Extreme Rules he will be going where he's not gone before.
As the Universal Championship is already organised, a first time dream match with a WWE legend is somewhere Bryan could go.
Now, enter the Raw Reunion show. Michaels has been announced as making an appearance. Shawn could give hints here that he is looking to compete in one final match. Move on to SmackDown where he has been announced as the guest commentator for the show.
Bryan can either call out or even attack Michaels whilst he's commentating saying to save the world he needs to rid the world of one of the legends that formed it.
Moreover, the two have a pre-made story for WWE to capatalise on as Bryan was trained by Michaels as shown here. The pair have history for them to just pull the trigger on if Michaels wants to redeem his last match.
It is a match the fans have been desperate to see and I firmly believe if anyone can bring a good match out of Michaels at the age of 53, it is Daniel Bryan.