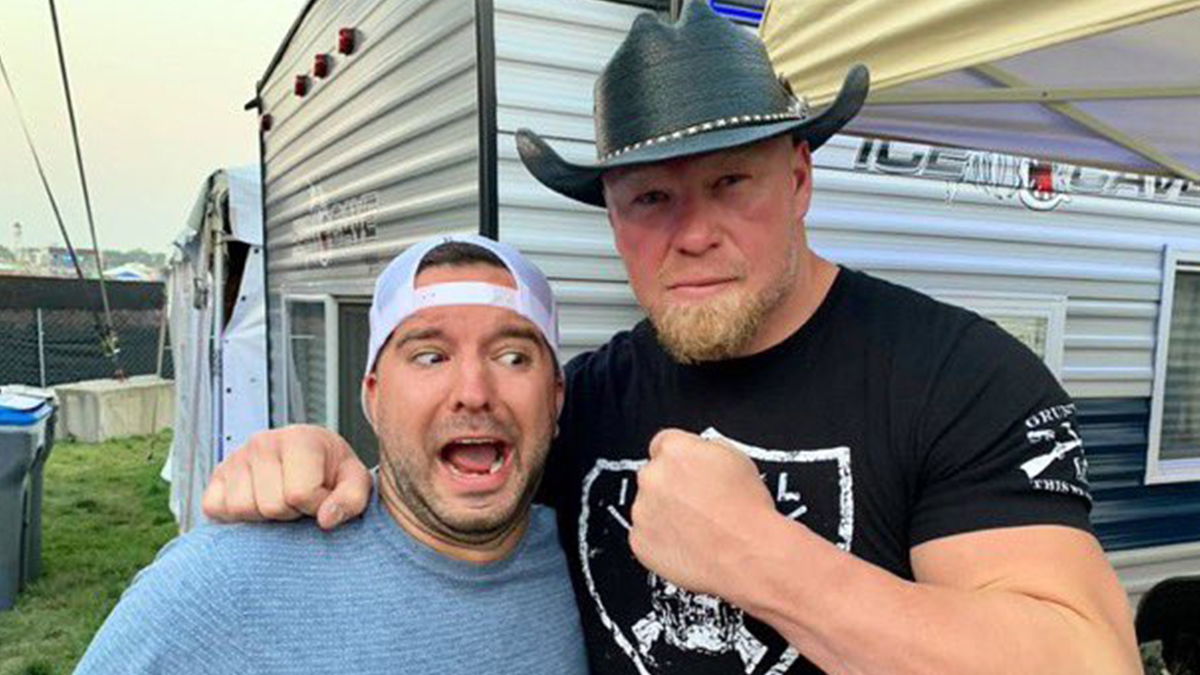 And so I'm back, from outer space, I just walked in to find you here ready to read a list of all the news stories that you might have missed this week.
Because even though at Wrestletalk we're dedicated to bringing you the biggest, loudest, sweatiest, CM Punkiest new stories every single day, some stories slip through the cracks even if they are often very lovely, or very weird, or in the case of Number one, very much a crime against an entire period of American history.
I'm Adam from WrestleTalk and here are 10 news stories from the week you might have missed.
---
10. The Biggest News Story Of The Year
In the same few news weeks that saw talks of CM Punk and Daniel Bryan joining AEW, Jay White showing up on IMPACT to recruit more Bullet Club members, Hiroshi Tanahashi appearing on AEW, and WWE using sad Karrion Kross to bludgeon the best wing of their own f**king company, we also got by far the biggest and sexiest news story of the year.
Brock Lesnar wearing a cowboy hat. My loins weren't ready for that. That's a point-blank execution of my loins, using a weaponized cube of hot cowboy Pork.
Brock was seen rooting and/or tooting at music festival Twin Cities Summer Jam – yes we will be suing for the flagrant infringement of SummerJam – and he was wearing a cowboy hat, which proceeded to go viral, primarily because he looked like the Milk Bar kid grew up to become a bouncer and a rundown strip club.
Heart-breakingly the photo did not show Brock's feet, so we can't confirm if he was wearing his infamous blue jeans, black loafers combo.
---
9. The Wrestling Machine Was Almost All Elite
WrestleMania 35 will be remembered for a few different reasons: women main eventing the show for the first time ever, the peak of KofiMania, and it being about 17 days long. One match that might be forgotten from that card was Baron Corbin retiring Kurt Angle, one of my least favorite sentences in the English language.
Interestingly, Angle revealed in an interview with Fightful, hey Sean, you're always on my mind you hot little slice of vanilla cake – that he received offers to wrestle from both AEW and IMPACT Wrestling – both of which he declined.
He said he was flattered by the offer, but his body was too beaten up to compete at the level he once did.
IMPACT supposedly offered him a one-shot deal, but AEW apparently had a lot more in mind for the Olympic gold medallist, and you know what, fair enough to Kurt Angle for wanting to preserve his peerless body of work as best he can, he remains my favorite wrestler of all time, and I very much enjoyed his retirement match at WrestleMania 34, teaming with Ronda to defeat Triple H and Stephanie.
---
8. Wrestling Observer Fan Banned From NXT
NXT this week was moved to the SyFy channel to make room for those pesky Olympics, and was also pre-taped.
As is the nature with pre-taped episodes, spoilers can often leak from fans in attendance for the shows. Or even if there are no fans, sometimes members of your own roster can do it, like at the Great American Bash last year.
The guy who did that has still never been seen again, are we 100% sure WWE didn't kill him?
Regardless, it seems NXT security were on high alert for any potential spoilers getting out, as according to fan in attendance JJ Williams, who contributes to the Wrestling Observer, he was singled out due to his affiliation with the Observer, a picture was taken of his ID, he was forced to delete any pictures he had taken, and was escorted out of the building.
JJ also noted that several others in attendance, including media personnel, were sharing spoilers with no consequences.
Never one to back down from an opportunity, Tony Khan then jumped in, saying he was looking forward to seeing JJ at AEW Dynamite Homecoming from Daily's Place next week.
That's hospitable, maybe he'll treat you to a dominos, hopefully they bought a new pizza cutter.