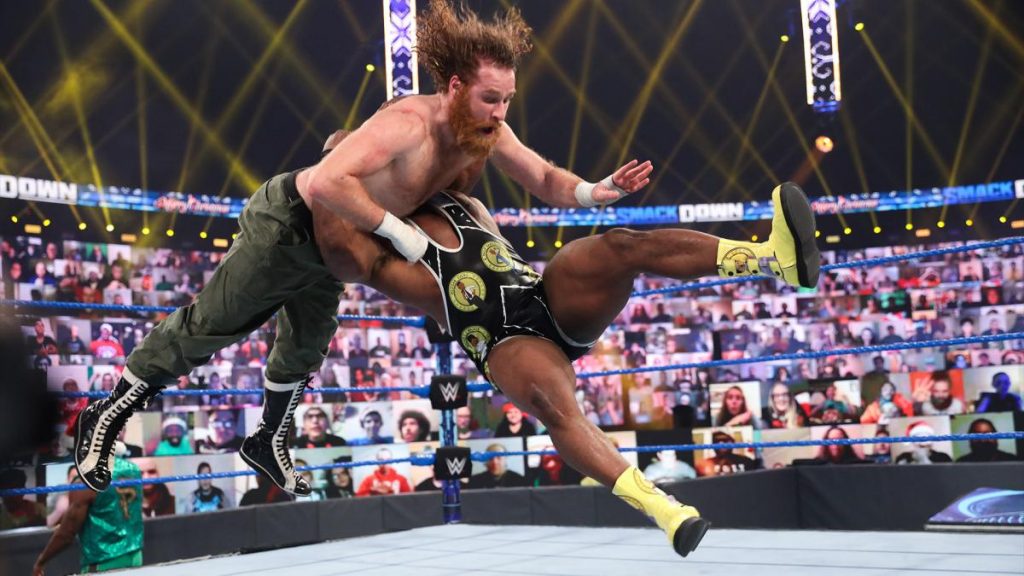 We've put together an ongoing list of every single championship match that has taken place in WWE in 2020, including details of each match.
We'll be updating this constantly as the year goes on so be sure to keep checking back so you don't miss any!
This list includes all WWE brands including NXT and NXT UK.
24/7 Championship matches count if they are officially sanctioned matches, not if they are 24/7 rule roll-ups or anything of that nature.
If you only want to see title changes, we have a tracker for those at this link.
If you scroll down to the very bottom of the page, there's a big breakdown of stats e.g. how many title matches there have been on a specific show, how many for each title etc.
---
Andrade (c) vs. Rey Mysterio
Title: United States
Winner: Andrade (retained)
Date: January 6
Show: Raw
---
Viking Raiders (c) vs. Street Profits vs. Karl Anderson & Luke Gallows
Title: Raw Tag Team
Winner: Viking Raiders (retained)
Date: January 6
Show: Raw
---
Kay Lee Ray (c) vs. Piper Niven vs. Toni Storm
Title: NXT UK Women's
Winner: Kay Lee Ray (retained)
Date: January 12
Show: NXT UK TakeOver: Blackpool II
---
Mark Coffey & Wolfgang (c) vs. Fabian Aichner & Marcel Barthel vs. Flash Morgan Webster & Mark Andrews vs. Grizzled Young Veterans – Ladder Match
Title: NXT UK Tag Team
Winner: Mark Coffey & Wolfgang (retained)
Date: January 12
Show: NXT UK TakeOver: Blackpool II
---
WALTER (c) vs. Joe Coffey
Title: NXT UK
Winner: WALTER (retained)
Date: January 12
Show: NXT UK TakeOver: Blackpool II
---
Viking Raiders (c) vs. Singh Brothers
Title: Raw Tag Team
Winner: Viking Raiders (retained)
Date: January 13
Show: Raw
---
Andrade (c) vs. Rey Mysterio – Ladder Match
Title: United States
Winner: Andrade (retained)
Date: January 20
Show: Raw
---
Viking Raiders (c) vs. Seth Rollins & Buddy Murphy
Title: Raw Tag Team
Winner: Seth Rollins & Buddy Murphy (title change)
Date: January 20
Show: Raw
---
Roderick Strong (c) vs. Keith Lee
Title: NXT North American
Winner: Keith Lee (title change)
Date: January 22
Show: NXT
---
Angel Garza (c) vs. Isaiah Scott vs. Jordan Devlin vs. Travis Banks
Title: NXT Cruiserweight
Winner: Jordan Devlin (title change)
Date: January 25
Show: Worlds Collide
---
Rhea Ripley (c) vs. Toni Storm
Title: NXT Women's
Winner: Rhea Ripley (retained)
Date: January 25
Show: Worlds Collide
---
Andrade (c) vs. Humberto Carrillo
Title: United States
Winner: Andrade (retained)
Date: January 26
Show: Royal Rumble (pre-show)
---
Bayley (c) vs. Lacey Evans
Title: SmackDown Women's
Winner: Bayley (retained)
Date: January 26
Show: Royal Rumble
---
"The Fiend" Bray Wyatt (c) vs. Daniel Bryan – Strap Match
Title: Universal
Winner: "The Fiend" Bray Wyatt (retained)
Date: January 26
Show: Royal Rumble
---
Becky Lynch (c) vs. Asuka
Title: Raw Women's
Winner: Becky Lynch (retained)
Date: January 26
Show: Royal Rumble
---
Seth Rollins & Buddy Murphy (c) vs. Kevin Owens & Samoa Joe
Title: Raw Tag Team
Winner: Seth Rollins & Buddy Murphy (retained)
Date: January 27
Show: Raw
---
Mojo Rawley (c) vs. No Way Jose
Title: 24/7
Winner: Mojo Rawley (retained)
Date: January 27
Show: Raw
---
Shinsuke Nakamura (c) vs. Braun Strowman
Title: Intercontinental
Winner: Braun Strowman (title change)
Date: January 31
Show: SmackDown
---
Becky Lynch (c) vs. Asuka
Title: Raw Women's
Winner: Becky Lynch (retained)
Date: February 10
Show: Raw
---
Mark Coffey & Wolfgang (c) vs. Danny Burch & Oney Lorcan
Title: NXT UK Tag Team
Winner: Mark Coffey & Wolfgang (retained)
Date: February 13
Show: NXT UK
---
Bayley (c) vs. Carmella
Title: SmackDown Women's
Winner: Bayley (retained)
Date: February 14
Show: SmackDown
---
Keith Lee (c) vs. Dominik Dijakovic
Title: NXT North American
Winner: Keith Lee (retained)
Date: February 16
Show: NXT TakeOver: Portland
---
Rhea Ripley (c) vs. Bianca Belair
Title: NXT Women's
Winner: Rhea Ripley (retained)
Date: February 16
Show: NXT TakeOver: Portland
---
Bobby Fish & Kyle O'Reilly (c) vs. Broserweights
Title: NXT Tag Team
Winner: Broserweights (title change)
Date: February 16
Show: NXT TakeOver: Portland
---
Adam Cole (c) vs. Tommaso Ciampa
Title: NXT
Winner: Adam Cole (title change)
Date: February 16
Show: NXT TakeOver: Portland
---
Mojo Rawley (c) vs. Riddick Moss vs. R-Truth
Title: 24/7
Winner: Riddick Moss (title change)
Date: February 17
Show: Raw
---
Jordan Devlin (c) vs. Lio Rush
Title: NXT Cruiserweight
Winner: Jordan Devlin (retained)
Date: February 19
Show: NXT
---
Big E & Kofi Kingston (c) vs. John Morrison & The Miz
Title: SmackDown Tag Team
Winner: John Morrison & The Miz (title change)
Date: February 27
Show: Super ShowDown
---
Seth Rollins & Murphy (c) vs. Street Profits
Title: Raw Tag Team
Winner: Seth Rollins & Murphy (retained)
Date: February 27
Show: Super ShowDown
---
Brock Lesnar (c) vs. Ricochet
Title: WWE
Winner: Brock Lesnar (retained)
Date: February 27
Show: Super ShowDown
---
Bayley (c) vs. Naomi
Title: SmackDown Women's
Winner: Bayley (retained)
Date: February 27
Show: Super ShowDown
---
"The Fiend" Bray Wyatt (c) vs. Goldberg
Title: Universal
Winner: Goldberg (title change)
Date: February 27
Show: Super ShowDown
---
Kay Lee Ray (c) vs. Toni Storm – I Quit Match
Title: NXT UK Women's
Winner: Kay Lee Ray (retained)
Date: February 27
Show: NXT UK
---
Seth Rollins & Murphy (c) vs. Street Profits
Title: Raw Tag Team
Winner: Street Profits (title change)
Date: March 2
Show: Raw
---
Riddick Moss (c) vs. Ricochet
Title: 24/7
Winner: Riddick Moss (retained)
Date: March 2
Show: Raw
---
WALTER (c) vs. Dave Mastiff
Title: NXT UK
Winner: WALTER (retained)
Date: March 5
Show: NXT UK
---
Andrade (c) vs. Humberto Carrillo
Title: United States
Winner: Andrade (retained)
Date: March 8
Show: Elimination Chamber
---
John Morrison & The Miz (c) vs. Dolph Ziggler & Robert Roode vs. Heavy Machinery vs. Gran Metalik & Lince Dorado vs. The Usos vs. Big E & Kofi Kingston – Elimination Chamber Match
Title: SmackDown Tag Team
Winner: John Morrison & The Miz (retained)
Date: March 8
Show: Elimination Chamber
---
Street Profits (c) vs. Seth Rollins & Murphy
Title: Raw Tag Team
Winner: Street Profits (retained)
Date: March 8
Show: Elimination Chamber
---
Braun Strowman (c) vs. Sami Zayn, Cesaro & Shinsuke Nakamura – Handicap Match
Title: Intercontinental
Winner: Sami Zayn (title change)
Date: March 8
Show: Elimination Chamber
---
Riddick Moss (c) vs. Cedric Alexander
Title: 24/7
Winner: Riddick Moss (retained)
Date: March 9
Show: Raw
---
Keith Lee (c) vs. Cameron Grimes
Title: NXT North American
Winner: Keith Lee (retained)
Date: March 11
Show: NXT
---
Broserweights (c) vs. Bobby Fish & Kyle O'Reilly
Title: NXT Tag Team
Winner: Broserweights (retained)
Date: March 11
Show: NXT
---
Jordan Devlin (c) vs. Travis Banks
Title: NXT Cruiserweight
Winner: Jordan Devlin (retained)
Date: March 26
Show: NXT UK
---
Keith Lee (c) vs. Damian Priest vs. Dominik Dijakovic
Title: NXT North American
Winner: Keith Lee (retained)
Date: April 1
Show: NXT
---
Kabuki Warriors (c) vs. Alexa Bliss & Nikki Cross
Title: Women's Tag Team
Winner: Alexa Bliss & Nikki Cross (title change)
Date: April 4
Show: WrestleMania 36 Night 1
---
Becky Lynch (c) vs. Shayna Baszler
Title: Raw Women's
Winner: Becky Lynch (retained)
Date: April 4
Show: WrestleMania 36 Night 1
---
Sami Zayn (c) vs. Daniel Bryan
Title: Intercontinental
Winner: Sami Zayn (retained)
Date: April 4
Show: WrestleMania 36 Night 1
---
John Morrison (c) vs. Jimmy Uso vs. Kofi Kingston – Ladder Match
Title: SmackDown Tag Team
Winner: John Morrison (retained)
Date: April 4
Show: WrestleMania 36 Night 1
---
Goldberg (c) vs. Braun Strowman
Title: Universal
Winner: Braun Strowman (title change)
Date: April 4
Show: WrestleMania 36 Night 1
---
Rhea Ripley (c) vs. Charlotte Flair
Title: NXT Women's
Winner: Charlotte Flair (title change)
Date: April 5
Show: WrestleMania 36 Night 2
---
Street Profits (c) vs. Angel Garza & Austin Theory
Title: Raw Tag Team
Winner: Street Profits (retained)
Date: April 5
Show: WrestleMania 36 Night 2
---
Bayley (c) vs. Lacey Evans vs. Naomi vs. Sasha Banks vs. Tamina – Elimination Match
Title: SmackDown Women's
Winner: Bayley (retained)
Date: April 5
Show: WrestleMania 36 Night 2
---
Brock Lesnar (c) vs. Drew McIntyre
Title: WWE
Winner: Drew McIntyre (title change)
Date: April 5
Show: WrestleMania 36 Night 2
---
Street Profits (c) vs. Angel Garza & Austin Theory
Title: Raw Tag Team
Winner: Street Profits (retained)
Date: April 6
Show: Raw
---
Drew McIntyre (c) vs. Big Show
Title: WWE
Winner: Drew McIntyre (retained)
Date: April 5/6
Show: WrestleMania/Raw
---
Alexa Bliss & Nikki Cross (c) vs. Kabuki Warriors
Title: Women's Tag Team
Winner: Alexa Bliss & Nikki Cross (retained)
Date: April 10
Show: SmackDown
---
Braun Strowman (c) vs. Shinsuke Nakamura
Title: Universal
Winner: Braun Strowman (retained)
Date: April 10
Show: SmackDown
---
Drew McIntyre (c) vs. Andrade
Title: WWE
Winner: Drew McIntyre (retained)
Date: April 13
Show: Raw
---
Matt Riddle & Timothy Thatcher (c) vs. Bobby Fish & Roderick Strong
Title: NXT Tag Team
Winner: Matt Riddle & Timothy Thatcher (retained)
Date: April 15
Show: NXT
---
The Miz (c) vs. Big E vs. Jey Uso
Title: SmackDown Tag Team
Winner: Big E (title change)
Date: April 17
Show: SmackDown
---
Alexa Bliss & Nikki Cross (c) vs. Carmella & Dana Brooke
Title: Women's Tag Team
Winner: Alexa Bliss & Nikki Cross (title change)
Date: April 24
Show: SmackDown
---
Andrade (c) vs. Apollo Crews
Title: United States
Winner: Andrade (retained)
Date: April 27
Show: Raw
---
Keith Lee (c) vs. Damian Priest
Title: NXT North American
Winner: Keith Lee (retained)
Date: April 29
Show: NXT
---
Adam Cole (c) vs. Velveteen Dream
Title: NXT
Winner: Adam Cole (retained)
Date: May 6
Show: NXT
---
Big E & Kofi Kingston (c) vs. Gran Metalik & Lince Dorado vs. John Morrison & The Miz vs. Steve Cutler & Wesley Blake
Title: SmackDown Tag Team
Winner: Big E & Kofi Kingston (retained)
Date: May 10
Show: Money in the Bank
---
Bayley (c) vs. Tamina
Title: SmackDown Women's
Winner: Bayley (retained)
Date: May 10
Show: Money in the Bank
---
Braun Strowman (c) vs. Bray Wyatt
Title: Universal
Winner: Braun Strowman (retained)
Date: May 10
Show: Money in the Bank
---
Drew McIntyre (c) vs. Seth Rollins
Title: WWE
Winner: Drew McIntyre (retained)
Date: May 10
Show: Money in the Bank
---
Asuka vs. Carmella vs. Dana Brooke vs. Lacey Evans vs. Nia Jax vs. Shayna Baszler – Money in the Bank Ladder Match
Title: Raw Women's
Winner: Asuka (title change)
Date: May 10
Show: Money in the Bank
---
Matt Riddle & Timothy Thatcher (c) vs. Fabian Aichner & Marcel Barthel
Title: NXT Tag Team
Winner: Fabian Aichner & Marcel Barthel (title change)
Date: May 13
Show: NXT
---
Alexa Bliss & Nikki Cross (c) vs. IIconics
Title: Women's Tag Team
Winner: Alexa Bliss & Nikki Cross (retained)
Date: May 18
Show: Raw
---
Andrade (c) vs. Apollo Crews
Title: United States
Winner: Apollo Crews (title change)
Date: May 25
Show: Raw
---
Apollo Crews (c) vs. Kevin Owens
Title: United States
Winner: No contest (retained)
Date: June 1
Show: Raw
---
Drake Maverick vs. El Hijo del Fantasma
Title: NXT Cruiserweight
Winner: El Hijo del Fantasma (retained)
Date: June 3
Show: NXT
---
Alexa Bliss & Nikki Cross (c) vs. Bayley & Sasha Banks
Title: Women's Tag Team
Winner: Bayley & Sasha Banks (title change)
Date: June 5
Show: SmackDown
---
Keith Lee (c) vs. Johnny Gargano
Title: NXT North American
Winner: Keith Lee (retained)
Date: June 7
Show: NXT TakeOver: In Your House
---
Adam Cole (c) vs. Velveteen Dream – Backlot Brawl
Title: NXT
Winner: Adam Cole (retained)
Date: June 7
Show: NXT TakeOver: In Your House
---
Charlotte Flair (c) vs. Io Shirai vs. Rhea Ripley
Title: NXT Women's
Winner: Io Shirai (title change)
Date: June 7
Show: NXT TakeOver: In Your House
---
AJ Styles vs. Daniel Bryan
Title: Intercontinental
Winner: AJ Styles (title change)
Date: June 12
Show: SmackDown
---
Apollo Crews (c) vs. Andrade
Title: United States
Winner: Apollo Crews (retained)
Date: June 14
Show: Backlash (pre-show)
---
Bayley & Sasha Banks (c) vs. Alexa Bliss & Nikki Cross vs. IIconics
Title: Women's Tag Team
Winner: Bayley & Sasha Banks (retained)
Date: June 14
Show: Backlash
---
Asuka (c) vs. Nia Jax
Title: Raw Women's
Winner: Draw (retained)
Date: June 14
Show: Backlash
---
Braun Strowman (c) vs. John Morrison & The Miz – Handicap Match
Title: Universal
Winner: Braun Strowman (retained)
Date: June 14
Show: Backlash
---
Drew McIntyre (c) vs. Bobby Lashley
Title: WWE
Winner: Drew McIntyre (retained)
Date: June 14
Show: Backlash
---
Drew McIntyre (c) & R-Truth vs. Bobby Lashley & MVP
Title: WWE
Winner: Drew McIntyre (retained) & R-Truth
Date: June 15
Show: Raw
---
Asuka (c) vs. Nia Jax
Title: Raw Women's
Winner: Asuka (retained)
Date: June 15
Show: Raw
---
Fabian Aichner & Marcel Barthel vs. Breezango
Title: NXT Tag Team
Winner: Fabian Aichner & Marcel Barthel (retained)
Date: June 17
Show: NXT
---
Bayley & Sasha Banks (c) vs. Shotzi Blackheart & Tegan Nox
Title: Women's Tag Team
Winner: Bayley & Sasha Banks (retained)
Date: June 17
Show: NXT
---
Street Profits (c) vs. Viking Raiders
Title: Raw Tag Team
Winner: Street Profits (retained)
Date: June 22
Show: Raw
---
Asuka (c) vs. Charlotte Flair
Title: Raw Women's
Winner: Asuka (retained)
Date: June 22
Show: Raw
---
Bayley & Sasha Banks (c) vs. IIconics
Title: Women's Tag Team
Winner: Bayley & Sasha Banks (retained)
Date: June 22
Show: Raw
---
Keith Lee (c) vs. Finn Bálor vs. Johnny Gargano
Title: NXT North American
Winner: Keith Lee (retained)
Date: June 24
Show: NXT
---
Akira Tozawa (c) vs. R-Truth
Title: 24/7
Winner: R-Truth (title change)
Date: June 29
Show: Raw
---
AJ Styles (c) vs. Drew Gulak
Title: Intercontinental
Winner: AJ Styles (retained)
Date: July 3
Show: SmackDown
---
Big E & Kofi Kingston (c) vs. Cesaro & Shinsuke Nakamura
Title: SmackDown Tag Team
Winner: No contest (retained)
Date: July 3
Show: SmackDown
---
Adam Cole (NXT) vs. Keith Lee (NXT North American)
Title: NXT & NXT North American
Winner: Keith Lee (title change (NXT) & retained (NXT North American))
Date: July 8
Show: NXT Great American Bash Night 2
---
Bayley & Sasha Banks (c) vs. Kabuki Warriors
Title: Women's Tag Team
Winner: Bayley & Sasha Banks (retained)
Date: July 13
Show: Raw
---
Keith Lee (c) vs. Dominik Dijakovic
Title: NXT & NXT North American
Winner: Keith Lee (retained)
Date: July 15
Show: NXT
---
Io Shirai (c) vs. Tegan Nox
Title: NXT Women's
Winner: Io Shirai (retained)
Date: July 15
Show: NXT
---
AJ Styles (c) vs. Matt Riddle
Title: Intercontinental
Winner: AJ Styles (retained)
Date: July 17
Show: SmackDown
---
Big E & Kofi Kingston (c) vs. Cesaro & Shinsuke Nakamura
Title: SmackDown Tag Team
Winner: Cesaro & Shinsuke Nakamura (title change)
Date: July 19
Show: The Horror Show at Extreme Rules
---
Bayley (c) vs. Nikki Cross
Title: SmackDown Women's
Winner: Bayley (title change)
Date: July 19
Show: The Horror Show at Extreme Rules
---
Asuka (c) vs. Sasha Banks
Title: Raw Women's
Winner: No contest (retained)
Date: July 19
Show: The Horror Show at Extreme Rules
---
Drew McIntyre (c) vs. Dolph Ziggler – No Disqualification for Dolph Ziggler
Title: WWE
Winner: Drew McIntyre (retained)
Date: July 19
Show: The Horror Show at Extreme Rules
---
Asuka (c) vs. Sasha Banks
Title: Raw Women's
Winner: Sasha Banks (title change)
Date: July 27
Show: Raw
---
AJ Styles (c) vs. Gran Metalik
Title: Intercontinental
Winner: AJ Styles (retained)
Date: July 31
Show: SmackDown
---
Bayley (c) vs. Nikki Cross
Title: SmackDown Women's
Winner: Bayley (retained)
Date: July 31
Show: SmackDown
---
Apollo Crews (c) vs. MVP
Title: United States
Winner: Apollo Crews (retained)
Date: August 3
Show: Raw
---
Shelton Benjamin (c) vs. Akira Tozawa vs. R-Truth
Title: 24/7
Winner: Akira Tozawa (title change)
Date: August 3
Show: Raw
---
Fabian Aichner & Marcel Barthel (c) vs. Bobby Fish & Kyle O'Reilly
Title: NXT Tag Team
Winner: Fabian Aichner & Marcel Barthel (retained)
Date: August 5
Show: NXT
---
Cedric Alexander (c) vs. Akira Tozawa
Title: 24/7
Winner: Cedric Alexander (retained)
Date: August 17
Show: Raw
---
Cesaro & Shinsuke Nakamura (c) vs. Gran Metalik & Lince Dorado
Title: SmackDown Tag Team
Winner: Cesaro & Shinsuke Nakamura (retained)
Date: August 21
Show: SmackDown
---
AJ Styles (c) vs. Jeff Hardy
Title: Intercontinental
Winner: Jeff Hardy (title change)
Date: August 21
Show: SmackDown
---
Bronson Reed vs. Cameron Grimes vs. Damian Priest vs. Johnny Gargano vs. Velveteen Dream
Title: NXT North American
Winner: Damian Priest (title change)
Date: August 22
Show: NXT TakeOver XXX
---
Io Shirai (c) vs. Dakota Kai
Title: NXT Women's
Winner: Io Shirai (retained)
Date: August 22
Show: NXT TakeOver XXX
---
Keith Lee (c) vs. Karrion Kross
Title: NXT
Winner: Karrion Kross (title change)
Date: August 22
Show: NXT TakeOver XXX
---
Apollo Crews (c) vs. MVP
Title: United States
Winner: Apollo Crews (retained)
Date: August 23
Show: SummerSlam (pre-show)
---
Bayley (c) vs. Asuka
Title: SmackDown Women's
Winner: Bayley (retained)
Date: August 23
Show: SummerSlam
---
Street Profits (c) vs. Andrade & Angel Garza
Title: Raw Tag Team
Winner: Street Profits (retained)
Date: August 23
Show: SummerSlam
---
Sasha Banks (c) vs. Asuka
Title: Raw Women's
Winner: Asuka (title change)
Date: August 23
Show: SummerSlam
---
Drew McIntyre (c) vs. Randy Orton
Title: WWE
Winner: Drew McIntyre (retained)
Date: August 23
Show: SummerSlam
---
Braun Strowman (c) vs. "The Fiend" Bray Wyatt
Title: Universal
Winner: "The Fiend" Bray Wyatt (title change)
Date: August 23
Show: SummerSlam
---
Shelton Benjamin (c) vs. Akira Tozawa vs. Cedric Alexander vs. R-Truth
Title: 24/7
Winner: Akira Tozawa (title change)
Date: August 24
Show: Raw
---
Asuka (c) vs. Sasha Banks – Lumberjack Match
Title: Raw Women's
Winner: Asuka (retained)
Date: August 24
Show: Raw
---
Fabian Aichner & Marcel Barthel (c) vs. Breezango
Title: NXT Tag Team
Winner: Breezango (title change)
Date: August 26
Show: NXT
---
Santos Escobar (c) vs. Isaiah Scott
Title: NXT Cruiserweight
Winner: Santos Escobar (retained)
Date: August 26
Show: NXT
---
Jeff Hardy (c) vs. Shinsuke Nakamura
Title: Intercontinental
Winner: Jeff Hardy (retained)
Date: August 28
Show: SmackDown
---
Apollo Crews (c) vs. Bobby Lashley
Title: United States
Winner: Bobby Lashley (title change)
Date: August 30
Show: Payback
---
Bayley & Sasha Banks (c) vs. Nia Jax & Shayna Baszler
Title: Women's Tag Team
Winner: Nia Jax & Shayna Baszler (title change)
Date: August 30
Show: Payback
---
"The Fiend" Bray Wyatt (c) vs. Braun Strowman vs. Roman Reigns
Title: Universal
Winner: Roman Reigns (title change)
Date: August 30
Show: Payback
---
Adam Cole vs. Finn Balor vs. Johnny Gargano vs. Tommaso Ciampa – 60-minute Ironman Match
Title: NXT
Winner: None (Cole and Balor ended the 60 minutes with tied scoreline, and a onefall singles match was announced for the following week's episode)
Date: September 1
Show: NXT
---
Nia Jax & Shayna Baszler (c) vs. Bayley & Sasha Banks
Title: Women's Tag Team
Winner: Nia Jax & Shayna Baszler (retained)
Date: September 4
Show: SmackDown
---
Adam Cole vs. Finn Balor
Title: NXT
Winner: Finn Balor (title change)
Date: September 8
Show: NXT
---
Jeff Hardy (c) vs. AJ Styles
Title: Intercontinental
Winner: AJ Styles by disqualification (retained)
Date: September 11
Show: SmackDown
---
Asuka (c) vs. Mickie James
Title: Raw Women's
Winner: Asuka (retained)
Date: September 14
Show: Raw
---
Breezango (c) vs. Fabian Aichner & Marcel Barthel
Title: NXT Tag Team
Winner: Breezango (retained)
Date: September 16
Show: NXT
---
Damian Priest (c) vs. Timothy Thatcher
Title: NXT North American
Winner: Damian Priest (retained)
Date: September 16
Show: NXT
---
Kay Lee Ray (c) vs. Piper Niven
Title: NXT UK Women's
Winner: Kay Lee Ray (retained)
Date: September 24
Show: NXT UK
---
Cesaro & Shinsuke Nakamura (c) vs. Kalisto & Lince Dorado
Title: SmackDown Tag Team
Winner: Cesaro & Shinsuke Nakamura (retained)
Date: September 27
Show: Clash of Champions
---
Jeff Hardy (c) vs. AJ Styles vs. Jeff Hardy – Ladder Match
Title: Intercontinental
Winner: Sami Zayn (title change)
Date: September 27
Show: Clash of Champions
---
Asuka (c) vs. Zelina Vega
Title: Raw Women's
Winner: Asuka (retained)
Date: September 27
Show: Clash of Champions
---
Bobby Lashley (c) vs. Apollo Crews
Title: United States
Winner: Bobby Lashley (retained)
Date: September 27
Show: Clash of Champions
---
Street Profits (c) vs. Andrade & Angel Garza
Title: Raw Tag Team
Winner: Street Profits (retained)
Date: September 27
Show: Clash of Champions
---
Bayley (c) vs. Asuka
Title: SmackDown Women's
Winner: Asuka by disqualification (retained)
Date: September 27
Show: Clash of Champions
---
Drew McIntyre (c) vs. Randy Orton – Ambulance Match
Title: WWE
Winner: Drew McIntyre (retained)
Date: September 27
Show: Clash of Champions
---
Roman Reigns (c) vs. Jey Uso
Title: Universal
Winner: Roman Reigns (retained)
Date: September 27
Show: Clash of Champions
---
Asuka (c) vs. Zelina Vega
Title: Raw Women's
Winner: Asuka (retained)
Date: September 28
Show: Raw
---
R-Truth (c) vs. Akira Tozawa vs. Drew Gulak
Title: 24/7
Winner: R-Truth (retained)
Date: September 28
Show: Raw
---
Drew McIntyre (c) vs. Robert Roode
Title: WWE
Winner: Drew McIntyre (retained)
Date: September 28
Show: Raw
---
Sami Zayn (c) vs. Jeff Hardy
Title: Intercontinental
Winner: Sami Zayn (retained)
Date: October 2
Show: SmackDown
---
Damian Priest (c) vs. Johnny Gargano
Title: NXT North American
Winner: Damian Priest (retained)
Date: October 4
Show: NXT TakeOver 31
---
Santos Escobar (c) vs. Isaiah Scott
Title: NXT Cruiserweight
Winner: Santos Escobar (retained)
Date: October 4
Show: NXT TakeOver 31
---
Io Shirai (c) vs. Candice LeRae
Title: NXT Women's
Winner: Io Shirai (retained)
Date: October 4
Show: NXT TakeOver 31
---
Finn Balor (c) vs. Kyle O'Reilly
Title: NXT
Winner: Finn Balor (retained)
Date: October 4
Show: NXT TakeOver 31
---
Nia Jax & Shayna Baszler (c) vs. Liv Morgan & Ruby Riott
Title: Women's Tag Team
Winner: Nia Jax & Shayna Baszler (retained)
Date: October 5
Show: Raw
---
Bayley (c) vs. Sasha Banks
Title: SmackDown Women's
Winner: Sasha Banks by disqualification (retained)
Date: October 9
Show: SmackDown
---
Cesaro & Shinsuke Nakamura (c) vs. Kofi Kingston & Xavier Woods
Title: SmackDown Tag Team
Winner: Kofi Kingston & Xavier Woods (title change)
Date: October 9
Show: SmackDown
---
Kofi Kingston & Xavier Woods (c) vs. Dolph Ziggler & Robert Roode
Title: Raw Tag Team
Winner: Kofi Kingston & Xavier Woods (retained)
Date: October 12
Show: Raw
---
Damian Priest (c) vs. Dexter Lumis
Title: NXT North American
Winner: Damian Priest (retained)
Date: October 14
Show: NXT
---
Street Profits (c) vs. Dolph Ziggler & Robert Roode
Title: SmackDown Tag Team
Winner: Street Profits (retained)
Date: October 16
Show: SmackDown
---
Roman Reigns (c) vs. Braun Strowman
Title: Universal
Winner: Roman Reigns (retained)
Date: October 16
Show: SmackDown
---
Asuka (c) vs. Lana
Title: Raw Women's
Winner: Asuka (retained)
Date: October 19
Show: Raw
---
Breezango (c) vs. Danny Burch & Oney Lorcan
Title: NXT Tag Team
Winner: Danny Burch & Oney Lorcan (title change)
Date: October 21
Show: NXT
---
R-Truth (c) vs. Drew Gulak
Title: 24/7
Winner: R-Truth (retained)
Date: October 25
Show: Hell in a Cell (pre-show)
---
Roman Reigns (c) vs. Jey Uso – I Quit Hell in a Cell Match
Title: Universal
Winner: Roman Reigns (retained)
Date: October 25
Show: Hell in a Cell
---
Bayley (c) vs. Sasha Banks – Hell in a Cell Match
Title: SmackDown Women's
Winner: Sasha Banks (title change)
Date: October 25
Show: Hell in a Cell
---
Bobby Lashley (c) vs. SLAPJACK
Title: United States
Winner: Bobby Lashley (retained)
Date: October 25
Show: Hell in a Cell
---
Drew McIntyre (c) vs. Randy Orton – Hell in a Cell match
Title: WWE
Winner: Randy Orton (title change)
Date: October 25
Show: Hell in a Cell
---
Damian Priest (c) vs. Johnny Gargano – Devil's Playground Match
Title: NXT North American
Winner: Johnny Gargano (title change)
Date: October 28
Show: NXT Halloween Havoc
---
Io Shirai (c) vs. Candice LeRae – Tables, Ladders & Scares Match
Title: NXT Women's
Winner: Io Shirai (retained)
Date: October 28
Show: NXT Halloween Havoc
---
WALTER (c) vs. Ilja Dragunov
Title: NXT UK
Winner: WALTER (retained)
Date: October 29
Show: NXT UK
---
Nia Jax & Shayna Baszler (c) vs. Dana Brooke & Mandy Rose
Title: Women's Tag Team
Winner: Nia Jax & Shayna Baszler (retained)
Date: November 2
Show: Raw
---
Sasha Banks (c) vs. Bayley
Title: SmackDown Tag Team
Winner: Sasha Banks (retained)
Date: November 6
Show: SmackDown
---
Bobby Lashley (c) vs. Titus O'Neil
Title: United States
Winner: Bobby Lashley (retained)
Date: November 9
Show: Raw
---
R-Truth (c) vs. Akira Tozawa vs. Drew Gulak vs. Erik vs. Gran Metalik vs. Lince Dorado vs. Tucker
Title: 24/7
Winner: Akira Tozawa (title change)
Date: November 9
Show: Raw
---
Johnny Gargano (c) vs. Leon Ruff
Title: NXT North American
Winner: Leon Ruff (title change)
Date: November 11
Show: NXT
---
Santos Escobar (c) vs. Jake Atlas
Title: NXT Cruiserweight
Winner: Santos Escobar (retained)
Date: November 11
Show: NXT
---
Danny Burch & Oney Lorcan (c) vs. Breezango
Title: NXT Tag Team
Winner: Danny Burch & Oney Lorcan (retained)
Date: November 11
Show: NXT
---
Sami Zayn (c) vs. Apollo Crews
Title: Intercontinental
Winner: Sami Zayn (retained)
Date: November 13
Show: SmackDown
---
New Day (c) vs. Cedric Alexander & Shelton Benjamin
Title: Raw Tag Team
Winner: New Day (retained)
Date: November 16
Show: Raw
---
Randy Orton (c) vs. Drew McIntyre
Title: WWE
Winner: Drew McIntyre (title change)
Date: November 16
Show: Raw
---
Leon Ruff (c) vs. Johnny Gargano
Title: NXT North American
Winner: Leon Ruff (retained)
Date: November 18
Show: NXT
---
Io Shirai (c) vs. Rhea Ripley
Title: NXT Women's
Winner: Io Shirai (retained)
Date: November 18
Show: NXT
---
Kay Lee Ray (c) vs. Piper Niven – Falls Count Anywhere Match
Title: NXT UK Women's
Winner: Kay Lee Ray (retained)
Date: November 19
Show: NXT UK
---
New Day (c) vs. Cedric Alexander & Shelton Benjamin
Title: Raw Tag Team
Winner: Draw (retained)
Date: November 23
Show: Raw
---
New Day (c) vs. Cedric Alexander & Shelton Benjamin
Title: Raw Tag Team
Winner: New Day (retained)
Date: November 23
Show: Raw
---
Jordan Devlin (c) vs. Amir Jordan
Title: NXT Cruiserweight
Winner: Jordan Devlin (retained)
Date: November 26
Show: NXT UK
---
A-Kid vs. Trent Seven
Title: NXT UK Heritage Cup
Winner: A-Kid (inaugural)
Date: November 26
Show: NXT UK
---
Leon Ruff (c) vs. Damian Priest vs. Johnny Gargano
Title: NXT North American
Winner: Johnny Gargano (title change)
Date: December 6
Show: NXT TakeOver: WarGames
---
Jordan Devlin (c) vs. Oliver Carter
Title: NXT Cruiserweight
Winner: Jordan Devlin (retained)
Date: December 10
Show: NXT UK
---
A-Kid (c) vs. Tyler Bate
Title: NXT UK Heritage Cup
Winner: A-Kid (retained)
Date: December 10
Show: NXT UK
---
Sasha Banks (c) vs. Carmella
Title: SmackDown Women's
Winner: Carmella via DQ (retained)
Date: December 11
Show: SmackDown
---
Mark Coffey & Wolfgang (c) vs. The Hunt
Title: NXT UK Tag Team
Winner: Mark Coffey & Wolfgang (retained)
Date: December 17
Show: NXT UK
---
Drew McIntyre (c) vs. The Miz vs. AJ Styles – TLC Match
Title: WWE
Winner: Drew McIntyre (retained)
Date: December 20
Show: TLC
---
Sasha Banks (c) vs. Carmella
Title: SmackDown Women's
Winner: Sasha Banks (retained)
Date: December 20
Show: TLC
---
New Day (c) vs. Cedric Alexander & Shelton Benjamin 
Title: Raw Tag Team
Winner: Cedric Alexander & Shelton Benjamin (title change)
Date: December 20
Show: TLC
---
Shayna Baszler & Nia Jax (c) vs. Asuka & Charlotte Flair
Title: Women's Tag Team
Winner: Asuka & Charlotte Flair (title change)
Date: December 20
Show: TLC
---
Roman Reigns (c) vs. Kevin Owens
Title: Universal
Winner: Roman Reigns (retention)
Date: December 20
Show: TLC
---
Roman Reigns (c) vs. Kevin Owens – Cage Match
Title: Universal
Winner: Roman Reigns (retained)
Date: December 25
Show: SmackDown
---
Charlotte Flair & Asuka (c) vs. Bayley & Carmella vs. Bianca Belair & Sasha Banks
Title: Women's Tag Team
Winner: Charlotte Flair & Asuka (retained)
Date: December 25
Show: SmackDown
---
Sami Zayn (c) vs. Big E
Title: Intercontinental
Winner: Big E (title change)
Date: December 25
Show: SmackDown
---
Johnny Gargano (c) vs. Leon Ruff
Title: NXT North American
Winner: Johnny Gargano (retained)
Date: December 30
Show: NXT
---
Stats/Breakdown
Total championship matches: 205
Total championship changes (including first champions crowned): 55
Total championship retentions: 147
WWE Championship matches: 14
Universal Championship matches: 13
Intercontinental Championship matches: 14
United States Championship matches: 14
Raw Tag Team Championship matches: 17
SmackDown Tag Team Championship matches: 12
24/7 Championship matches: 11
Raw Women's Championship matches: 15
SmackDown Women's Championship matches: 13
Women's Tag Team Championship matches: 15
NXT Championship matches: 9
NXT North American Championship matches: 18
NXT Tag Team Championship matches: 10
NXT Women's Championship matches: 9
NXT Cruiserweight Championship matches: 9
NXT UK Championship matches: 3
NXT UK Tag Team Championship matches: 3
NXT UK Women's Championship matches: 4
NXT UK Heritage Cup matches: 2
Championship matches on WWE pay-per-view (inc. pre-show): 62
Championship matches on Raw: 46
Championship matches on SmackDown: 29
Championship matches on NXT TakeOver: 14
Championship matches on NXT (including special episodes): 32
Championship matches on NXT UK TakeOver: 4
Championship matches on NXT UK: 12
Championship matches on Worlds Collide: 2