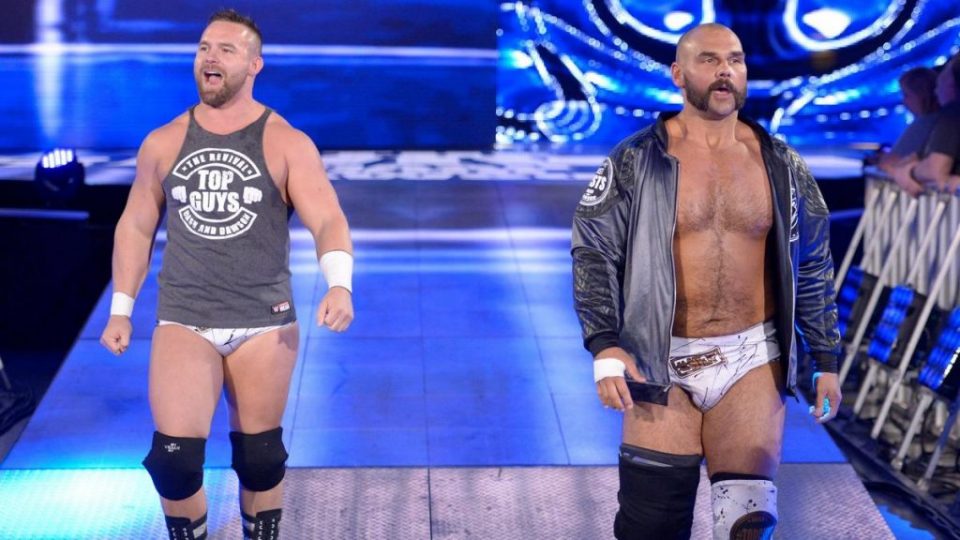 As John Lennon once famously wrote in his excellent festive tune Merry Christmas (War is Over), another year over, and a new one just begun. It sort of works for this intro spiel.
Because another year is over, and 2019 saw the wrestling world heat up in a way we've not seen since the heady days of the Monday Night War in the late 1990s, with WWE, New Japan, All Elite Wrestling, ROH and Impact looking to nail down the talent they have in fear of them going to the competition.
WWE in particular went on a huge spending spree to get their talent to sign new 5-year deals, which everyone seemed happy to do so. Apart from Mike Kannellis, of course, who might have asked for his release again since this was written.
But who hasn't signed a new deal? Who could be looking to see if the grass truly is greener on the other side? Or will this motley crew of the contract community confirm their commitment to their current companies? Let's find out.
---
The Revival
We were going to kick this video off with Luke Harper, but he was granted his release earlier this month. NICE ONE WWE! However his situation – where WWE extended his contract due to injury – was quite similar to The Revival.
Scott Dawson and Dash Wilder reportedly also asked for their releases in early 2019 shortly after the announcement of All Elite Wrestling. This request was turned down, and the team will be with WWE until April 2020. Well, Scott Dawson's is. Like Harper, Dawson's teammate Dash Wilder had his time with WWE extended due to a jaw injury in 2016 and his contract reportedly ends in June 2020. According to Figure Four Online, both men were offered those five year deals, which they turned down.
---
Kairi Sane
Kairi Sane is also on the list of those with contracts that expire next year. Dave Meltzer reported on Wrestling Observer Radio that Sane's deal is up in early 2020 and it's unknown if she's re-signed, "but she's definitely expressed interest in exploring other options" according to Big Daddy Dave.
It's also worth noting that Bushi-Road – who own Stardom – have expressed an interest in luring Sane back to Japan along with Io Shirai when her contract expires, which will be in 2021.
---
The Hardy Boyz
The Hardy Boyz have their contracts up in 2020, after signing 3-year deals back in 2017. Matt Hardy has been posting videos asking to Free the Delete, and he posted on Twitter recently:
I needed to return to @WWE to finish in the right way. I didn't want 2010 to be my finale. I returned in the most EPIC way & repaid my debt. I waved the #WWE flag with pride & worked hard to be a model employee. My conscience is clear & I am at peace. pic.twitter.com/EpT1gjNZNT

— MATT HARDY (@MATTHARDYBRAND) December 10, 2019
Matt's contract ends in April 2020, but Jeff on the other hand – you guessed it – had time added to his contract which means he's with the company until at least the summer.
---
Mandy Rose
An interesting name on the list is Mandy Rose, who according to Fightful has her contract coming to an end in late 2020. Rose is clearly well liked by the company, but she is yet to have any serious push with her tag team partner Sonya Deville. Now it's interesting because Rose's name never comes up in these sorts of conversations, and there have been no reports at the time of this recording of her extending her contract or signing a new deal.
She told The Wrap earlier this year while promoting her iOS app and future line of beauty products, "Being a WWE Superstar, you have– I don't want to say a short shelf life, but it's more like sometimes you've got to look to the future and you've gotta plan ahead. It's not gonna last forever". So, take that for what it's worth.
---
Rey Mysterio
Someone who is somehow lasting forever, however, is Rey Mysterio. The long-lasting veteran signed a two-year deal with WWE in 2018, with an 18-month opt out, which would happen around WrestleMania next year.
Although AEW's Cody Rhodes has said he would love to sign Mysterio once his contract has expired, Dave Meltzer wrote in the Wrestling Observer Newsletter back in June, "Mysterio also noted he's talking about signing a new deal" with WWE during an event in San Diego.
It would make sense for Rey to stick with WWE, as he reportedly wants to use a retirement angle to push his son Dominick into his role.
---
Kalisto & Gran Metalik
Lastly on the Lucha front, and 2020 will also see the contracts of Lucha House Party members Kalisto and Gran Metalik come to a flip-dee-do-finale. Although the pair were part of the leading attack during Survivor Series on an episode of Raw – Lucha House Party have done little of note in 2019 – except for beat Lars Sullivan, of course.
Kalisto tweeted back in August, "10 months…#freeagent", and Metalik replied, "me too". Kalisto deleted his tweet, presumably because he didn't want time added to his contract.
---
Moving over to All Elite Wrestling and, as one would expect, there aren't really any names featured on this list. We'll be approaching the one year anniversary of AEW very soon, and the majority of the wrestlers signed in the early days took multi-year deals.
There are reports that the likes of Shanna, Big Swole, and Kris Statlander are on short-term contracts which could expire in 2020 – but there's no concrete details on those.
Jon Moxley
However, there was a report from Rajah back in July that said although Jon Moxley signed a 3-year deal with AEW – he has an opt out clause that could be activated after one year. If that report is correct, that means Mox could leave AEW in May if he wanted to.
However, after being positioned as one of the company's top stars since Double or Nothing, it would be surprising if Mox did decide to leave All Elite Wrestling – unless of course he decides to sign a different deal with New Japan Pro Wrestling. Mox is set to face Lance Archer on night one of Wrestle Kingdom 14, and potentially could be on night two if he wins the United States Championship and goes on to defend it against Juice Robinson. This is one to keep an eye on.
---
Ring of Honor is a bit of a minefield when it comes to asking the question of when contracts are coming to an end. A lot of these have already expired, with the agreement they'd work Final Battle and the TV tapings that followed. 
Marty Scurll
Marty Scurll's contract expired at the end of November, and he worked Final Battle in a losing effort, only to show up at NWA's Into the Fire PPV the following night.
Despite reports from Rovert that Ring of Honor had offered Scurll "massive" and "insane" offers to stay – probably not unlike the offer that Matt Taven signed in September, which Dave Meltzer said was double the highest paid NXT wrestler.
Rovert also reported that AEW's Tony Khan has had "buyers remorse" over a few of the early All Elite Wrestling signings, and wasn't willing to spend more money on talent. Hence why the likes of Kris Statlander were signed to short-term deals.
---
The other names in the Ring of Honor pool of talent who have contracts coming to an end, or have already ended, are PCO, PJ Black, Beer City Bruiser, Shane Taylor, Bandido, Flamita, Flip Gordon and Rush.
PCO
One of the names that really sticks out on that list is the new ROH Champion, PCO – who won the belt from Rush at Final Battle. PCO confirmed with WrestlingInc in October that his contract with Ring of Honor was up, but alluded to the idea that he would be offered a new deal:
"my contract is coming up soon. But, I just think they're going to do everything… You know, they've got great wrestlers here. Sinclair Broadcasting is huge. They've got all kinds of resources and talent in legal and marketing".
And now that he's ROH Champion, could we see PCO stick around with Ring of Honor?
---
Rush
PCO's Final Battle opponent Rush was also on that list, having signed a one year deal with Ring of Honor in January 2019. Ring of Honor has a good relationship with CMLL which could be an incentive for Rush to stick around for another year, but him losing the ROH Championship could mean that he's on his way out the door.
---
Shane Taylor
The other names that stick out on that list are Television Champion Shane Taylor and Flip Gordon. That's not to say that Bandido, Beer City Bruiser, PJ Black and Flamita are unimportant, but there have been reports that NXT were interested in bringing Shane Taylor.
WrestleTalk were told that Taylor had been approached by WWE to sign him to the black and gold brand, with the idea of teaming him up with Keith Lee. Now those plans have likely changed since Lee's ascension in popularity in the build up to Survivor Series, as well as the aftermath, but that doesn't mean that WWE aren't sill interested in bringing Taylor in.
---
Flip Gordon
As for Flip Gordon, his contract expires in May 2020 according to the man himself, and it was revealed that he appeared backstage at AEW's Double or Nothing to surprise his former ROH buddies. Flip was a huge part of Being The Elite. He is still featured in the intro and was a big feature on the precursor to AEW last September, All In. It's also no secret that he's good friends with Cody Rhodes.
But one could easily go back to Tony Khan's reported buyers remorse, and ask that question of whether AEW want to bring Flip in and whether or not ROH will also offer Gordon massive and insane offers to stay. It is worth noting that Double or Nothing 2 will also take place in May.
---
Hiroshi Tanahashi
Over on the other side of the world, the New Japan contract for Hiroshi Tanahashi will expire in January 2020. The Ace's contract was up in 2019, but the former IWGP Heavyweight Champion signed on for another year, but there's been no word on whether he'll sign again to take him through 2020 and into 2021. 
However before we all get excited at the prospect of Tanahashi in a Western wrestling promotion, it is likely he'll remain The Ace of New Japan until he retires from professional wrestling. Unless of course he takes the Shinsuke Nakamura deal – where the King of Strong Style decided to become the Kings of Soft Style of wrestling in his later years by joining WWE – where he isn't under constant pressure to put on five star classics.
We'll likely find out the future of Tanahashi around Wrestle Kingdom 14, where he's set to take on Chris Jericho on night two. Wait a second, Chris Jericho is the AEW Champion. Hiroshi Tanahashi to AEW confirmed!
---
Davey Boy Smith Jr.
Briefly on the MLW front, and there's only one name who could possibly leave the company when their contract expires, and that is Davey Boy Smith Jr..
The son of the British Bulldog signed a new multi-year deal with MLW in early 2019, which Fightful claim will see Bulldog Jr. with the company for the majority of 2020.
---
Tenille Dashwood
And lastly we'll take a look at Impact Wrestling, who had a really great 2019 in nailing down their high profile talent to great contracts. In demand wrestlers like Moose, Jordynne Grace, Willie Mack, Jake & Dave Crist, Ethan Page and Rosemary all signed new multi-year deals with Impact, with Grace telling us at WrestleTalk earlier this year that she wanted to stick with Impact as they had the best women's division and she enjoyed the creative freedom.
Speaking of their women's division, and in July, Impact Wrestling announced they had signed Tenille Dashwood – culminating in her having a high profile title match against Knockouts Champion Taya Valkyrie at Bound for Glory. During all of this however, Dashwood also appeared for All Elite Wrestling as part of the All Out Buy In pre-show, where she competed in the Casino Battle Royal. 
Sean Ross Sapp of Fightful reported that Dashwood's deal with Impact ran until Bound for Glory this past October, and Dr. Britt Baker DMD expressed an interest during the media promotion for All Out that she would like to see Tenille wrestle in AEW.
---
Rob Van Dam
A contract that is up in early 2020, however, is Rob Van Dam. RVD told WrestlingInc that he was signed with Impact until January 2020, however in that same interview seemed to suggest that he no intention of going anywhere else – due to Impact's light schedule. "In the office… they treat me with respect. As far as what I'm interested in with a lesser workload, it's perfect for me".
---
Tessa Blanchard
However, the biggest name on the list of contracts coming to an end with Impact Wrestling, is Tessa Blanchard. There hasn't been a bigger name in women's wrestling in 2019 than Tessa, who broke the PPV mould by having an inter-gender main event against Sami Callihan at Impact Wrestling's Slammiversary, and the two are set to battle over the Impact World Championship in January.
Blanchard is someone that Impact would love to keep hold of, but she's also a name that a lot of companies like WWE and AEW would love to get their hands on.
And according to Fightful, Tessa's Impact deal is up in the summer of 2020. So it will be interesting to see if Impact pull the trigger and put the world title on her in January, or if she'll set course for other seas in the second half of the year.
So that's all the contracts that either expired in late 2019 or are set to expire in 2020.
Of this list, who would you like to see re-sign with their respective companies, and who would you like to see trial the greener grass on the other side of the fence? Let us know on Twitter and on Discord!