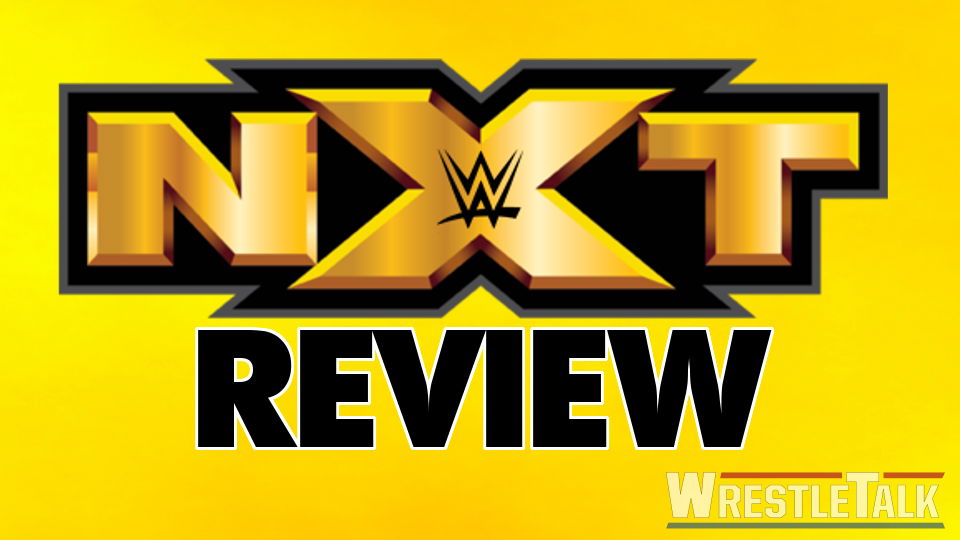 Been on holiday like me? Missed a week of NXT TV like me? IT DOESN'T MATTER! (thanks Rock). Because NXT has such comprehensive recap videos! I now know that last week Johnny Gargano attacked new NXT Champion Tommaso Ciampa only to be laid out by Aleister Black's Black Mass. Black then sat cross-legged next to the fallen Johnny Wrestling and blamed him for losing the NXT Title. Such simple, effective storytelling. NXT makes this stuff look easy but I can assure you it isn't. Otherwise everyone (you know, like Raw or SmackDown) would be doing it.
Nikki Cross vs Amber Nova
It's just 10 days 'til Brooklyn and we kick off this week's episode with Amber Nova. No, I don't know who she is either. That's why we have Mauro Ranallo to inform us that Amber is the daughter of a mechanic, who "puts the spark in spark plug." So Bob Holly's her dad, then? "And she changes her own oil," adds Nigel McGuinness, helpfully.
Nikki Cross must have the best cardio in the world. I'd be running on fumes if I had to do her ring entrance. The 'Twisted Sister' charges around like a whirling dervish, smashing her ring jacket onto the canvas repeatedly, her eyes dancing and her teeth flaring in an exhausting routine. The girl is CRAZY! Then she starts with an armdrag. Like I said, CRAZY! Amber gets in some stuff but Nikki's bonkers babyface comeback is too much for her, and the 'Psychotic Scot' wins a pleasurable opener after a top rope cross body and the Purge. Cue more nutty facials. CRAZY!
Later tonight we will 'Experience the Dream.' Or rather EC3 will, as his Takeover opponent Velveteen Dream has invited him to an audience by the swimming pool. If he can tear himself away from his smartphone, that is.
Keith Lee to debut!
Tonight Keith Lee will debut! And the 'Limitless One' gets a nifty introductory vignette where he invites all to Bask in His Glory.
Incidentally, can you imagine 1980s WWE pushing anyone called 'Keith Lee?' Back then you had to have a name with PIZZAZZ, like Macho Man, or Ultimate Warrior, or Ravishing Rick or Barber Beefcake. Turn up calling yourself 'Keith Lee' and you'd have been squashed on Superstars before your feet touched the ground. Ahhh, those were the days.
Ricochet match doesn't happen!
The Undisputed Era just attacked Ricochet in the midst of his entrance prism! Adam Cole is not happy that Ric has been calling him a coward. Cole, Fish, O'Reilly and Strong surround the fallen 'One and Only.' "Adam Cole doesn't hide behind anybody!" crows the Panama City Playboy, with a straight face. Then the North American champ vows to MANGLE Ricochet in Brooklyn. MANGLE. That's a really good word. We need to hear that word more in promos. Simple, effective segment to put heat on the heels.
Vanessa Borne is warming up backstage. She's unhappy at being interrupted by the 'Camera with a Voice.' She calls herself 'Vanessa the Vision' and vows to defeat Brazil's Taynara Conti tonight to earn the last spot in the Mae Young Classic. Then she tells 'Camera with a Voice' to scram so she can carry on stretching. This lass has a solid heel personality, but just needs more seasoning.
So Conti's on later. And in actual fact, it looks like we're getting two Brazilians. Painful.
Kassius Ohno vs Adrian
From South America, enter Adrian Jaoade….Adrian Jauoaode….Adrian Jooouade….oh to hell with it, I can't spell his surname, so I'll just call him Adrian. This guy is more than a jobber though. He's a black belt bad ass and he looks like a cross between Tommaso Ciampa and Daniel LaRusso.
Ronda Rousey is your referee. Or rather, your referee looks a bit like Ronda Rousey.
Before they lock up, Adrian does a cartwheel as KO2 looks on, unimpressed. I was really hoping Ade would bust out a giant sword and start doing tricks with it, only for Ohno to cold-cock him with a roaring elbow. You know, the old Raiders of the Lost Ark finish. Instead, Ade takes Ohno down! Turns out Adrian is an amateur wrestling champion too. The commentators bang on about how Kassius has recently won two matches in double-quick time. So of course this one goes on a few minutes. Kassius lands an "eviscerating" kick (thanks Mauro), survives a back suplex and then fakes a reverse neckbreaker before landing the knockout blow. A creative finish and one of the more bizarrely entertaining TV matches you'll ever see. Thanks for coming, Adrian. Now please simplify your surname for future reviews.
Ohno's finisher is now called the Dream Crusher. And speaking of the Dream, Velveteen is still poolside, waiting for EC3, glued to his smartphone like my kids on holiday. Did I mention I've been on holiday?
EC3 experiences the Dream
Finally we're poolside! And finally Dream's put down his smartphone. Bloody smartphones.
You've got to love VD's swish pad. I wonder if he has a summer AND winter residence, like the Million Dollar Man? EC3 arrives. The atmosphere is tense. Carter sits down next to Dream. "Let's take a walk," says VD, channeling his inner Godfather. That's the Mafia film franchise, not Charles Wright. He's going to try to chuck EC3 in the pool, isn't he? Ah but Ethan is too smart for that. He gets in VD's face and cuts an awesome promo about how their Takeover match will be the 'Purple Rainmaker' vs 'NXT's Golden God.' I could watch these two feud for, like, forever. Dream drops his shades, EC3 goes to pick them up, but then realizes it's just a ruse so Velveteen can chuck him in the pool. So EC3 chucks Dream in the pool! The 'Purple One' starts thrashing around like he's drowning. The 'One Percenter' is unimpressed. "Dude, it's three feet deep!" Classic vignette. Like The Rock chucking Steve Austin off a bridge in the Attitude Era. WWE needs to build around Velveteen Dream and EC3 for the next few years, they're both fan-bloody-tastic.