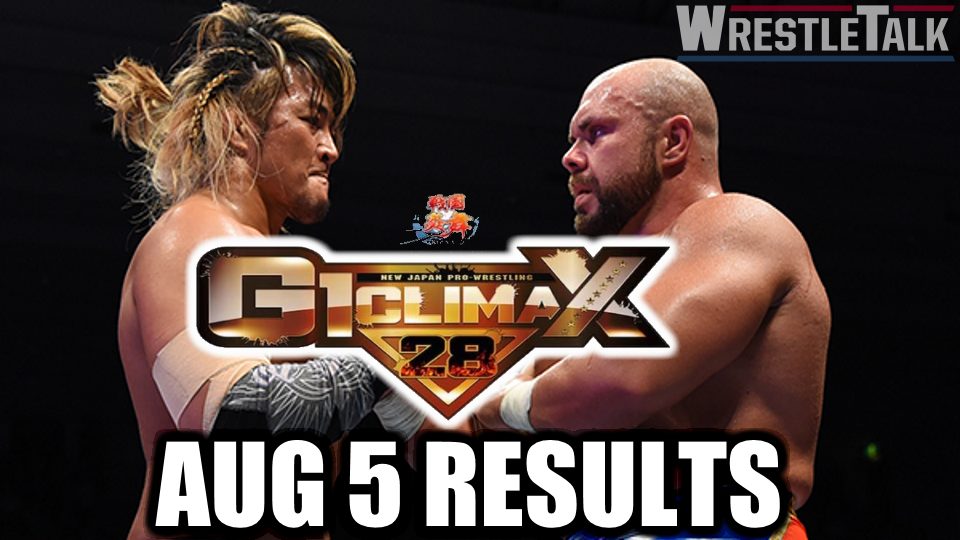 NJPW's G1 Climax continued its A Block action from Osaka. Here is our rundown of those matches, and as usual: SPOILERS FROM HERE.
Yoshi-Hashi vs. Bad Luck Fale
#G128 Aブロック公式戦 @YOSHIHASHICHAOS VS @TOKSFALE !
公式戦に乱入してきたタンガ・ロアを蹴散らし、怪物・ファレを徐々に追い込んでいく、"熊殺し"のYOSHI-HASHI!この勢いで一気に試合を決めに行くか⁉︎
視聴&登録▷https://t.co/NxJKtVK94f
#NJPW #NJPWWorld pic.twitter.com/k5URpwUWEM

— njpwworld (@njpwworld) August 5, 2018
Yoshi-Hashi defeated Bad Luck Fale via disqualification because what else did you expect?
The match started off establishing the basics: Fale is big, Yoshi-Hashi has heart, and the Tongans use their numbers to their advantage. At this point, I've seen Yoshi-Hashi take abuse on the outside and Fale use interference so much, all of it is starting to blend together.
Yoshi had a bit of a lie-down while Fale just kinda tugged and shoved at his body. Dude didn't even bother wearing a tank top. He was just wearing a black t-shirt. Like this was 2000-era WCW.
Yoshi was able to muster a comeback and hit a blockbuster. Fale kicked out though, and used his weight to block YH's attempt at a fisherman buster. After YH collapsed, Fale ran the ropes and hit a splash for a two-count. Tanga Loa kept trying to interfere in the match, forcing YH to fight him off. Yoshi went for a sunset flip on Fale, and Fale attempted to sit on him, but YH rolled out of the way. Tanga tried more shenanigans, but YH hit a Codebreaker on him.
Just as this match was getting a little bit interesting, Tama Tonga ran in, hit Yoshi-Hashi with a chair, and the match was thrown out. Bullet Club continued their assault, yadda yadda yadda.
It was a bad match. Bad Luck Fale is bad. Tama Tonga is bad. This whole storyline has been a complete disaster.