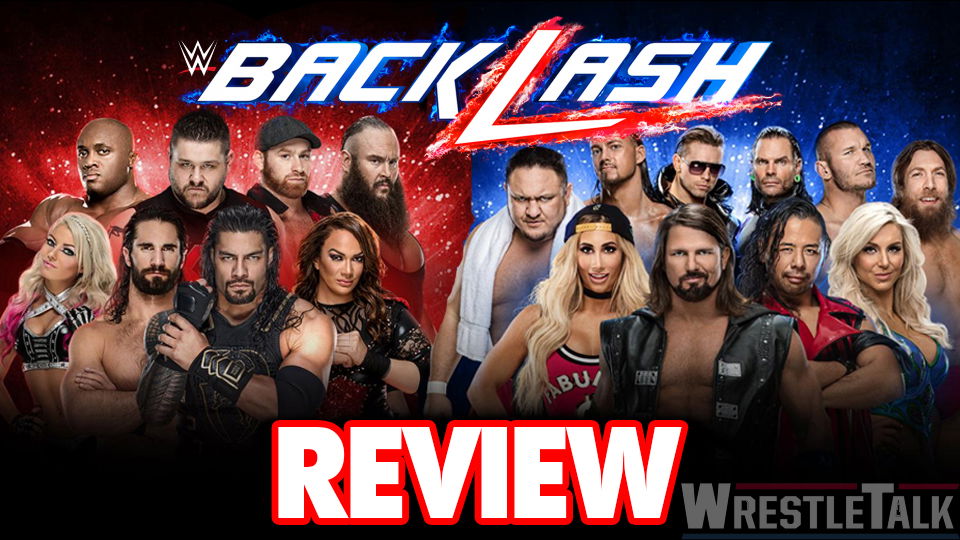 The word 'pointless' is one that is thrown around a lot, and can be used to describe a multitude of things.
A broken pencil, a British afternoon quiz show, me on Tinder, and now Backlash 2018.
Nothing happened. By which I mean there were no title changes, and little in the way of story line evolution. I hope I'm not sounding too bitter, but when staying up until 4.30am to watch it, you have certain expectations, and when they're not met, it's disappointing to say the least.
One thing I will say is that it was very good to see Renee Young back on the kick-off panel after missing out at the Greatest Royal Rumble as a result of medieval laws.
She made what was a pre-show lacking in anything important, apart from the Bayley vs Ruby Riott match (I am using 'important' very loosely) very bearable and at times, enjoyable…at least when Booker T wasn't talking.
Was Bayley actually staggering? Certainly she was pretty wobbly after going head first into the turn buckle – I hope she's okay, because she's got enough heart ache going on, what with Sasha not wanting to be her friend anymore…obviously.
This feud needs to end. No-one cares about it anymore, and they didn't really care in the first place. Have them feud with someone else, there's plenty of people on the roster.
But well done Ruby for picking up another win and continuing to build steady momentum on Raw.
The main show began with easily the best match of the night, and with the roll that Rollins is on at the moment, that really shouldn't have been a surprise.
He and The Miz put together a high quality match, full of near falls and just everything you want from a show opener. It's such a shame that WWE find it so hard to be consistent.
Why excite the fans with a match like this and then proceed to put on two star matches for the rest of the evening? Give the fans what they came to see and your viewing figures and ticket sales will go up.
Slightly off topic, but I have been at PROGRESS Super Strong Style 16 (SSS16) over the weekend, and the level of brilliant consistency has really outed WWE in terms of performance levels. By the way, if anyone wants to watch some good wrestling, watch SSS16.
Alexa vs Nia wasn't too bad either. It wasn't the squash match we were all expecting, and Alexa proved that she's more than just a heel who can't back up her words. The best thing about these two though, as it always has been, is the acting.
Alexa looked properly distraught after the match, and even though Nia stumbled through her post-match promo, the emotion was there for all to see. Basically, don't be a bully.
Jeff Hardy then retained his WWE United States Championship against Randy Orton. Thank God for that.
It was a pretty dull match that the crowd didn't care for, but we know Jeff is capable of so much better than I can almost forgive him for it. This result will allow him to build feuds with people that aren't Randy Orton – yes WWE, there are people that aren't Randy Orton.
Rusev, The Miz, The New Day, and even Tye Dillinger would be so much more interesting to see than endless Randy Orton matches, which are so formulaic these days you might as well have a nap.
Sorry if it looks like I am down on Randy, but I am.
What followed was bizarre, stupid, pointless, and wonderful.
Elias attempted to put on a performance for the New Jersey crowd, but was interrupted by The New Day. In fact, Elias tried to put on a performance several times, but was interrupted every single time.
The New Day, Rusev Day, No Way Jose…Day, and finally Bobby Rooday all interrupted Elias, which in itself isn't particularly thrilling, but Elias' performances are always a highlight of any show, and the frustration at not being able to insult the crowd was brilliant.
Comparing himself to home-state hero Bruce Springsteen was genius, and saying Bruce's only regret was that he was born in New Jersey was such a simple and effective way of building heat. Now everyone else in the WWE, follow Elias' example.
Daniel Bryan beat Big Cass. Big Cass beat down Bryan after the bell. Why didn't I see this coming?
The match was fine. It's not exactly going to sit anywhere near the top of Daniel Bryan's best matches list, but it was acceptable. Cass got some decent offense in, but never really looked like the monster heel he has been portrayed as.
He also tapped within two seconds of being put into the 'Yes! Lock' which makes him look pretty weak. Beating Bryan down was a decent way of keeping heat on Cass, and it looks like this feud is set to continue for now…yay, I guess?
Of all the ways to pin Charlotte Flair, why was pinning her after a single kick to her uninjured knee the best way to do it? Answer: it wasn't, but that's what they did.
Carmella put on a much better showing that anyone expected, getting in some decent offense, despite clearly being the weaker of the two in-ring. I'm glad she has retained, and I'm shocked they had her win clean given her recent gimmick has been taking credit for things she hasn't done.
Charlotte missed with a moonsault, which hurt her knee, and then Carmella kicked her other knee, which was apparently enough to incapacitate Charlotte to the point where she couldn't kick out of a pin.
If you're going to have her win clean, at least make it look like she has been beaten rather than a slightly sore knee being her downfall.
(I'm leaving the WWE title match until the end)
Braun Strowman and Bobby Lashley squashed Kevin Owens and Sami Zayn, while once again teasing a break-up between the latter pairing.
We don't need to see them split up and have another singles feud, at least not yet. They're great as a team, and that doesn't need to change any day soon.
The bigger question is what's next for Bobby and Braun. They don't need each other to succeed – particularly Braun – so you would expect them to go off on singles feuds on tonight's Raw.
Maybe they can even face off against each other in a big man with big hands feud? That wouldn't excite me particularly, but I guess without Brock around at the moment, they need to do something.
Roman Reigns beat Samoa Joe.
It says something when the below tweet was described as more interesting than the match…
Fun fact: Roman Reigns is Samoan and is actually called Joe in real life, whereas Samoa Joe is Samoan, but not called Joe in real life. Stay tuned for super interesting facts like that until this match is over. #WWEBacklash

— WrestleTalk (@WrestleTalk_TV) May 7, 2018
No-one really cared. People love Joe, but the apathy towards Reigns at the moment completely killed the match. I didn't mind when Roman was getting booed, because that at least meant that people cared, but now it's just uninterested muttering, and a match without atmosphere is no-one's idea of a fun time.
Also, and this is a big also…why was this the main event? Seriously.
You had Shinsuke Nakamura vs AJ Styles for the WWE Championship on the card, but you still managed to get Roman into the main event.
Just give up on it!
I know Smackdown Live is the 'B Show', but this is just taking the p***. It wouldn't have hurt either Roman or Joe to not be in the main event, and yet Vince and his crew just can't help themselves. It's infuriating.
And speaking of infuriating things, why can't they just have a clean finish to a main title match? Are we really set for the fourth installment of the dream match between AJ and Nakamura?
You can imagine WWE's thinking.
"People wanted the match, in fact they called it a dream, so let's give it to them so many times they get sick of it, and let's make all the matches end in increasingly disappointing ways."
Cheers WWE, you really know what the fans want.
Now, I am not saying I would have managed to stand after getting my balls kicked into my throat, but it's getting to the point where people don't expect a clean finish, which just frustrates them even more when they don't get one.
The match was actually really good until this point, which adds to the frustration that the gibbons in the back can't book something we actually want to see.
It's all completely baffling and I want to go home and cry. Thankfully, I'm already home so maybe someone can do me a favor and insult me until I start to weep.
Pointless.
But those are just my thoughts, and I'm just a very angry man. What did you think of the show? Let us know in the comments.