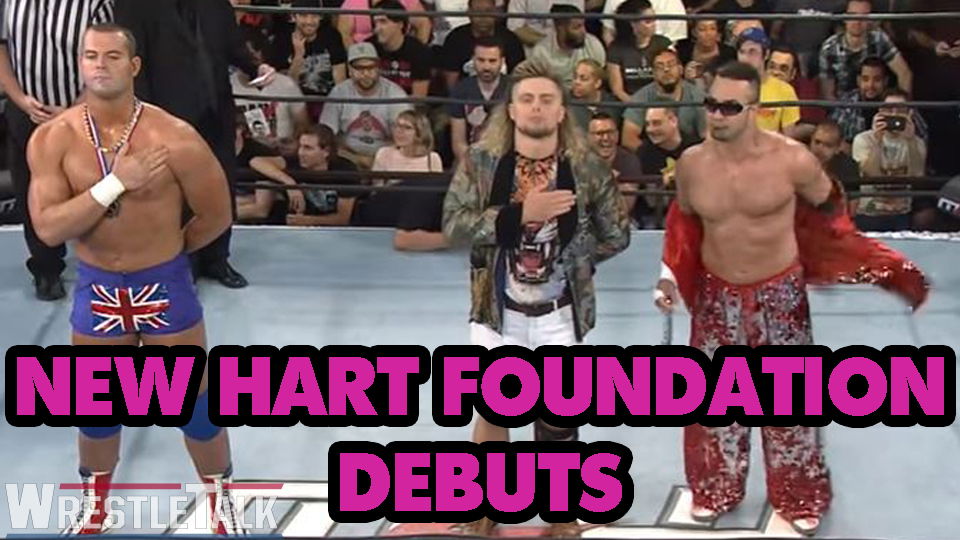 Teddy Hart & Davey Boy Smith Jr (with Brian Pillman Jr as their manager) are carrying on the legacy of the Hart Foundation as the two battled ACH & Rich Swann at Major League Wrestling's Fusion in Queens, New York.
https://twitter.com/courtbauer/status/1030579096290566144?ref_src=twsrc%5Etfw
The original Hart Foundation, founded in 1985, consisted of WWE Hall of Famer Bret Hart and Jim 'The Anvil' Neidhart with Jimmy Hart as their manager. The tag team is consistently labeled one of the best duos to ever grace a wrestling ring. They had memorable matches against teams such as The Rockers, Demolition and The British Bulldogs and captured the WWF Tag Team championship twice.
After splitting in 1991, the group reformed in 1997 as a faction, made up of Hart, Neidhart, Davey Boy Smith (The British Bulldog), Brian Pillman and Owen Hart. The top heel act in the company, the Hart Foundation's battles with Steve Austin and Shawn Michaels were legendary.
While both Teddy Hart and Davey Boy Smith Jr. only enjoyed limited success when they were in WWE earlier in their careers, the two have traveled the independent circuit and put a stamp on ever promotion that they step into.
This is the first time in years that these world class athletes have paired up with one another. While Davey Boy Smith Jr is a former WWE Tag Team champion, the son of the WWE legend is mostly notable for his time in New Japan Pro-Wrestling as a member of the Killer Elite Squad, where he's a former three-time IWGP Heavyweight Tag Team champion. Smith Jr. also recently debuted on WOS Wrestling in the UK. Hart is most notable for his career in the Lucha Libre promotion AAA and Dragon Gate USA, and for his antics behind the scenes . . .
The two wrestlers showed promise in carrying the Hart Foundation name proud in their debut against former WWE cruiserweight champion Rich Swann and ACH. They showcased a solid balance of athleticism and swagger when they were in the ring, though the match was a little short (about 10 minutes long) for these guys to really go into high gear.
In the end, The Hart Foundation pulled out the W against the challengers for the MLW Tag Team titles and the future looks bright for the talented trio.
Related Articles:
Let us know your comments below or on Twitter. You can also join us on Discord to chat with other like-minded fans, Oli Davis, Luke Owen and the WrestleTalk staff!