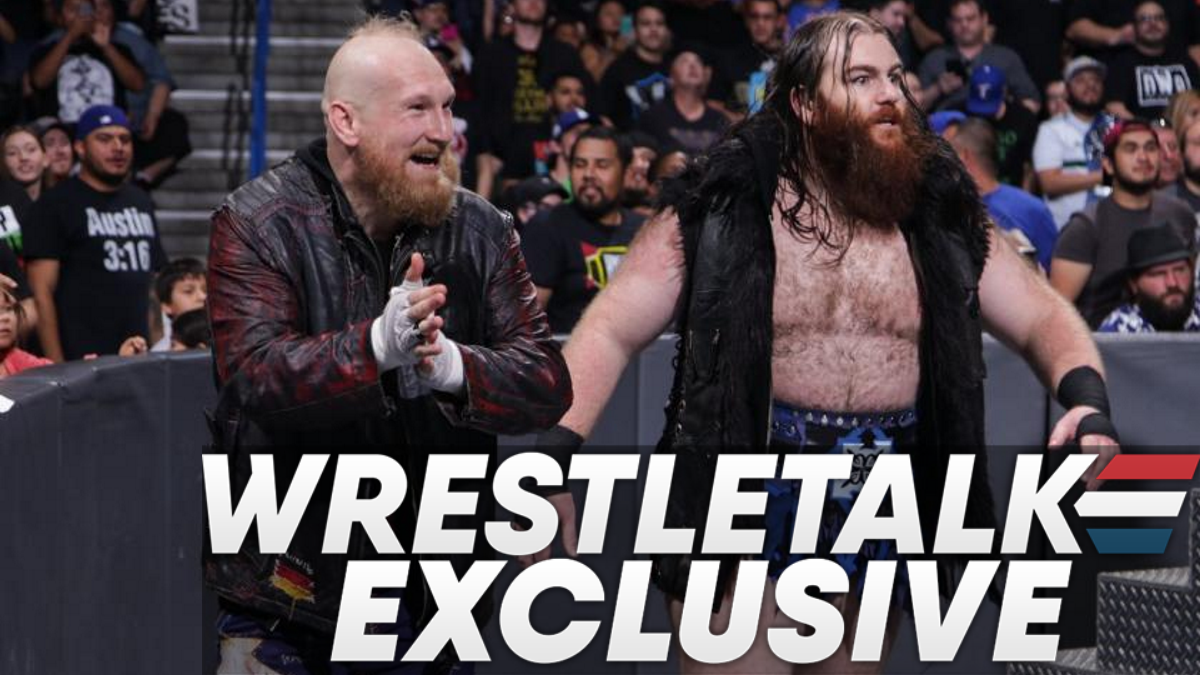 Ahead of PROGRESS Chapters 132 & 133, Big Damo (fka Killian Dain) spoke exclusively with Sanchez Taylor for WrestleTalk.com about his friendship with his former SAnitY stablemate Axel Tischer (Alexander Wolfe).
On Sunday's (April 17) 'Chapter 132: By the Beard of Zeus!' show Damo and Tischer will both compete in the first round of the Atlas Championship Tournament, with Damo set to square off against Luke Jacobs, and Tischer to do battle with Warren Banks.
If both competitors win their respective matches, they will meet in the tournament semifinals at 'Chapter 133: Stop Motion Skeleton Battle' on the Monday (April 18).
Big Damo has fond memories of Tischer from before their tenures in WWE. Recalling Tischer giving him tips for his own WWE tryout, Damo noted:
"Honestly, Axel Tischer is one of my best friends in wrestling. I met him in wXw, long before i (got signed by WWE), and he had just got signed he had been waiting on his visa. He was this lovely gracious fella.  I'd previously wrestled a couple of his trainees and given them feedback.

"Him and I got on very well. One of the last times I saw him he opened up about the fact he was about to go to WWE, and gave me great advice for my tryouts that actually went a long way for me and really helped.

"I knew, as a bigger guy, I needed to impress because the last thing I wanted to do was walk in there and give them fuel for the fire, 'he's going to be too heavy, he's not going to be fit enough' or whatever. Axel gave me a couple of great pointers that really helped I always remembered that.

"When (Nikki ASH) went over, six months before me, Axel and (Jacob Southwick fka Sawyer Fulton) really looked after Nikki on that trip and I really appreciated that.

"Then boom! I go over there and I'm seeing Axel on a regular basis. I got added to SAnitY and he became my 'road wife' as we'd call each other, honestly we grew very close. He's a lovely fella and I'm so delighted about how his family grew, his wife is wonderful woman as well.

"We literally travelled all over America and Europe. We went everywhere together, it was a pleasure to travel with him. The two of us would pick (Eric Young's) brain all the time."
Damo joined Tischer, Eric Young, and his now-wife, Nikki ASH (Nikki Cross) in the popular NXT stable SAnitY in December 2016. The team was ultimately called up to the main roster in 2018, without Nikki.
The group was broken up in the 2019 Superstar Shake-up, with Eric Young moving to Raw, Tischer to NXT UK, and Damo quietly returning to NXT.
During their time as a stable, Tischer rarely wrestled one-on-one. Damo believes that Tischer is now proving his worth as a singles competitor:
"It always blew my mind that he wasn't having singles matches on NXT TV, or even when we were on SmackDown. Obviously when he moved to Imperium he had aa chance to wrestle a lot more, and he had great matches on NXT UK.

"Now he's on on the independent scene, he's having these absolute bangers, 20-30 minute matches all of the time, people are finally starting to realise how bloody good he is."
Damo hopes to meet Tischer in the ring during the PROGRESS Atlas Tournament, but is prepared to do battle with his friend on any stage:
"If it's me and him in that ring, I cannot wait for that because the two of us would light it up. Of all people in this world, there is nobody I'd love to hit more than Axel Tischer so honestly, it would be great if the two of us could get in there, and it would be great for PROGRESS to have that match.

"If it doesn't happen at PROGRESS, it will happen somewhere else, and we'll make sure to kill it. He's one of the best technical talents on Earth and its great that people are getting an opportunity to see how good he is. I think a place like PROGRESS could be perfect for Axel because he can do everything.

"I think Axel has barely scratched the surface of showcasing himself. I think anybody who's going to see him wrestle will be like 'oh my god! I didn't realise he could do all of that!'

"I'm really excited to see how it all works out for him, and fingers crossed, the two of us face off at PROGRESS. There's a story already there, and we'd do our very best to kick each-other's heads off.
The winner of the tournament will be crowned the new Atlas Champion, the first since the title was unified with the PROGRESS World Championship in 2019. You can check out the brackets for the tournament right here.
We'll also be posting more quotes and stories from the interview soon, so keep an eye on our exclusives page for those.
If you use these exclusive quotes, or any portion of them, please credit WrestleTalk.com and link to this page.
To make sure you stay updated with all the latest wrestling news, add WrestleTalk.com to your Google Discover feed and follow us on Twitter!