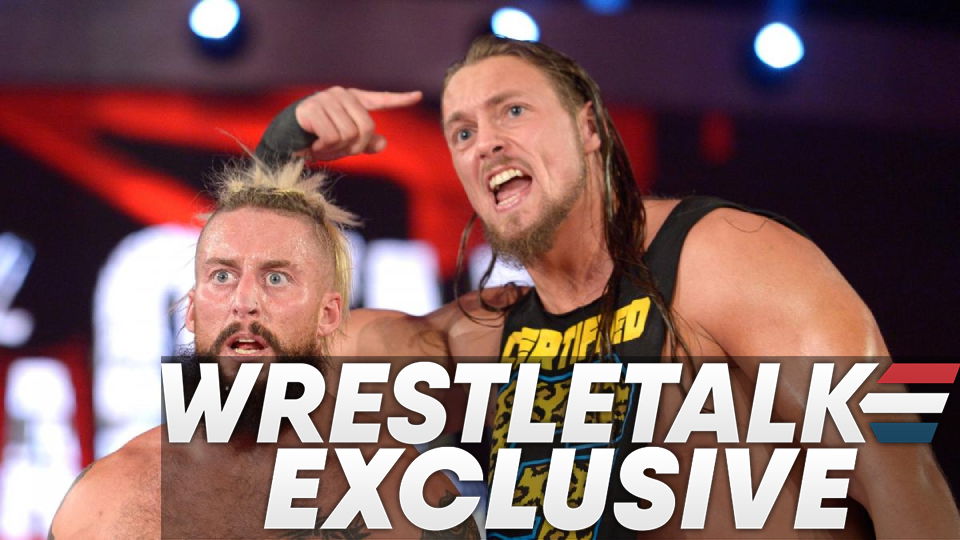 During an exclusive interview with WrestleTalk, CazXL (formerly Big Cass) opened up about his time teaming with Enzo Amore while working for WWE.
Speaking about why the tag team worked so well, CazXL said the fact that he and Enzo were polar opposites in their presentation and appearance helped the duo, even calling Enzo an underrated seller:
"He was the little guy that was a huge loudmouth and if he got into way too much trouble, he would just tag me in. To be honest with you, in terms of physicality, it was an easier gig for me because we'd go out there every night, he'd get his ass kicked for however long and then I'd come in and just run through people and we go to a finish. It was a lot of fun working matches. He was very underrated in his selling and getting the crowd behind him, and getting sympathy. I think he did a really, really good job of that and I think people overlook that. By the time I would get tagged in people would be begging for me to come in and just knock people's heads off.
CazXL also spoke about the creativity of Enzo, and praised the former Cruiserweight Champion for having the ability to "work a crowd":
"Yeah, it was really fun, and he's a really creative guy so our promos were always fun to do, but I think most of the fun was putting them together with a writer or with the other talent. Specifically I can think of some things we did with Jericho and Kevin Owens that putting it together was maybe the most fun.

"Love him or hate him (Enzo), whatever it is, that guy can work a crowd, he's great on the mic, he's incredible on the microphone, so just being with him helped me get more experience in front of live crowds and be more confident in front of live crowds, especially on the microphone.
When asked about whether he knew how over he and Enzo were, CazXL noted that he probably didn't appreciate just how popular the tag team were with the crowd at the time:
"I didn't appreciate it at the time (he and Enzo's popularity), I thought it was a given to be honest with you. Especially that point in my life I lacked gratitude which is something I've had to incorporate into my life a lot more. I thought that was a given, go out there and everybody goes bonkers for you. When we went to the main roster, we did expect to get that kind of reaction the first night because of the Raw after WrestleMania crowd, they know NXT very well. But we didn't expect to get that as long as we did. People probably have forgotten, as I did for a while, just how entertaining we were and how much people liked us, and I watched a match back from maybe SummerSlam 2016 and while I was watching the pay-per-view, I saw just how many 'Certified G' t-shirts were in the crowd, and I was like, 'Woah'. At the time, I didn't even notice or appreciate that. That's $25 out of someone's pocket that they're spending on our merchandise.

"I really took it for granted I think, and looking back, I wish it was something I would've noticed and enjoyed more in the moment. Definitely at the time, it just felt like the usual, but looking back it was really something special.
Enzo and Cass never actually won the tag team championships either in NXT or on the main roster, and CazXL said that he didn't actually think the pair needed the belts:
"I don't think we needed the titles, honestly. I think people liked to see us chase, especially in NXT. Every time that we lost an NXT Tag Title match people were so disappointed and they would get so angry, 'Why are they not champions?', but it got us even more popular. Because people just cheered louder. I don't know why we never won a tag team championship, but it doesn't really matter to me, because at the end of the day, we were a very memorable tag team. I'm sure there's tag team champions from the past that aren't very memorable, and I'd rather be memorable than tag champion to be honest with you. So I don't know why the decision was never made to give us any sort of championships, but I'm very happy with what we did.

"I'm looking forward to a singles run. I'll tag with Enzo here and there, whenever the opportunity is right and I'm not sure how often he wants to wrestle, and we'll be at signings together from time to time, but I definitely want a singles run. I have a lot to prove to myself. There's a lot of things that I want to accomplish in wrestling that I didn't get a chance to accomplish for one reason or another, and I really am a man on a mission to go back and prove to myself that I can do it and probably prove to a lot of people that didn't think I could, that I can. Right now I'm very, very focused on singles and going back as my own entity, and building that by myself as a singles competitor."
If you are affected by any of the issues raised in this story, information on where you can find help is available at this link.