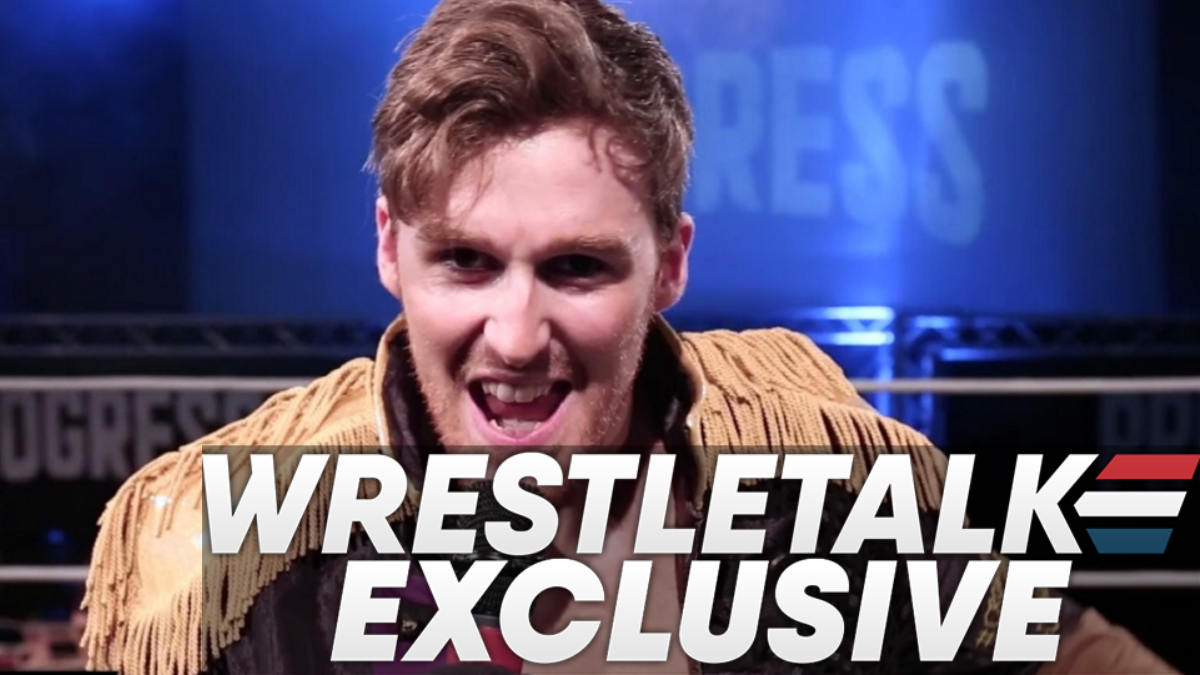 Following PROGRESS Chapter 130: Dodge, Dip, Duck, Dive, Dodge,The Spectacular Charles Crowley spoke exclusively with Sanchez Taylor for WrestleTalk.com.
Crowley has established himself as one of the fastest rising stars on the British wrestling scene, also recently defending his WrestleCarnival King of the Carnival Championship at wXwNOW & Friends.
The Spectacular one commented on his recent appearances for PROGRESS and wXw, confident that he has proven himself a star:
"It feels incredible because, do I feel like I belong here? Absolutely so. Do I feel like they want me here? It's hard to tell. On one hand, I think they see my value, that's why I'm here in the first place.

"Do I fit the PROGRESS mould? No. Hey, do I fit the wXw mould? Certainly not, but do they like what they see? Do they keep bringing me back? Yes, because they have to, because they can see that I'm a star."
Crowley plans for his teammate, ELIJAH to win gold in PROGRESS Wrestling. Explaining why ELIJAH is a name to remember, Crowley said:
"Elijah embodies what wrestling is all about. He's built like he's chiseled out of stone, he's fast, he's hard-hitting, he's got an intensity that you just cannot match, you cannot find it in any other wrestler.

"That's obviously incredibly valuable for me, otherwise I wouldn't be here. Everyone thinks I'm all here for Elijah, which I am, I wouldn't be if it didn't benefit me, but I can also see that maybe I have something to offer him.

"We help each-other out, perfect team, perfect chemistry, and at the end of the day, I am determined that he will become a champion in PROGRESS."
Looking to the future, Crowley revealed that he'd like to make a statement with a tag-team victory over 0121, and also named his dream PROGRESS opponent:
"Dan Maloney, (Man Like Dereiss), I would absolutely love (to face). I think they're the perfect combination of energy and charisma and strength, and also I think it would be a statement if we beat them.

"In regards to myself moving forwards, I would be silly to say anyone other than Cara Noir."
Cara Noir notably lost his PROGRESS World Championship to Jonathan Gresham during the closing moments of Chapter 130, following interference from Spike Trivet. Reacting to Cara Noir's historic reign coming to an end, Crowley noted:
"Sir, I love drama and it doesn't get more dramatic than that. Everyone was shocked, whether they were behind the curtain or in front, i mean that.

"Genuinely that was madness and you don't get a title change that changes the future quite as much as this one. Something like this is iconic and will go down in history. I feel very fortunate that I was here to witness it."
With the dream of wrestling in Japan, Crowley explained why he believes he will one day be the best:
"I'm obviously excited to get anywhere and everywhere. The ultimate goal for me is Japan, however while I will always be striving towards that, right now I just need to be the best version of me I can be. I need to be better always, I want to be the best.

"It's funny, you hear people say that and you kinda go 'Oh okay,ha-ha, you want to be the best. Do we think you can be? Probably not.' Anyone who wants to think that, that's fine, but i truly believe in my own way, not only can I be one of the best… no I feel like I'm retracting, I don't need to. I feel like i can be the best and on top of that, I think I can change the game.

"The support is incredible. It's also a lot of pressure, but I'd like to think I thrive under pressure. I'd like to think I'll get better because of the pressure. Do I feel I deserve it? Absolutely.

"Yes i appreciate it. It's funny, some people weren't as supportive of me at first, I've had to support myself, and now I get here and suddenly people are supportive of Charles Crowley, but you know what, it's a good position.

"I feel like I'm ready to capitalise on it in a very big spectacular way."
PROGRESS Chapter 130 will be available on the WWE Network and DemandPROGRESS very soon.
To make sure you stay updated with all the latest wrestling news, add WrestleTalk.com to your Google Discover feed and follow us on Twitter!