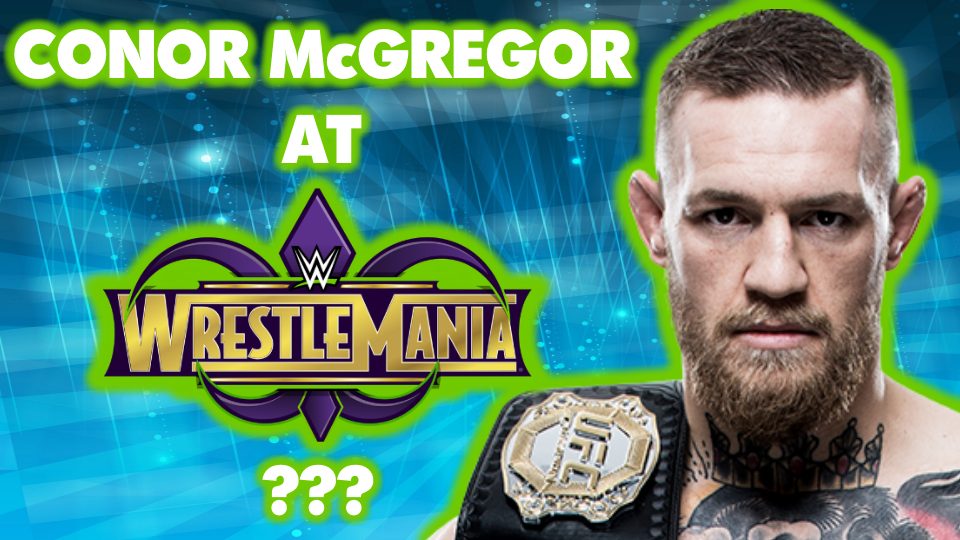 With WrestleMania 34 just ten days away, there are plenty of rumors circulating regarding numerous big names who could make a surprise appearance at the 'Showcase of the Immortals'. The likes of The Rock, Rey Mysterio and Hulk Hogan have all been mentioned, but according to bookmakers, it's very likely we could see current UFC Lightweight Champion Conor McGregor show up.
Wrestle Zone reported earlier today that they received the following statement from betting website Oddschecker:
"UFC Lightweight Champion Conor McGregor has a 7/4 chance of appearing at Wrestlemania 34, according to bookmakers.

"They claim the fighting Irishman could well appear at the showcase event, and have priced him up as a 7/4 favorite to make an appearance.

"Reports have linked the UFC champ to a move to the WWE over the past year, and a special guest appearance isn't completely out of the question.

"Former UFC-star Ronda Rousey has made the switch over to the sports entertainment business in time for last year's WrestleMania.

"She squares off alongside former-Olympian Kurt Angle against Triple H and Stephanie McMahon in her pro-wrestling debut."
Oddschecker spokesperson George Elek said:
"As with any WrestleMania, one of the biggest talking points is what celebrities and sports stars will turn up on the night.

"One of the more vocal celebrities rumoured to be in attendance is the notorious Conor McGregor – and if bookies are correct – he could well be appearing on the 'Grandest Stage of Them All'.

"Bookies have priced up McGregor as 7/4 to appear at the event, which for reference is the same price Manchester City were to win the Premier League this season."
The final comparison in that statement sums it up, Manchester City are 16 points clear at the top of the Premier League table with only eight games remaining, so are a nigh on certainty to go on to win it. Which suggests to me, that Conor McGregor is a nigh on certainty to appear at 'Mania on April 8.
McGregor is one of the most controversial men in combat sports history, but given some of his previous comments a couple of years ago, might not be particularly welcome in WWE.
McGregor: @WWE guys are p******. Fair play to Brock he got in and fought but he's juiced to the f***** eyeballs, how can I respect that?

— FOX Sports: UFC (@UFCONFOX) August 5, 2016
Despite this, he tried to clear the air. I think. I can't tell whether he's doing it on purpose to wind everyone up, or whether he genuinely just isn't a fan of the 'graps'.
I didn't mean no disrespect to the @wwe fans. What I meant to say was that I'd slap the head off your entire roster. And twice on Sunday's.

— Conor McGregor (@TheNotoriousMMA) August 7, 2016
If we ignore the double negative and misplaced apostrophe, his message was clear – he thinks he could take on any member of the WWE roster.
In the first quote above, (the 'Fox Sports: UFC' tweet) McGregor mentioned, by name, Brock Lesnar, and in his own way, accused Lesnar of being a steroid user.
Lesnar is set to defend his WWE Universal Championship at WrestleMania 34 against Roman Reigns, in what, according to Paul Heyman, is likely to be the final appearance the 'Beast' makes in WWE before his contract expires, suggesting he is on his way to a UFC return.
So, if McGregor is to be present at the 'Show of Shows', him and Lesnar are likely to cross paths at some point, whether that be in a staged capacity, or not, which could lead to some shenanigans taking place.
https://www.youtube.com/watch?v=BbVeL5PiSHs
In August 2017, Conor McGregor and Floyd 'Money' Mayweather, the latter of whom KO'd Big Show at WrestleMania XXIV ten years ago, engaged in what was possibly the most lucrative, mainstream rivalry in combat sports history, and made both men, particularly McGregor, much bigger stars than they already were.
It's fair to say that if McGregor were to make some kind of an appearance at 'Mania 34, it would certainly cause a stir, and for Vince McMahon and WWE, that probably sounds like a tantalizing prospect.
Do you want to see Conor McGregor appear at WrestleMania 34 in New Orleans? Let us know in the comments below or on Twitter here, and as always, have a spiffing Rusev Day.