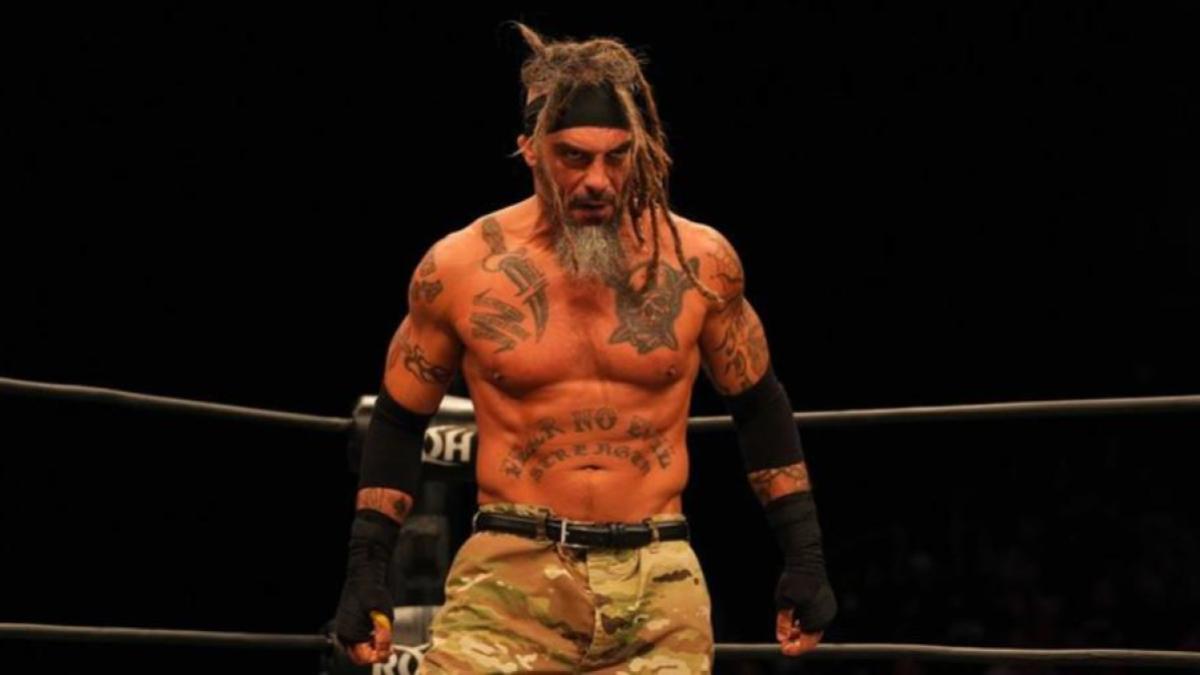 Deleaware State Police have issued a statement on the investigation into the incident that resulted in the death of Jamin Pugh (Jay Briscoe).
Jamin tragically passed away aged 38 in a car accident in Laurel, Delaware which also took the life of another person who was driving a vehicle involved in the accident.
Delaware State Police posted the following on their website:
The Delaware State Police are investigating a fatal accident that occurred in Laurel late yesterday afternoon that resulted in the deaths of two people.
On January 17, 2023, at approximately 5:09 p.m., a 2019 Chevrolet Silverado 1500 was traveling westbound on Laurel Road just west of Goose Nest Road. At the same time, a 2016 Chevrolet Silverado 2500 was traveling eastbound on Laurel Road in the same vicinity. For unknown reasons, the driver of the Silverado 1500 pickup truck failed to remain in her lane, crossed the center line, and entered the eastbound lane of Laurel Road, directly into the path of the Silverado 2500. This resulted in a head-on collision between the two pickup trucks in the eastbound lane.
The driver of the Silverado 1500, identified as 27-year-old Lillyanne Ternahan of Frankford, Delaware, was wearing her seatbelt. The driver of the Silverado 2500, identified as 38-year-old Jamin Pugh of Laurel, Delaware, was not wearing his seatbelt. Both drivers were pronounced dead at the scene. The two passengers in Pugh's pickup truck, identified as his 12-year-old daughter and 9-year-old daughter, were both properly restrained. Both girls were taken by ambulance to an area hospital and were admitted in critical condition.
Alcohol involvement in this crash is unknown. No other vehicles were involved in this collision. The roadway was closed for approximately four hours while the scene was investigated and cleared.
The Delaware State Police Troop 7 Collision Reconstruction Unit continues to investigate this incident. Troopers are asking anyone who witnessed this collision to please contact Sergeant J. Burns by calling 302-703-3269. Information may also be provided by sending a Private Facebook Message to the Delaware State Police or contacting Delaware Crime Stoppers at 1-800-847-3333.
If you or someone you know is a victim or witness of a crime or have lost a loved one to a sudden death and need assistance, the Delaware State Police Victim Services Unit / Delaware Victim Center is available to offer you support and resources 24 hours a day through a toll-free hotline at 1-800-VICTIM-1 (1-800-842-8461). You may also email the Victim Services Unit at DSP_VictimServicesMail@delaware.gov.
Jamin's wife Ashley Pugh posted the following on Facebook earlier today:
We need prayers! Gracie is on her way into surgery on her back. Jamin would want the whole world praying for his little girl. WE BELIEVE IN THE POWER OF PRAYER!! Pray for the doctors and everyone working on her! Pray for her precious legs to move again! Pray for Jayleigh who has some pretty serious injuries, but is stable and resting! Pray for Gannon waiting at home! Pray for strength for all of us! We have a long long road ahead of us!
The wrestling world has united in memory of Jamin Pugh, with well-earned tributes pouring in from all corners of the industry including Paul Levesque (Triple H), WWE sending condolences live on air during NXT, CM Punk, Seth Rollins, Bret Hart, FTR and many, many more.
Our thoughts continue to be with Pugh's family, friends, and all those affected by his passing, and we send our best wishes to his daughters as they recover.