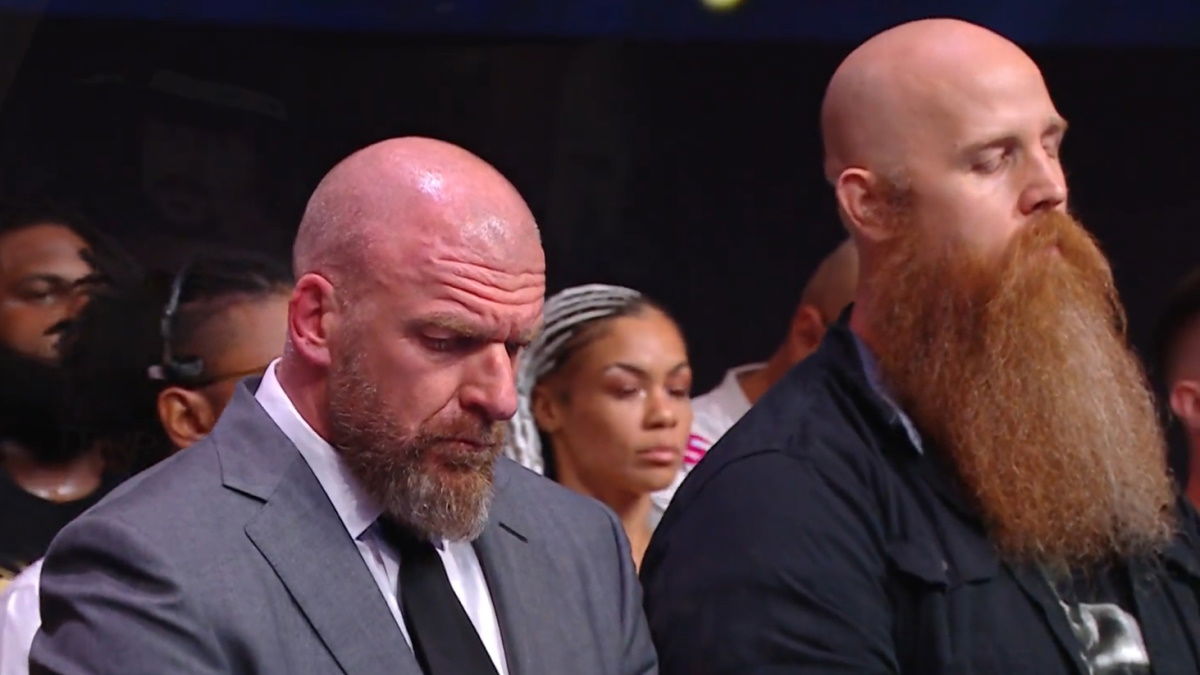 Tonight's WWE SmackDown opened with an array of WWE stars and personnel on stage in tribute to Bray Wyatt and Terry Funk.
Among those in attendance was Erick Rowan, who hasn't been with WWE since April 2020.
Rowan was an original member of Bray Wyatt's Wyatt Family group along with Luke Harper/Brodie Lee.
They were of course later joined in the group by Braun Strowman, who was also in attendance tonight, despite being away from WWE for months due to injury.
Seth Rollins explained earlier that he isn't at SmackDown because he's at home hugging his daughter, which is what Wyatt told him to do after Brodie Lee passed away. Rollins spoke in memory of Wyatt, which you can see at this link.
Alexa Bliss also said she couldn't make it to SmackDown because the last-minute flight options wouldn't have gotten her there before the end of the show. She had some words for Wyatt which you can find at this link.
With everyone on the stage, there was a 10-bell salute in memory of both Wyatt and Funk, followed by a video package highlighting Wyatt's career.
After that, the lights in the arena were dimmed as the crowd sang "he's got the whole world in his hands".
There was then a spotlight shone on Wyatt's rocking chair in front of everyone, which dimmed as the show went to its first commercial break.
WWE has added the following note to the item descriptions for Wyatt merch on the WWE Shop website:
In the wake of Bray Wyatt's death, WWE will donate all net proceeds to support JoJo Offerman and his children.
You can find said merch at this link.
Yesterday, August 24, Sean Ross Sapp of Fightful reported:
I was given permission to reveal that earlier this year Windham Rotunda (Bray Wyatt) got COVID that exacerbated a heart issues.
There was a lot of positive progress towards a return and his recovery. Unfortunately today he suffered a heart attack and passed away.
After the show came back from commercials, there was a video package for Terry Funk, who passed away a day before Wyatt aged 79.
Later tonight, Cody Rhodes, whose father Dusty Rhodes was a great rival of Funk, will pay tribute.
Our thoughts and condolences continue to be with the families, friends, and anyone affected by the passings of Windham Rotunda and Terry Funk.
This week, we lost two beloved members of the WWE family, Hall of Famer Terry Funk and the one and only Bray Wyatt.

Tonight, we pay tribute to their incredible careers. #SmackDown pic.twitter.com/rekZls2GrF

— WWE (@WWE) August 26, 2023