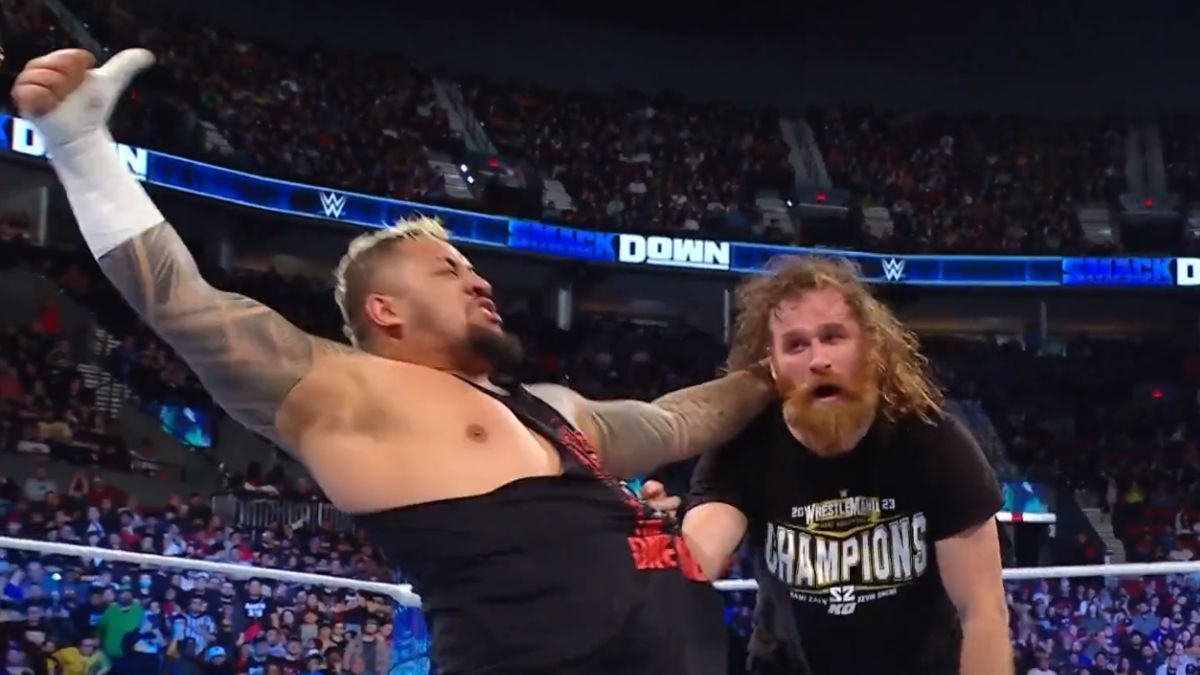 Find out everything that happens in the Bloodline storyline on tonight's WWE SmackDown (April 7) including who wasn't there and why!
In the first segment of the night, Kayla Braxton was backstage interviewing Paul Heyman with Solo Sikoa at his side.
After Paul Heyman was asked by Kayla Braxton whether or not he knew why Brock Lesnar did what he did, Heyman responded:
"Kayla, why is this night different than all other nights? Because I, Paul Heyman shall pass over your intrusive and derogatory [question] and talk about something far more relevant, your Tribal Chief, the Head of the Bloodline…"
Jey approached saying he hadn't seen Jimmy, and wondered if Paul Heyman or Solo Sikoa knew where he was.
According to Paul Heyman, Jimmy wasn't going to be in attendance because Roman Reigns asked him to stay home and watch on television. He would be watching Jey Uso solve the Bloodline's Sami Zayn problem once and for all, on his own.
Jey Uso faces Sami Zayn in the main event of tonight's SmackDown with Heyman noting the 'Main Event Jey' moniker multiple times in the short chat.
After Jey agreed (with an affirmative, albeit skeptical 'Yeet' to boot!) and left the scene, Heyman had an ominuous message for Solo Sikoa.
Telling Solo, either Jey solves the Sami Zayn problem tonight or "you'll solve our problems tonight."
In a backstage segment, Sami Zayn approached Kevin Owens and shared that he wanted to speak to Jey Uso before their match.
While K.O. thought it was a preposterous idea, Zayn shared he felt a sense of obligation.