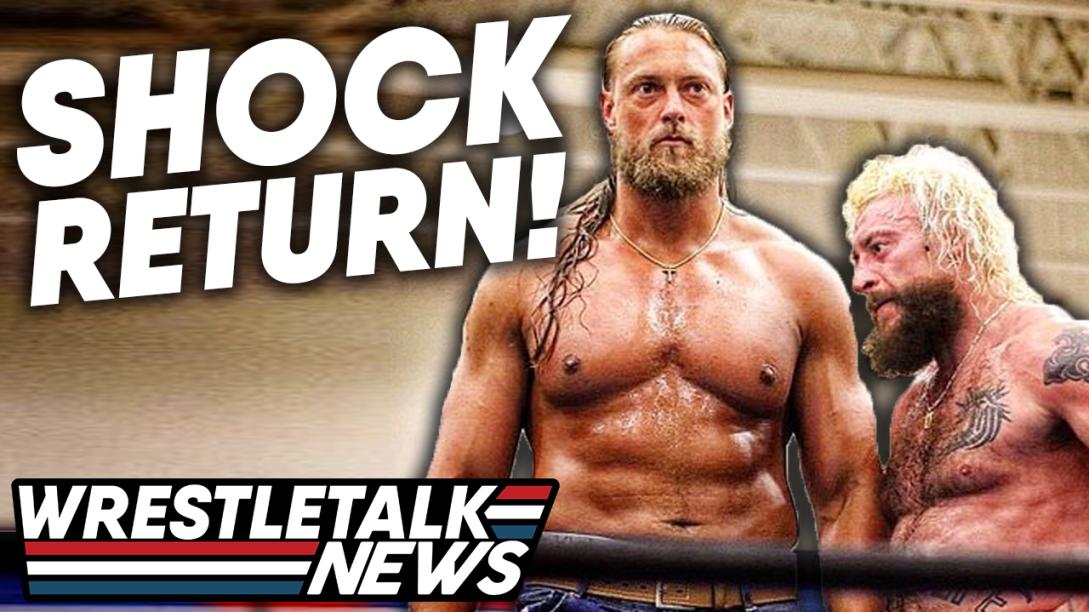 My name is Mr Davis, and I'm a certified G and a bona fide stud. And you can't teach that. 
And this right here, this is Big Cass and he's 7 foot tall and made his shock wrestling return over the weekend, and you can't teach that either.
Bada boom, realest guys in the room. How are you doing? I'm doing great, thanks for asking.
Of all the NXT stars you'd think would actually be a success on the main roster, Enzo and Cass had the most mainstream potential. Enzo was a walking catchphrase machine, conducting the crowd like a modern day Road Dogg, and Big Cass was, well, he was big. Vince McMahon loves big guys. Some of his best friends are big.
But it wasn't just WWE's bad booking they were up against. Enzo and Cass reportedly got themselves significant backstage heat from the rest of the locker room for their behind-the-scenes outlandish behaviour. Amore was released in January 2018, and Cass, in the middle of a main event push, was let go just five months later – with Sports Illustrated citing him disobeying direct orders from McMahon in a segment where he beat up a Daniel Bryan-impersonating little person too much, and public intoxication on a WWE tour.
Cass hit the independent scene shortly after under the name Big Cazz, then Big C, then Big Ca$$, then CaZXL – running through more names than the really good male friends on Megan's phone. Not Tommy, Megan, not Tommy – but his alleged issues followed him out WWE, with PWInsider reporting Cass had a real life fight with now AEW star Joey Janela at a WrestlePro show in September 2019. 
Following that, Cass took an extended break from wrestling to focus on his depression and anxiety.
But now, almost a year and a half after his last wrestling appearance, he returned at Saturday's Lariato Pro Wrestling show looking in the best shape of his life:
Cass would later speak about his return:
"After a long journey filled with an enormous amount of self-reflection, I now start my journey towards redemption. Thank you Doc Gallows for the opportunity, and thank you to everyone for continuing to believe in me Folded hands #StraightOuttaStep12"
And it wasn't just Cass who was at the show. His return spot was to save his former WWE tag team partner, Enzo Amore, who later followed up with: "You can't" and a picture of the two.
But what does that mean in the grander scheme of pro wrestling right now?
Lariat Wrestling is affiliated with IMPACT – streaming on their website, and sponsoring the ring aprons at the event. The promotion has a lot of IMPACT talent on too, with Eric Young being the Lariat Champion, and the Good Brothers holding the tag belts. Additionally, Cass thanks Gallows specifically in his tweet – and Gallows appears to have a lot of backstage sway in IMPACT and, to an extent, AEW with their Super Elite crossover.
It all makes sense now! We're building to the rematch of Big Cass vs Big Show with Enzo in a shark cage, but in AEW. It's a license to print money, Tony.
Do you want to see Big Cass and Enzo Amore get another chance? Let me know in the comments down below, where I'll be replying to people FROM OUTTA NOWHERE incorrectly spelling the word SOFT.
But they aren't the only rumours of big wrestling returns…
CM Punk Name Dropped On WWE SmackDown
Following Friday's episode of SmackDown, Daniel Bryan appeared on Talking Smack to make the following challenge to Paul Heyman:
"I have a message for you to give to Roman Reigns. I am no longer putting myself on the back burner. I am no longer putting other people first. I am going to take what's mine. And that's the reign that I've had, before CM Punk, and that's the best damn wrestler in the world."
CM Punk WWE return confirmed. Or maybe not. I don't know. Could go either way.
Bryan is undoubtedly leaning into Heyman's history with Punk, whose partnership created a 434 day WWE Championship reign, to build a Fastlane match with Reigns. But Bryan's use of present tense is interesting. He doesn't describe Punk as 'was' the best damn wrestling in the world. But 'that's' the best damn wrestler in the world.
While it's been reported as recently as last year that McMahon never wants to work with Punk again, that was before a pandemic. And Punk has repeatedly said he'd return to wrestling for either "a big bag of money" or if the creative is really great and well thought out. So 'a big bag of money' if it's WWE then. And WWE is reportedly planning on bringing back multiple legends for WrestleMania 37 to pass the torch to the next generation.
But I know what you're thinking and I agree. At least have fans properly back in attendance before you bring back CM Punk. You wouldn't want him to waste one of the last great wrestling returns just having him walk onto a sound stage with Paige screaming 'are you serious'? 
Changed the Culture confirmed.
But Punk's part of the old generation, you might say. I want young, new, up and coming, fresh talent. Well WWE hears you, and says here's Mark Henry.
More WWE In-Ring Returns Happening?
Speaking on Busted Open Radio, Henry has revealed he's much healthier down at 325 pounds and now "walking on two feet… I'm lighter and trimmer than I've ever been and I'm planning on having a match sometime in the next 6 months. I just want to have one match and if Randy is the guy, so be it."
He went onto say that he's got to wrestle in this decade, as "Big Show has wrestled in four and I wrestled in three. I can't let him have that over me."
*cough* Mark Henry to AEW confirmed *cough*
Henry has potentially already started building this, with Orton bullying him backstage at January's Legends Night special of Raw, which Goldberg blamed on Drew McIntyre.
But Mark Henry's way too knew. I want wrestler who made their names in the 70s and 80s. Well, actually, that's where WWE draws the line. We finally found it everyone! 
After Dave Meltzer reported that Ric Flair was asking WWE to use him on TV more, which is what led to the now-dropped Lacey Evans storyline, Flair himself has revealed to Busted Open Radio he wanted to go one further and have an actual match.
"I did have some ideas. My problem was, they won't let me get in the ring because it's so hard to get me cleared because of my health issues, even though I have been cleared by my doctors."
Flair said he pitched a "master plan" to WWE that would see him work out with Evans and train her in his style. But, wisely, WWE didn't want the 72 year old Flair, who has had a number of health issues, start getting physical again.
No, don't tell Cody – someone stop him before-
Ric Flair to AEW confirmed 
He will recreate WCW. He'll do it.
Funnily enough, it turns out both Ric and Charlotte didn't like the Lacey Evans storyline just as much as we all didn't – with him admitting: "It caught us off guard. It was presented to me. I think it was just a trial run and nobody really understood for sure exactly what was going to go. I would be remiss if I thought Charlotte was crazy about it."
WWE Stop Telling Talent Creative
Wrestlers and talent being left in the dark about their storyline plans now doesn't just appear to be a case of WWE changing their minds all the time. It's reportedly a direct edict from the top of the company to prevent leaks.
According to Ringside News, WWE producer John Laurinaitis recently sent a memo to the rest of the backstage team "imploring them not to share information with talent." This has created "a complete state of confusion" behind-the-scenes, as this apparently goes back on something Vince McMahon has always wanted in the past: "Feedback form the talent" 
WrestlingNews.co then corroborated the report, with their source telling them "Vince was upset when word got out that the main event [for WrestleMania] would be Edge and Roman," and there's also unhappiness that the plans for Miz having a short title reign was leaked. This has created a situation where a lot of the talent have no idea what they're working towards for the biggest show of the year.
AEW Women's Eliminator Results
Meanwhile In Japan! 
Last night saw Show 3 of AEW's Women's Eliminator tournament, which saw Thunder Rosa defeat Riho to advance to the US stage of the finals, where she'll take on Nyla Rose on YouTube tonight. While Ryo Mizunami beat Yuka Sakazaki in the Japanese bracket, to fight the US winner on Wednesday's Dynamite.
The show last night also featured a six woman tag of AEW Champion Shida, Mei Suruga and Rin Kadokura beating Emi Sakura, Maki Itoh and Veny – which big Brian Cage called the "best multi-womens match I've seen," asking Tony Khan to sign everyone involved . Maki Itoh, who's won the hearts of everyone meanwhile, has said her time in AEW is over, but it's still her dream. "Until the day we meet again mother f'ers." 
If only the rest of the world got to see it.
In the latest misstep with their women's division, international viewers found they couldn't watch last night's stream on Bleacher Report live. Khan tweeted:
"I'm sorry people had issues @BleacherReport's international stream. I was promised multiple times by our partner that the Eliminator matches would stream in real time for free for all international fans. Since that's not the case, I've just put the matches up for free on YouTube." 
It's great to see a wrestling promoter apologise and make amends so quickly, but it's just further fuel to criticise AEW's treatment of their women's division, and not putting their US matches on TNT.
What are your thoughts on the above story? Let us know in the comments on Twitter or Facebook.