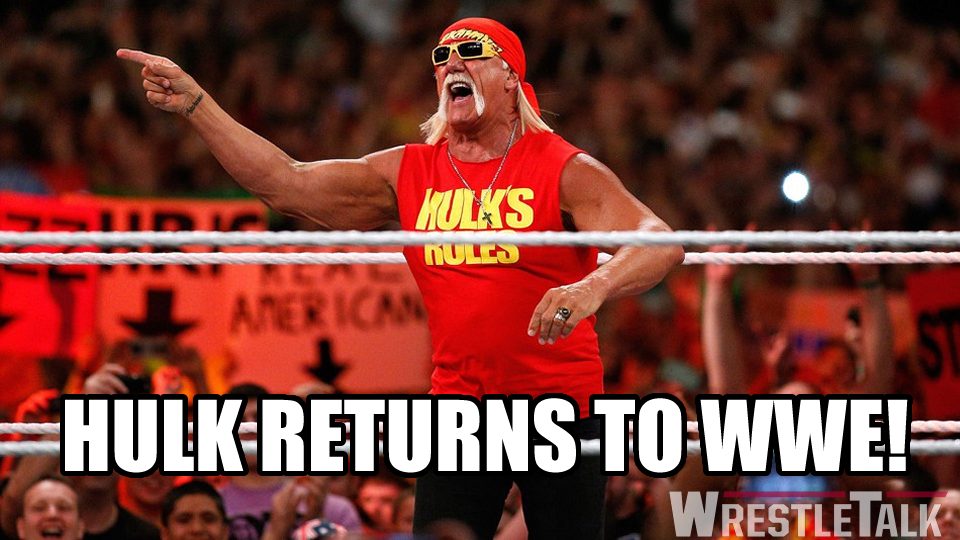 Is Hulkamania about to run wild in WWE again?
It certainly seems that way.
The Immortal Hulk Hogan was backstage at Extreme Rules and although he did not appear in front of the Pittsburgh crowd, his return to WWE was filmed for an upcoming Network special according to Bryan Alvarez of Figure Four Online.
The Hogan meeting with talent backstage was filmed for an upcoming WWE Network special. #ExtremeRules

— Bryan Alvarez (@bryanalvarez) July 15, 2018
The former WWE Champion met with members of the roster and apologised to them for the racist comments he made which were leaked and led to his release from the company in 2015. Charly Caruso acknowledged Hogan's presence during the Extreme Rules Kick Off Show although The Hulkster was not shown on camera.
Just met with the @WWE Superstars and on all levels the volume of love and support was overwhelming. I've been praying for this day and I finally feel like I made it back home. Only Love 4 the #WWEUNIVERSE brother HH

— Hulk Hogan (@HulkHogan) July 15, 2018
During the meeting, Hogan was said to be very emotional as he gave the talent the benefit of his own experience, reminding them to be careful what they say, particularly in an era when everyone has a smartphone and can record conversations at any time.
Hogan made the offensive remarks during a conversation with Heather Clem, ex-wife of his former friend, radio personality Bubba 'The Love Sponge' Clem. After the comments were made public in 2015, WWE fired Hogan, removed all mention of him from its website and removed him from the WWE Hall of Fame.
It was announced earlier on Sunday that Hulk had been reinstated to the Hall of Fame.
This came after his numerous public apologies for what he said and his willingness to work with young people to help them learn from his mistakes.
But does this mean we will see Hulk Hogan back in front of an WWE audience sooner rather than later?
Well, according to PWInsider HERE he returned to Florida immediately after Extreme Rules and is not booked for Raw or SmackDown this week. But this is wrestling, so who knows what might happen next…BROTHER!
Let us know your thoughts. When do you think Hulk Hogan will appear live at a WWE event? You can let us know on Twitter and Discord now.